The Bach Circle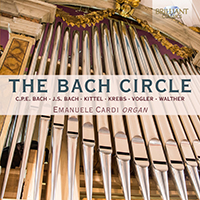 | | |
| --- | --- |
| Composer | Carl Philipp Emanuel Bach, Johann Sebastian Bach |
| Artist | Emanuele Cardi organ |
| Format | 1 CD |
| Cat. number | 95649 |
| EAN code | 5028421956497 |
| Release | March 2018 |
About this release
This is Emanuele Cardi's fourth album for Brilliant Classics after recordings which display this talented organist's wide musical sympathies and talents, ranging from music by Bach's contemporary Tunder (BC94901) to still more obscure delights from Naples (BC94622) and exuberant arrangements of Tchaikovsky and Saint-Saëns for organ four-hands (BC94881).

'He is a great connoisseur of Baroque repertoire,' noted the Spanish magazine Codalario of Cardi's Neapolitan disc, 'and it shows in his ability to give these pieces such native colour: this is a remarkable album.' On this occasion he
has recorded an album which concludes with Bach's most famous yet possibly
most spurious work for organ, the Toccata and Fugue in D minor, whose Italianate flourishes surely have their origin in a work for violin, whether or not by Bach himself.

In fact an aesthetic conversation between Italy and Germany underlies the character of the album as a whole. Kittel, Krebs and Vogler were pupils of J.S. in Leipzig, and their work featured here is indebted to a greater or lesser extent to the example of their master; whereas his most talented son, C.P.E., struck out boldly in new directions of harmony and voicing, as demonstrated here by a C minor Fantasy and Fugue and the substantial A minor Sonata.

The cousin of Pachelbel, Walther, like Bach, made many transcriptions for organ of concertos by Vivaldi and his contemporaries such as Corelli and Torelli. Walther's own concerto is a scintillating piece of dancing counterpoint in that tradition, marking quite a contrast to the chorale-based music of Bach's pupils in the first half of the disc. The booklet features an essay giving invaluable historical context as well as both photographs and full specifications of the organ by Giorgio Carli in the Church of San Martino in Cimego where the recording was made.

Johann Sebastian Bach was not only composer, organist and Kapellmeister, he was also a renowned teacher. No composer after this towering musical giant could deny his influence.
This recording brings together some of Bach's most important pupils: Johann Christian Kittel, Johann Ludwig Krebs, Johann Caspar Vogler, Johann Gottlieb Walther, Carl Philipp Emanuel Bach. These composers passed on the heritage of Bach into a new era of musical history, on which he had so markedly put his own stamp of genius.
Italian organist Emanuele Cardi plays a Giorgio Carli organ in St Martino Church/Cimego/Italy. This organ was built after the specifications of historical organs in Sachsen, Germany, of the mid 18th century. The booklet supplies the complete information and photo of this magnificent instrument.
Track list
Disk 1
Johann Christian Kittel: Fantasia con organo pleno

Johann Christian Kittel: So gehst du nun, mein Jesu, hin

Johann Christian Kittel: Praeludium in E Minor

Johann Christian Kittel: Preludio pro organo pleno

Johann Ludwig Krebs: Fantasia sopra freu dich sehr, o meine Seele in G Major, Krebs-WV 519

Johann Ludwig Krebs: Toccata and Fugue in A Minor, Krebs-WV 411: I. Toccata

Johann Ludwig Krebs: Toccata and Fugue in A Minor, Krebs-WV 411: II. Fugue

Johann Caspar Vogler: Mach's mit mir Gott nach deiner Gut: I. Choral

Johann Caspar Vogler: Mach's mit mir Gott nach deiner Gut: II. À 2 Clav. Et pedal

Johann Gottfried Walther: Concerto del Sigr. Meck, appropriato all'organo: I. Allegro

Johann Gottfried Walther: Concerto del Sigr. Meck, appropriato all'organo: II. Adagio

Johann Gottfried Walther: Concerto del Sigr. Meck, appropriato all'organo: III. Allegro

Carl Philipp Emanuel Bach: Fantasia and Fugue in C Minor, Wq 119/7: I. Fantasia

Carl Philipp Emanuel Bach: Fantasia and Fugue in C Minor, Wq 119/7: II. Fuga

Carl Philipp Emanuel Bach: Organ Sonata in A Minor, Wq 70/4, H. 85: I. Allegro assai

Carl Philipp Emanuel Bach: Organ Sonata in A Minor, Wq 70/4, H. 85: II. Adagio

Carl Philipp Emanuel Bach: Organ Sonata in A Minor, Wq 70/4, H. 85: III. Allegro

Johann Sebastian Bach: Toccata and Fugue in D Minor, BWV 565: I. Toccata

Johann Sebastian Bach: Toccata and Fugue in D Minor, BWV 565: II. Fugue