The Baroque Lute in Vienna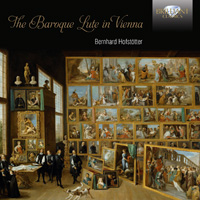 | | |
| --- | --- |
| Artist | Bernhard Hofstötter lute |
| Format | 1 CD |
| Cat. number | 95087 |
| EAN code | 5028421950877 |
| Release | June 2015 |
About this release
A firm believer in exploring outside the traditional classical canon, Bernhard Hofstötter here brings together some of his favourite pieces for Baroque lute, featuring composers well known and some more obscure. The works span a period of over 100 years, from Gaultier, born sometime around 1600, to Gluck, who was composing in the latter half of the 18th century. What they all have in common is Vienna, a hub of music-making during its golden age as the capital of the Habsburg Monarchy. Whilst the city may be connected more commonly with such greats as Mozart and Beethoven, the works on this release prove that it's well worth looking past these established names.

Some of the featured composers held positions in the imperial court, including Gluck, who was appointed 'kaiserlich-königlicher Hofkompositeur' in 1774. Karl Kohaut, whose highly virtuosic Sonata a liuto solo is included on this release, served as a high-ranking official at the court of Emperor Joseph II. His fame as a lutenist was so great that he is even mentioned by Charles Burney in his renowned travelling diaries of 1773. Two composers who passed by Vienna before settling in Salzburg – another highly cultural Austrian city – were Georg Muffat and Heinrich Ignaz Franz von Biber, both of whom also spent time working for the Church, writing both sacred and secular music. Biber's haunting Passacaglia lends itself perfectly to the Baroque lute, its intricate polyphony beautifully highlighted on this instrument.

Bernhard Hofstötter hails from Vienna originally, and studied the lute both in his home city and Italy before graduating from the Royal Conservatory of the Hague in 2001. Although he takes a keen interest in contemporary music, he specialises in 17th- and 18th-century repertoire for the solo lute, and has previously recorded music by the Baroque composer Silvius Leopold Weiss, for which he won the Pasticcio Award on Austrian national radio.

This disc brings together a rich selection of lute works by composers who were all in some way connected to Vienna, the capital of the vast Habsburg monarchy. It shows that also before the Viennese school of Haydn/Mozart/Beethoven Vienna was a cultural melting pot, and a hotspot of musical activity and development.
Composers featured are Muffat, Gaultier, Bittner, Bartolotti, Lauffensteiner, Bertelli, Kohaut and Gluck.
Lutenist Bernard Hoffstötter, a native of Vienna, is a specialist in the Baroque era, and has recorded to great critical acclaim on the quality labels Atma and Querstand.
Contains extensive notes on the music and the performer in English and German.
Recorded in France in 2014.
Track list
Disk 1
Passacaglia in A Major

Tombeau

Dernière courente de Gautier

Folies d'Espagne

Gigue de Angelis de Rome

Allemande

Courante

Gigue

Sarabande grave

Suite in F Major: I. Allemande

Suite in F Major: II. Courante

Suite in F Major: III. Menuet

Suite in F Major: IV. Sarabande

Suite in F Major: V. Gigue

Menuet

Sonata a liuto solo in D Major: I. Adagio

Sonata a liuto solo in D Major: II. Allegro

Sonata a liuto solo in D Major: III. Menuet & Trio

Passacaglia