The Brazilian Guitar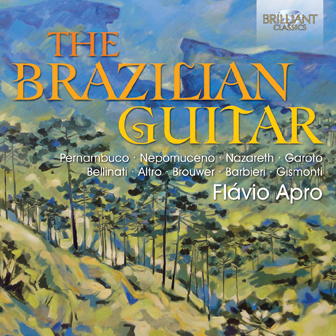 | | |
| --- | --- |
| Artist | Flavio Apro guitar |
| Format | 1 CD |
| Cat. number | 94810 |
| EAN code | 5028421948102 |
| Release | September 2014 |
About this release
On this varied and atmospheric album, accomplished guitarist Flávio Apro selects pieces from nine different composers, all representative of the evolution of classical Brazilian guitar music over the course of the late-19th and 20th centuries. What connects many of these luminaries is their ability to bring European dance forms into their musical world and then to mould them into something different by injecting elements of Brazilian musical tradition. Particularly striking examples of this are João Pernambuco, whose Sons de Carrilhões incorporates elements of European polka, yet embellished with rhythmic and harmonic repetitions that conjure up numerous surprises for the listener; and Egberto Gismonti, whose work fuses traditional Brazilian genres with elements of jazz, classical, world and contemporary music.

Meanwhile, other composers from this collection push the envelope of guitar composition in different ways. Leo Brouwer's challenging, four-part Sonata del Caminante travels through waves of landscape-evoking intensity, via extremes of tempo, dynamics and scope; while Rafael Altro's Homenagem is a true test of the performer's dexterity and skill.

Guitarist Flávio Apro is more than equal to this challenge. A specialist in chamber music, he is also a highly respected teacher, producer and researcher. This is his second recording for Brilliant Classics; alongside the recently released Nocturne, it will surely help further his reputation as a masterful interpreter of the South American repertoire.

Other information:
- The recording, made in 2014, includes various arrangements for guitar made by the artist.
- Although Brazilian composers might not be as famous as the country's football players, they are certainly as colourful, creative and entertaining!
- This new recording presents a selection of original music for guitar by Brazilian composers: Pernambuco, Nepomuceno, Nazareth, Belinatti, Garoto, Alto, Gizmotni and others: a tasteful cocktail of folklore, sensuality and good fun!
- Played with the right feeling for couleur locale by Flavio Apro, one of Brazil's most famous guitarists, who also recorded the album "Nocturne, Romantic Guitar Miniatures" for Brillant Classics.
- Liner notes written by Flávio Apro himself.
Track list
Disk 1
Sons de Carrilhões (Arr. Apro)

Suite Antiga: 'Aria' (Arr. Apro)

Odeon (Arr. Apro)

Desvairada (Arr. Apro)

Modinha

Homenagem

Sonata del Caminante Vision de la Amazônia – El Gran Sertão – Danza Festiva – Toccata Nordestina

Esperança

A Santa Ceia Segundo Athayde

Dança das Cabeças (Arr. Apro)