The Fitzwilliam Virginal Book, Volume 6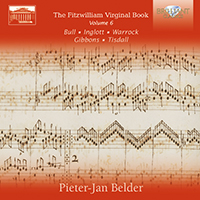 Download booklet
| | |
| --- | --- |
| Composer | John Bull, William Inglot, William Tisdale |
| Artist | Pieter-Jan Belder harpsichord |
| Format | 2 CD |
| Cat. number | 95458 |
| EAN code | 5028421954585 |
| Release | August 2018 |
About this release
Pieter-Jan Belder continues his superb survey of the Fitzwilliam Virginal Book, an extraordinary manuscript compiled in the late 16th century and held in the Fitzwilliam Museum in Cambridge. In this, the sixth volume, Belder focuses on the compositions of John Bull, one of the main contributors to the collection. Principally an organist and organ-builder, Bull left behind a variety of attractive pieces whose charm is belied by the way he often presented himself as a Doctor in music, which might suggest a rather scientific approach to composition. Nonetheless, his Ut Re Mi Fa Sol La, one of the longest and most challenging pieces in the manuscript and reminiscent of Tallis, is appropriately complex, beginning with two-part writing and adding additional voices as it progresses, while employing numerous tempo changes and cross-rhythms.

In contrast to the prolific Bull, the remainder of the recording features a host of composers who appear only a few times in the manuscript. Other than Orlando Gibbons, one of the most important of all virginalists, the other contributors are less well known, and many have obscure or undocumented lives. The repetition of such forms as the pavan and alman across the set, however, allows the listener to make a number of interesting comparisons.

Pieter-Jan Belder is not only a consummate performer but also a serious scholar of keyboard music from the Elizabethan and Jacobean eras. His research on the Fitzwilliam Virginal Book has led to a highly informed performance practice. Belder specialises in performance on historical instruments, and he has carefully selected three period harpsichords for this recording in order to create the most authentic sound possible. The listener is rewarded with a substantial set that highlights the superb achievements of the composers of this era, laying the foundations of keyboard music for centuries to come.

The 6th and penultimate instalment of one of the most prestigious and ambitious recording projects in Early Music: the complete Fitzwilliam Virginal Book!
The Fitzwilliam Virginal Book is the most famous, extensive and important collection of keyboard music from the English Elizabethan and Jacobean Era. Lodged in the Fitzwilliam Museum in Cambridge it contains more than 300 works for the virginal, by composers such as John, Bull, William Byrd, Thomas Tomkins and many others.
This 6th issue presents the remainder of the works by John Bull in the manuscript, consisting of dance forms like Galliarda, Pavan, Alman and others. The second CD is dedicated to composers who only contributed a few works to the manuscript: Warrock, Galleazzo, Peerson, Parsons, Tisdale, Inglott, Marchant, Oysermayre, Oldfield and Blytheman.
Pieter-Jan Belder, one of the world's most respected and prolific harpsichordists, received rave reviews for his previous issues in this series: "..a captivating portrait..full of rhythmic drive..he displays a keen sense of rhythm…broad and brilliant gestures…one of the most important recording projects of this decade.."(Musicweb-International).
Track list
Disk 1
Anonymous: Galiarda XXI

Anonymous: Alman XIV

Anonymous: Praeludium CXVII

John Bull: Christe Redemptor CXXV

John Bull: Dr Bulls Juell CXXXVIII

John Bull: Praeludium CXV

John Bull: Galliarda XVII

John Bull: Prelude and veni Redemptor gentium CVI & CVII

John Bull: The Spanish pavan CXXXIX

John Bull: Veni Redemptor gentium XXXVIII

John Bull: Pavana Trumpet Pavan) XIII

John Bull: Galliarda

John Bull: Praeludium. Dor. CXVI

John Bull: Salvator mundi XLV

Anonymous: Prelude CXI

Anonymous: An almain CC

Anonymous: Corranto CCI

Anonymous: Alman CCII

Anonymous: Corranto CCIII

Anonymous: Corranto CCIV

Anonymous: Corranto CCV

Anonymous: Daunce CCVI

Anonymous: CCIX

Anonymous: Martin Sayd to His Man CCXII
Disk 2
John Bull: Galliard CLXXXV

John Bull: Praeludium D. CLXXXIV

John Bull: Ut re mi fa sol la CCXV

John Bull: A Gigge CLXC

John Bull: A Gigge, Doctor Bulls my selfe CLXXXVIX

John Bull: Misere in Three Parts CLXXIX

John Bull: Galliard CLXXXVI

John Bull: Duchess of Brunswick's Toy CCLXII

Orlando Gibbons: The Woods so Wilde XL

Thomas Warrock: Pavana XCVII

Thomas Warrock: Galliard XCVIII

?Sabbatini: Prealudium XCIV

Martin Peerson: Alman XC

Martin Peerson: The Primerose CCLXXI

Robert Parsons: In nomine CXL

Robert Johnson: Alman CXLV

Robert Johnson: Alman CXLVI

William Tisdale: Pavana CCXX

William Tisdale: Almand CCXIII

William Tisdale: Pavana clement cottõ CCXIX

William Tisdale: Galliarda CCXCV

William Tisdale: Pavana chromatica Mrs Katherin Tregians Pavan CCXIV

William Inglot: A Galliard Ground CCL

Anonymous: Alman CCXLIX

John Marchant: Allemanda CLXXXVII

Jehan Oystermayre: Galliarda CCLX

Thomas Oldfield: Praeludium XLIX

John Blitheman: In nomine L