The Fitzwilliam Virginal Book, volume 7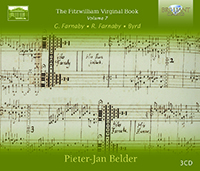 Download booklet
| | |
| --- | --- |
| Composer | Giles Farnaby, William Byrd |
| Artist | Pieter-Jan Belder |
| Format | 3 CD |
| Cat. number | 95648 |
| EAN code | 5028421956480 |
| Release | April 2020 |
About this release
Now into its seventh volume, Pieter-Jan Belder's series continues to uncover more works from the Fitzwilliam Virginal Book. In this volume he turns his attention to the works of father and son Giles and Richard Farnaby, William Byrd, and selected anonymous works.

The book and its manuscripts provide us with an insight into Elizabethan and early Jacobean socio-cultural life. After the dissolution of the monasteries in 1536 by Henry VIII followed by Mary Tudor's blood-soaked crackdown, it was clear that being a Protestant in Tudor England was risky business. Once Queen Elizabeth took the throne in 1558, she established a moderate form of Protestantism and halted the campaign of religious persecution. But the damage was already done, and many composers decided to steer clear of religion altogether and focus their efforts on secular music. (It is thought Farnaby was probably a Puritan sympathiser and Byrd hailed from a protestant background, although he switched to Catholicism later in life.) The
Fitzwilliam Virginal Book is a vital record of such works. Compiled in the late 1700s, the book today resides in a dedicated museum in Cambridge.

The first section of this release surveys Giles Farnaby's musical output. Bony Sweet Robin is a setting of a popular Renaissance tune and Sir Walter Raleigh once in a letter to Robert Dudley, 1st Earl of Leicester wrote that Dudley was in the Queen's favour, describing him as 'her Sweet Robin'. This graceful arrangement is Continental in its nature and similar to the Italian madrigal, with a conjunct and cantabile melody line and through-composed structure. As for Richard Farnaby, the four pieces recorded here are all that survives of his output. Nobodyes jig is his best-known work; a playful dance which requires a skilled performer to successfully execute the fast-paced polyphonic music. The final part features works by Byrd as well as anonymous works including almans, pavans, and keyboard arrangements of lute pieces and popular ballads.

Pieter-Jan Belder is a musicologist as well as a polished performer, and his in-depth study of the Fitzwilliam Virginal Book makes for a highly informed performance practice. In this release, Belder has elected to play a harpsichord by Adlam Burnett after Ruckers and the muselar by Theo de Haas after Ruckers. In their entirety, the seven volumes so far released by Brilliant Classics bring this fascinating book to life and open up an exciting historical soundscape for everyone to discover and enjoy.

The 7th and last installment of one of the most prestigious and ambitious recording projects in Early Music: the complete Fitzwilliam Virginal Book!

The Fitzwilliam Virginal Book is the most famous, extensive and important collection of keyboard music from the English Elizabethan and Jacobean Era. Lodged in the Fitzwilliam Museum in Cambridge it contains more than 300 works for the virginal, by composers such as John, Bull, William Byrd, Thomas Tomkins and many others.

This last volume presents two of the most famous composers of the time: Giles Farnaby and William Byrd, rounded of by a series of anonymous works.

Pieter-Jan Belder plays on copies of Ruckers instruments, built by Titus Crijnen Adlam Burnett and Theo de Haas. The extensive booklet notes are written by the musicologist Jon Baxendale.

Pieter-Jan Belder, one of the world's most respected and prolific harpsichordists, received rave reviews for his previous issues in this series: "..a captivating portrait..full of rhythmic drive..he displays a keen sense of rhythm…broad and brilliant gestures…one of the most important recording projects of this decade.."(Musicweb-International).
Listening
Track list
Disk 1
Giles Farnaby: Alman R. Johnson set by Farnaby CXLVII

Giles Farnaby: Grounde CCXL

Giles Farnaby: Bony sweet Robin CXXVIII

Giles Farnaby: A Gigge CCLXVII

Giles Farnaby: Fantasia CCXXXIV

Giles Farnaby: Praeludium CCXLVI

Giles Farnaby: Fantasia CCVIII

Giles Farnaby: The flatt Pavan CCLXXXIV

Giles Farnaby: Fantasia CCXCVI

Giles Farnaby: The L. Zouches Maske CCXXXIX

Giles Farnaby: Fantasia CCXXIX

Giles Farnaby: Tower Hill CCXLV

Giles Farnaby: Fantasia 'Ay me, poore heart' CCXXXIII

Giles Farnaby: Daphne CXII

Giles Farnaby: Fantasia CCXXXVIII

Giles Farnaby: Rosseters Galliard CCLXXXIII

Giles Farnaby: Walter Erle's Paven CCXXXV

Giles Farnaby: Spagnioletta LIV
Disk 2
Richard Farnaby: Up tails all (Giles) CCXLII

Richard Farnaby: A Duo (Richard) CCXLVIII

Richard Farnaby: Put up thy Dagger, Jemy (Giles) CXXVII

Richard Farnaby: Nobodyes Gigge (Richard) CXLIX

Richard Farnaby: Hanskin (Richard) CCXCVII

Richard Farnaby: Why aske you (Giles) CCLXXXVI

Richard Farnaby: Fayne would I wedd (Richard) CXCVII

William Byrd: Pavana 'Delight' E. Johnson set by Byrd CCLXXVII

William Byrd: Galiarda CCLXXVIII

William Byrd: Miserere a3 CLXXVI

William Byrd: Miserere a4 CLXXVII

William Byrd: Callino Casturame CLVIII

William Byrd: The Earl of Oxford's Marche CCLIX

William Byrd: Pavana 'Bray' XCI

William Byrd: Galliard XCII

William Byrd: Fortune LXV

William Byrd: Alman CLXIII

William Byrd: Galliard CLXIV

William Byrd: Monsieur's Alman LXI

William Byrd: Monsieur's Alman Variatio. LXII

William Byrd: Alman CLVI
Disk 3
William Byrd: A Gigg CLXXXI

William Byrd: Pavan CCLVI

William Byrd: Ut, mi, re CII

William Byrd: Wolsey's Wilde CLVII

William Byrd: Praeludium XXIV

William Byrd: Alman LXIII

William Byrd: Corranto CCXLI

William Byrd: Pescodd Time CCLXXVI

William Byrd: The Ghost CLXII

William Byrd: O Mistris myne LXVI

William Byrd: Sir John Gray's Galliard CXCI

William Byrd: Gipseis Round CCXVI

William Byrd: Malt's come down CL

Anonymous: A Medley CLXXIII

Anonymous: Corranto Lady Riche CCLXV

Anonymous: Heaven and Earth CV

Anonymous: Praeludium CLI

Anonymous: A Toye CCLXVIII

Anonymous: Why aske you CLXI

Anonymous: Allemanda CCLXXIV

Anonymous: Praeludium CXX

Anonymous: Corranto CCLXVI