The French Clarinet, 19th & 20th Century Music for Clarinet & Piano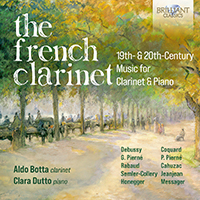 Composer
Arthur Honegger, Arthur Coquard, André Messager, Claude Debussy, Gabriel Pierné, Henri Rabaud, Jules Semler-Collery, Louis Cahuzac, Paul Pierné, Paul Jeanjean
Artist
Aldo Botta clarinet
Clara Dutto piano
Format
1 CD
Cat. number
96676
EAN code
5028421966762
Release
June 2023
About this release
The developmental stages of the clarinet are marked by repeated interest in improving the instrument at crucial stages in its history, definitively accomplished in an 'accelerated' manner during the course of the 19th century thanks to daring projects that led to an extraordinary evolution. Consequently, interest in writing aimed at probing the peculiarities of the instrument was accentuated, with French composers' attention directed towards exploring the thousands of new expressive and technical possibilities, creating a catalogue of great interest demostrating both the instrumentalists' mastery as well as musical effects to dazzle listeners. The pieces selected for this album clearly echo that production, originating in the shadow of the Parisian conservatoire and intended to test the potential of young performers while probing the musical languages of the time, whose aesthetics were as varied as ever.
Coquard's Melodie et Scherzetto, from 1904, sprang from the pen as an examination piece, a score in which technical and expressive aspects converge with a highly captivating melodic writing. In Claude Debussy's Petite pièce, the varied dynamics, combined with the near 'improvisational' flow of the rhythmic-melodic material, make the piece fascinating and pleasant to listen to. As is Rabaud's Solo de Concours Op.10, with its surprising texture entrusted to the clarinet right from the start in the form of a solo of considerable complexity. Messager's own Solo de Concours is rich in captivating chromaticism riven by diatonic segments. Paul Pierné's score, on the other hand, is an exercise in style, blending 'rhetorical' images and 'French-style' speculations. His cousin Gabriel's Canzonetta of 1888 brings forth a sampler of melodies, giving rise to a path of great lyricism. The use of such sonorous imagery is in common with that of Paul Jeanjean, whose Arabesques is imbued with seductive designs aimed at enhancing the potential of the instrument, on which he was an acclaimed virtuoso. Cahuzac belongs to this category, as well, and with his Cantilène he dwells in the soundscapes of his southern France, irradiating it with a Mediterranean luminosity. Cultural belonging is a peculiar characteristic of composers living in the shadow of the Eiffel Tower, as Semler-Collery demonstrates when he pilots his Rêverie et scherzo through the turbulence of early-20th-century French style. Honegger's choice for his Sonatine has a completely different origin. With its mysterious beginning founded on skillful chromaticism with vague oriental echoes, the subsequent Lent et soutenu reveals a greater rigour in that same sound path, entrusted to the woodwind, austere and mysterious. It is with the Vif et rythmique that the "restlessness" is laid to rest in order to rely on "improvisational" sonorities that wink at agile and impertinent jazz gestures.

Other information:
- Recorded September 2022 in Faiano, Italy
- Booklet in English contains liner notes by Paologiovanni Maione, and profiles of the artists

- The 19th century saw a great development in technical improvements of musical instruments, thus creating more possibilities for virtuoso display and melodic expression.
- This original program of works for clarinet by French romantic composers use the full resources of the innovations brought to the clarinet, by then a popular solo instrument. Some of the works were written as a test piece for competitions.
- Presented are Claude Debussy: Petit pièce (1910), Gabriel Pierné: Canzonetta in E-flat Op.19 (1888), Henri Rabaud: Solo de concours Op.10 (1901), Jules Semler-Collery: Rêverie et scherzo, Arthur Honegger: Sonatine (1921-2), Arthur Coquard: Mélodie et Scherzetto in B-flat Op.68 (c.1904), Paul Pierné: Andante scherzo, Louis Cahuzac: Cantilène, Paul Jeanjean: Arabesques in E-flat.
- Played by Aldo Botta, one of the foremost Italian clarinet players, who collaborated as soloist and orchestra player with all the important Italian orchestras.
Listening
Track list
Disk 1
Claude Debussy: Petite pièce, ICD 61

Gabriel Pierné: Canzonetta in E-Flat Major, Op. 19

Henri Rabaud: Solo de concours, IHR 7, Op. 10

Jules Semler-Collery: Rêverie et scherzo

Arthur Honegger: Sonatine, H.42: I. Modéré

Arthur Honegger: Sonatine, H.42: II. Lent et soutenu

Arthur Honegger: Sonatine, H.42: III. Vif et rythmique

Arthur Coquard: Mélodie et scherzetto in B-Flat Major, Op. 68

Paul Pierné: Andante-Scherzo pour clarinette

Louis Cahuzac: Cantilène

Paul Jeanjean: Arabesques in E-flat Major

André Messager: Solo de concours, IAM 28