The Frescobaldi Legacy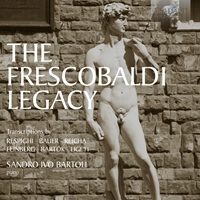 | | |
| --- | --- |
| Composer | Antonín Reicha, Béla Bartók, György Ligeti, Harold Bauer, Ottorino Respighi, Samuil Feinberg |
| Artist | Sandro Ivo Bartoli piano |
| Format | 1 CD |
| Cat. number | 9417 |
| EAN code | 5029365941723 |
| Release | November 2012 |
About this release
Although Girolamo Frescobaldi is said to have had a beautiful singing voice, it was his talent as a keyboardist that brought him into the spotlight in Italy in the late 16th and early 17th centuries, and which allowed him the opportunity to frequent such established composers as John Dowland and Orlando di Lasso. After Frescobaldi was appointed organist of St Peter's Basilica in Rome, many aspiring musicians travelled there in order to study with him, and his influence on later composers of the Baroque period is undeniable.

This release is dedicated to arrangements of Frescobaldi's music, with each composition bearing the hallmarks of its transcriber's distinct style. In addition to offerings by Respighi, Bauer and Feinberg, the disc features Reicha's 36 Fugues pour le Pianoforte – a work that pays homage to the early-Baroque composer through its use of the composer's Recercar Chromatico. The same theme also appears in Ligeti's Omaggio a Girolamo Frescobaldi, a modern interpretation using the twelve-tone scale, and the compilation extends its twentieth-century focus through the inclusion of Bartόk – a composer who, during his years as a touring concert pianist, acquired the Torchi edition of Frescobaldi's works while on a trip to Italy.

In his fourth recording for Brilliant Classics, Sandro Ivo Bartoli – a leading interpreter of early-20th-century music, hailed as one of the most exciting pianists of his generation – casts a new perspective on the Italian genius's works and shows the extent to which his music produced a legacy that permeated the Classical period and beyond.

Other information:
- A worthy and original addendum to the Brilliant Classics Frescobaldi discography, recorded on 29 & 30 June 2012, Church of San Pantaleone, Piev a Elici, Italy.
- Italian Sandro Ivo Bartoli, a pianist of colossal technical powers, specializes in rare and innovative repertoire, his Brilliant Classics recordings of Respighi Piano Concerto (BC 94055), the immense Fantasia Contrappuntistica by Busoni, a pianistic tour de force (BC 94223) and the Liszt/Busoni arrangements (BC 94200) brought him great critical acclaim in the international press, resulting in 5 star reviews.
- Includes booklet notes on each of the pieces.
Track list
Disk 1
Prelude and Fugue in G Minor: Prelude

Prelude and Fugue in G Minor: Toccata

Toccata and Fugue in A Minor: Toccata

Toccata and Fugue in A Minor: Fugue

Passacaglia

Capriccio on the Cuckoo's Call

Fuga-Fantasia Op. 36 No. 14, from 36 Fugues for Pianoforte

Canzona

Capriccio pastorale

Toccata

Fugue

Ricerare (homage to Frescobaldi) No. XI from Musica Ricercata