The John Reading Manuscripts of Dulwich College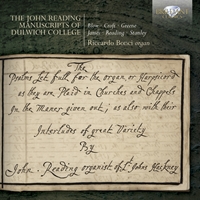 | | |
| --- | --- |
| Composer | John James, John Blow, John Reading, John Barrett, Maurice Greene, Mr Seedo, William Croft |
| Artist | Riccardo Bonci organ |
| Format | 1 CD |
| Cat. number | 94454 |
| EAN code | 5028421944548 |
| Release | July 2013 |
About this release
A noted organist, composer and teacher in his day, John Reading (born in 1685/6) was obviously something of a networker, acquiring many contacts during his spell as a chorister in the Chapel Royal and thereafter becoming friends with some of the most prominent London musicians of the 18th century. The impresario drew on his professional connections to compile what is now considered one of the most important collections of English organ music from around that period: The John Reading Manuscripts. Still housed in the beautiful surroundings of Dulwich College Library, these volumes elucidate a fascinating period of stylistic transition with regard to organ writing in mid-18th-century England.

John Blow, John James, Maurice Greene, Mr Seedo, John Stanley, John Barrett and John Reading himself: these are among the names featured in the collection and which make up this engaging release. The disc explores the inherent musical possibilities of the voluntary, a improvisatory piece which performed an established role as part of the church service, such as the 'double voluntary' and the '1st' or '2nd' voluntary. Two trumpet airs by Reading are included, works which were probably originally written for the harpsichord because of the high register of their solo parts, and the manuscripts also draw attention the two distinct styles of organ composition then in vogue: the old contrapuntal style of the early Baroque, with its elaborate ornamentation, and the new, lighter textures of the early 18th century – a reflection of the new arrival of Italian opera and the rococo style.

Performing these works with aplomb and drawing full attention to the different national styles contained therein is distinguished Italian organist Riccardo Bonci. The recording was, rather fittingly, made on the Dulwich College premises: Bonci plays the 1760 George England organ in Christ's Chapel of God's Gift.

Other information:
- Recorded 10 & 11 March 2010.
- Booklet contains extensive information on the manuscript, its history, the works and the instrument.
- This disc presents the most important collection of 18-th century English organ music, as collected and edited by the eminent John Reading, organist, composer and teacher from that period.
- Located in the beautiful historic library of Dulwich College it contains a treasure trove of works by John Stanley, John Blow, Maurice Greene, William Croft, John Barrett and (of course) John Reading himself. Music of elegance, charm and brilliance, featuring many "Trumpet Voluntaries" .
- Played on the historic 1760 George England organ in the Christ's Chapel of God's Gift in Dulwich College, a most fitting and "authentic" environment, by Italian master organist Riccardo Bonci.
Track list
Disk 1
Voluntary for Full Organ

A Voluntary

A Second Voluntary in F Major

A Voluntary in A Minor

A Second Voluntary in A Minor

A Voluntary for Full Swell, Cornet and Flute

A Trumpet Air, No. 1

A 1st Voluntary in G Major

A Double Voluntary

A Voluntary

A Voluntary for the Full Swell and Cornet

A Trumpet Air, No. 2

A Voluntary

A First Voluntary in D Minor

A First Voluntary in D Minor

Air for French Horns and Flute

A Double Voluntary