The Medieval Piper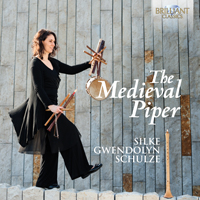 | | |
| --- | --- |
| Artist | Silke Gwendolyn Schulze medieval winds & percussion |
| Format | 1 CD |
| Cat. number | 95566 |
| EAN code | 5028421955667 |
| Release | November 2017 |
About this release
A specialist in wind instruments from the Medieval and Renaissance eras, Silke Gwendolyn Schulze takes listeners on a journey into the musical past of the courts and country fairs of Western Europe in the Middle Ages. Though little direct evidence has come down to us about individual composers and the instruments they played, she combines painstaking research and a vivid musical imagination to recreate the world of the aristocratic singer–poets and itinerant musicians – the troubadours and minstrels – who were an important part of every facet of cultural life at the time.

Knowledge of these musicians' social patterns, illustrations of instruments and manuscripts of vocal music and wordless dances have informed Schulze's reconstruction of the theoretical repertoire of one imaginary Medieval piper – the songs he would have learned, memorised and performed for the entertainment of others.

She performs a varied programme of pieces, some by great names of Medieval music such as Hildegard von Bingen and Guillaume de Machaut, some by documented courtly troubadours like Jehan Erart and Guiraut Riquier, some even posited to be by the King of Castile and Leon himself, Alfonso el Sabio, using a wide array of period wind instruments including pipe & tabor, two tabor pipes, pipe & triangle, six-hole flute, recorder, double recorder, shawm and douçaine.

A fascinating program conjuring up the life of a medieval piper, travelling the country to entertain at Royal weddings, tournaments, religious councils, court sittings and annual fairs, carrying a plethora of melodies and instruments.
The pieces on this new recordings are based on vocal source material, which is mainly taken from the "Manuscrit du Roi", the "Chansonnier de Vallière" and the "Cantigas de Santa Maria" collection. Taking the text and vocal forms that underpin them as starting point the artist instrumented some of the pieces based on the individual features and playability of the instruments in question. As many of the musical parameters are not notated down in the manuscripts much is left to free imagination and improvisation, no doubt fully in style with the original performances.
Silke Gwendolyn Schulze is specialized in the research and performance of Medieval music. She uses the following instruments: pipe, triangle, tabor, shawm, double recorder, douçaine.
Track list
Disk 1
?Alfonso el Sabio: Virgen madre groriosa

Anonymous: La seconde estampie royal

Pons d'Ortafas: Si ay perdut mon saber

Jehan de Lescurel: Comment que, pour l'eloignance

Marcabru: Bel m'es quan sunt li fruit madur

Anonymous: Saltarello

Anonymous: Che ti zova nascondere

Gherardello da Firenze: I' vo' bene

?Alfonso el Sabio: Santa Maria amar

?Alfonso el Sabio: Muito demostra a virgen

?Alfonso el Sabio: Como poden per sas culpas

Comtessa de Dia: A chantar m'es al cor

Guillaume de Machaut: Sans cuer, dolent de vous departiray

Guillaume de Machaut: Dou mal qui m'a longuement

Hildegard Von Bingen: Ave generosa

Jehan Erart: Par un tres bel jour de mai

?Alfonso el Sabio: Non sofre Santa Maria

?Alfonso el Sabio: Aquela que a seu Fillo

Berenguier de Palazol: Tant m'abelis ioys e amors e chans

Anonymous: Trotto

Anonymous: Benedicamus sane per omnia

?Alfonso el Sabio: Quen a omagen da virgin

Jehan Erart: Dehors loncpre el boschel

Guiraut Riquier: Tant m'es plazens le mal d'amor

?Alfonso el Sabio: Como somos per conssello do demo perdudos