The Organ at European Courts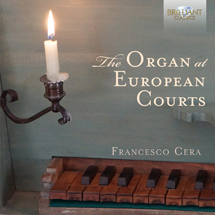 | | |
| --- | --- |
| Composer | Andrea Gabrieli, Antonio de Cabezón, Girolamo Frescobaldi |
| Artist | Francesco Cera organ |
| Format | 1 CD |
| Cat. number | 95240 |
| EAN code | 5028421952406 |
| Release | May 2016 |
About this release
Though the organ is usually and understandably associated with sacred music, this anthology of secular, dance-inspired music reveals the importance of the instrument in a courtly context. Many well-appointed royal and aristocratic court chambers had their own chamber organs, often richly decorated, sometimes portable, so that they could be moved from one room of the palace to another. Francesco Cera takes us on a journey around these 16th-century courts, including Venice, Parma, Vienna and London, with lively variation-sets on popular tunes and transcriptions of popular songs from the time: music that was good for dancing for dining to, or simply 'music for a while'.

Most of this music was written for small 'positive organs' sounding an octave higher than written pitch, but such recordings as there are have tended to be made on much larger church organs. Cera, however, has used a rare and well-preserved example of a positive organ, dated to October 1772, to be found in the refectory room of the Franciscan Convent in the Italian town of Lustra Cilento. The maker is unknown, but it was restored in 2012 and retains the original hand-operated bellows. There is only a single keyboard, and no pedals, but the organ does boast two four-foot stops, unlike most others of its size. Organ connoisseurs will be keen to acquire this album for the sake of the instrument alone, but more general listeners will be delighted by an album which presents much light, little-known and infectiously enjoyable music. Francesco Cera has an extensive discography on Brilliant Classics, including well-received solo recordings of d'Anglebert (BC94793), Trabaci (BC94897) and J.S. Bach (BC94639).

The organ is usually associated with the church and sacred music. However, in Renaissance and early baroque small organs were often used in noble mansions and courts for performance of secular music. Collections of instruments held by courts in England and Italy include a considerable number of small organs, often richly decorated and inlayed with ivory and turtle-shell.
This anthology offers a fascinating view on the secular repertoire that organists from 5 countries were performing on organs at royal courts.
Renowed Italian organist Francesco Cera plays a beautiful "Organo ottavino" from 1772 of Neapolitan build. He plays works by Antico, Frescobaldi, Gabrieli, Pasquini, de Cabezon, Scheidemann, Scheidt, Attaingnant and Du Mont.
The booklet contains liner notes and all information and photo of the organ.
Track list
Disk 1
Andrea Antico: Gentil donna

Anonymous: Gagliarda comadrina

Anonymous: Gagliarda lodesana

Anonymous: Gagliarda chataccio

Andrea Gabrieli: Canzon francese detta je n'en dirai mot

Andrea Gabrieli: Canzon francese detta qui la dira

Girolamo Frescobaldi: Canzone ottava detta la Vincenti

Girolamo Frescobaldi: Ricercare quarto sopra mi re fa mi

Bernardo Pasquini: Partite di Bergamasca

Antonio de Cabezón: Diferencias sobre el canto llano del Caballero

Antonio de Cabezón: Diferencias sobre la gallarda Milanesa

Antonio de Cabezón: Diferencias sobre las vacas

Paul Hofhaimer: Tandernack

Heinrich Scheidemann: Galliarda in D Minor, WV 107

Samuel Scheidt: Alamanda "Bruynsmedelijn" in D Minor, SSWV 558

Anonymous: Uppon la mi re

Anonymous: My lady Careys dompe

Hugh Aston: A Hornepype in F Major

Pierre Attaingnant: Pavenne

Pierre Attaingnant: Gaillarde

Pierre Attaingnant: Branle

Henri Du Mont: Allemande grave