The Raimondo Manuscript: Libro de Sonate Diverse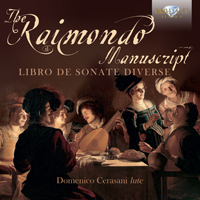 | | |
| --- | --- |
| Composer | Pietro Paolo Raimondo |
| Artist | Domenico Cerasani lute |
| Format | 1 CD |
| Cat. number | 95580 |
| EAN code | 5028421955803 |
| Release | December 2017 |
About this release
Highlights from a 17th -century manuscript of toccatas, fugues and dances for solo lute, compiled by a north-Italian nobleman: a haunting snapshot taken at the twilight of the Renaissance.

Pietro Paolo Raimondo was a nobleman of Como and a musician of accomplishment who began in 1601 to compile a manuscript of pieces that came his way. He probably copied them out – or had them copied – for the purpose of playing them himself, but the manuscript now provides a significant record of pieces that would otherwise be lost, many of them by authors now unknown to us. Among the 69 pieces there are anonymously authored dances but also fantasias by Francesco da Milano and Lorenzino del Liuto, and intabulations of vocal works such as the famous Vestiva i colli and Susanne ung jour. Through the Raimondo Manuscript we may enter the rarified world of high-Renaissance culture as seen through the eyes and ears of a cultivated amateur.

The collection has received relatively little attention on record before now, making this new recording all the more valuable: probably the first album to be devoted to it. The booklet-note gives valuable context both to the history and performance practice, written by the artist on this recording, Domenico Cerasini. He has chosen 24 items from the Manuscript, and provided authorship details where they can be deduced, but scholarly issues of
who wrote what may be considered beside the point when listening through to pieces that alternate between lively celebration and melancholy reflection.

In the place of Como, on the shore of Lake Como, an obscure Lord, Pietro Paolo Raimondo, compiles a manuscript of lute music that becomes one of the most important sources of lute repertoire of the 16th and 17th century, the Raimondo Manuscript. In this manuscript all the popular genres of the period are presented: dance forms, Fantasias, Toccatas, Fugues and intabulations of vocal works.
Domenico Cerasani, scholar, guitarist and lutenist, plays an 8-course lute for this recording.
A collection of beautiful, charming and seductive lute music, from the Golden Age of the lute, the 16th and 17th century!
Track list
Disk 1
Anonymous: Toccata

Anonymous: Ricercata

Vincenzo Pinti: Gagliarda del cavagliero

Lorenzo Tracetti: Fantasia

Anonymous: Corrente francese

Anonymous: Brandle

Anonymous: Casandra

Giovanni Pierluigi Da Palestrina: Vestiva i colli

Anonymous: Entrata per la mano – Balletto

Anonymous: Toccata con una fuga

Francesco Da Milano: Fuga

Lorenzo Tracetti: Preludio

Anonymous: Corrente francese

Filippo Piccinini: Toccata di fil

Francesco Da Milano: Fuga

Anonymous: Volta

Anonymous: Fuga

Anonymous: Gagliarda

Anonymous: Toccata

Anonymous: Fuga

Anonymous: Volta

Vincenzo Pinti: Susanna del Cavagliere

Anonymous: Paganina

Anonymous: Gagliarda