The Sea Between the Lands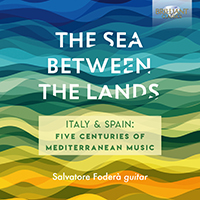 Download booklet
| | |
| --- | --- |
| Composer | Alonso Mudarra, Domenico Scarlatti, Francisco Tárrega |
| Artist | Salvatore Foderà guitar |
| Format | 1 CD |
| Cat. number | 95862 |
| EAN code | 5028421958620 |
| Release | December 2019 |
About this release
Salvatore Foderà is a Neapolitan-born guitarist who completed his studies in 2011 and embarked on a professional career performing across Asia, Europe and the Americas, including a tour of Chile sponsored by the Swiss government. His interest in Flamenco music led him to visit the Fundación Cristina Heeren in Seville and study with flamenco guitarist Pedro Sierra.

This experience inspired Salvatore Foderà to create 'The Sea Between the Lands', which celebrates five centuries of Mediterranean music from Italy and Spain. As his debut album, it announces a lavishly gifted new presence on the European guitar scene, one whose innate musicianship and lively intelligence has already produced programmes acclaimed by the public and critical press alike.

Salvatore Foderà begins his journey in with a fresh and folk-like Calata alla spagnola by Joan Ambrosio Dalza, the composer and arranger of Ottaviano Petrucci's Fourth Book of lute tablatures and arrangements, which is better known under the name of its publisher. Already here we may appreciate the cultural traffic across the two major nations of the southern Mediterranean, whereby not only musicians but their cultures travel from one to the other, become absorbed and soak into their new homes.

One such musician was Alonso Mudarra, born in Spain but who travelled to Italy as part of Charles V's court before settling in Seville. Salvatore Foderà's fellow Neapolitan Domenico Scarlatti undertook the reverse journey, and he is represented here by an arrangement for guitar of the very first in Kirkpatrick's catalogue of his 555 keyboard sonatas.

Giuliani, Tárrega and Falla accompany us through the Romantic era in pieces that show how embedded the guitar culture had become in both countries, with Italian harmonies exercising a decisive influence over the native Spanish technique of playing. To conclude, Salvatore Foderà presents three pieces by 20th-century composers. Sabicas (the stage name of Agustín Castellón Campos, 1912-1990) was a leading figure in the first generation of great guitarists who spread Flamenco worldwide. Among his most distinguished successors is Vicente Amigo, born in Seville in 1967, composing works that have brought flamenco into the concert-hall. Finally, an arrangement of the famous love theme from the 1988 film Cinema Paradiso, which has become better known for its score by the Oscar-winning Ennio Morricone.

For centuries the neighbouring countries Spain and Italy were in close connection, politically and culturally. Only the sea divided these mediterranean cultures, sharing their love of the good things of the earth.
This enterprising program presents works spanning 5 centuries, from the 16th to the 20th century, in music by Mudarra, Dalza, Giuliani, Scarlatti, De Falla, Tárrega, Amico, Sabicas, Morricone, music evoking the smells, colours and sounds of both countries.
Played with dedication and feeling for the idiom by Italian guitarist Savatore Foderà, who enjoys a busy international career as soloist and chamber music player, with a special interest in Flamenco music.
Listening
Track list
Disk 1
Joan Ambrosio Dalza: Calata alla spagnuola ditta terzetti

Alonso Mudarra: Fantasia X

Domenico Scarlatti: Sonata in D Minor, K.1 L.366

Domenico Scarlatti: Sonata in B Minor, K.27 L.449

Mauro Giuliani: Rossiniana No. 1, Op. 119

Francisco Tárrega: Capricho árabe

Manuel de Falla: Danza Española No. 1

Sabicas: Punta y tacón

Vicente Amigo: Tío arango

Ennio Morricone: Nuovo cinema paradiso