Theodore Kuchar: Dvorák, Shostakovich, Smetana, Nielsen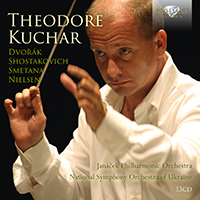 Download booklet
Composer
Antonín Dvorák, Bedrich Smetana, Carl Nielsen, Dmitri Shostakovich
Artist
Janácek Philharmonic Orchestra
National Symphony Orchestra of Ukraine
Theodore Kuchar conductor
Format
13 CD
Cat. number
95932
EAN code
5028421959320
Release
April 2019
About this release
The complete Brilliant Classics recordings of a masterful modern maestro with a touch of genius in little-known repertoire.

In the extensive booklet interview, the conductor Theodore Kuchar recalls how, as a boy growing up outside Cleveland to Ukrainian-born parents, he learnt his music at the feet of Lorin Maazel, sitting in the cheap seats every week. Sound training and determination took him to Helsinki as violist and part-time conductor for the Finnish Opera, thence to Brisbane for his first musical directorship in charge of the Queensland Philharmonic.

But it was in 1992 that Kuchar discovered his roots and began to establish an international reputation when he took over the National Symphony Orchestra of the Ukraine. Together they have given lengthy tours worldwide, hundreds of concerts and made many recordings for several labels. The theatre music by Shostakovich was particularly successful and holds a treasured place in Kuchar's heart: 'The Bolt is absolute genius. I've done it with every orchestra I've had a long relationship with, and every time it knocks an audience sideways.'

In the early 2000s Kuchar also worked regularly with the Janáček Philharmonic Orchestra based in Ostrava, formerly known as the Czech Radio Orchestra. Together they recorded the major – and most of the minor – orchestral works by Smetana, the best-known tone-poems of Dvořák and even the complete symphonies of Carl Nielsen, which became a critical hit. Since then Kuchar has conducted orchestras throughout Europe, Asia and the Americas. As music director of the Orquesta Sinfónica Venezuela he led a vibrantly colourful collection of Latin-American orchestral classics (by Ginastera, Moncayo and Revueltas among others) for the last disc on this retrospective, recorded in 2011.

'Theodore Kuchar is one of today's most dynamic, most successful young conductors… every instrumental effect comes through beautifully… Tempos are generally rapid and spirits high… this is a lot of fine Dvorák for a very low price.' (Fanfare) 'This is a recording of very high worth by a conductor of genius. Each and every minute of every piece on this three-CD [Smetana] set is emotionally committed, tautly controlled, propulsive, and stunning. I haven't heard a Má vlast or Bartered Bride Overture this good on records in eons.' (Fanfare)

'These performances [of Latin-American classics] are very slick. The tightness of ensemble in Moncayo's Huapango shows up the sloppiness of most other versions. Kuchar sets and maintains a perfect tempo here and elsewhere. The recording quality is sharp-edged and bright, adding to the excitement. (Fanfare)

'Theodore Kuchar leads what is without question the most exciting complete Nielsen symphony cycle available, making this the set to get for Nielsen newcomers.' (Classics Today)

This set brings together the recordings conductor Theodore Kuchar made for Brilliant Classics: the complete symphonies by Carl Nielsen, the Symphonic Poems by Dvorák, the orchestral works by Smetana, ballet suites by Shostakovich and a recording of Latin American classics. All these recording have met with enthusiastic critical acclaim: "10/10: first recommendation in this repertoire..terrific sonics..irresistable package.."(Classicstoday on Shostakovich), "Theodore Kuchar is an extremely exciting and talented conductor..thrilling, with uninhibited abandon"(Classicstoday on Dvorák), "Theodore Kuchar leads what is without question the most exciting complete Nielsen symphony cycle available, 9/9"(Classicstoday on Nielsen), "with plenty of enthusiasm and vigor..hard to beat..one of the best versions available.."(Classicstoday on Smetana). The Latin-American program was nominated for a Latin Grammy.
Theodore Kuchar (1963) was born in New York. He studied the viola and conducting, and was for a period principal violist of the Cleveland Orchestra. He is one of the most sought-after conductors of his time, active with the Symphony Orchestra of the Ukraine, Janacek SO, Venezuelan SO and others.
Listening
Track list
Disk 1
Antonín Dvorák: Czech Suite in D Major, Op. 39: I. Praeludium

Antonín Dvorák: Czech Suite in D Major, Op. 39: II. Polka

Antonín Dvorák: Czech Suite in D Major, Op. 39: III. Sousedská

Antonín Dvorák: Czech Suite in D Major, Op. 39: IV. Romance

Antonín Dvorák: Czech Suite in D Major, Op. 39: V. Finale

Antonín Dvorák: My Home Overture in C Major, Op. 62

Antonín Dvorák: Husitska Overture, Op. 67

Antonín Dvorák: In Nature´s Realm Overture in F Major, Op. 91

Antonín Dvorák: Otello in C-Sharp Minor, Op. 93
Disk 2
Antonín Dvorák: Symphonic Variations in C Major, Op. 78

Antonín Dvorák: Carnival Overture in A Major, Op. 92

Antonín Dvorák: Water Goblin in B Minor, Op. 107

Antonín Dvorák: Noon-Day Witch in C Major, Op. 108
Disk 3
Antonín Dvorák: Golden Spinning Wheel in F Major, Op. 109

Antonín Dvorák: Wood Dove in C Minor, Op. 110

Antonín Dvorák: A Hero´s Song in B-Flat Minor, Op. 111
Disk 4
Dmitri Shostakovich: Suite for Variety Orchestra No. 1: I. March

Dmitri Shostakovich: Suite for Variety Orchestra No. 1: II. Dance No. 1

Dmitri Shostakovich: Suite for Variety Orchestra No. 1: III. Dance No. 2

Dmitri Shostakovich: Suite for Variety Orchestra No. 1: IV. Little Polka

Dmitri Shostakovich: Suite for Variety Orchestra No. 1: V. Lyric Waltz

Dmitri Shostakovich: Suite for Variety Orchestra No. 1: VI. Waltz No. 1

Dmitri Shostakovich: Suite for Variety Orchestra No. 1: VII. Waltz No. 2

Dmitri Shostakovich: Suite for Variety Orchestra No. 1: VIII. Finale

Dmitri Shostakovich: Overture on Russian and Kirghiz Themes, Op. 115

Dmitri Shostakovich: Jazz Suite No. 1: I. Waltz

Dmitri Shostakovich: Jazz Suite No. 1: II. Polka

Dmitri Shostakovich: Jazz Suite No. 1: III. Foxtrot

Dmitri Shostakovich: Novorossijsk Chimes

Dmitri Shostakovich: Festive Overture, Op. 96
Disk 5
Dmitri Shostakovich: The Bolt, Ballet Suite, Op. 27a: I. Overture

Dmitri Shostakovich: The Bolt, Ballet Suite, Op. 27a: II. Polka

Dmitri Shostakovich: The Bolt, Ballet Suite, Op. 27a: III. Variation

Dmitri Shostakovich: The Bolt, Ballet Suite, Op. 27a: IV. Tango

Dmitri Shostakovich: The Bolt, Ballet Suite, Op. 27a: V. Intermezzo

Dmitri Shostakovich: The Bolt, Ballet Suite, Op. 27a: VI. Finale

Dmitri Shostakovich: The Limpid Stream, Ballet Suite, Op. 39a: I. Waltz

Dmitri Shostakovich: The Limpid Stream, Ballet Suite, Op. 39a: II. Russian Lubok

Dmitri Shostakovich: The Limpid Stream, Ballet Suite, Op. 39a: III. Galop

Dmitri Shostakovich: The Limpid Stream, Ballet Suite, Op. 39a: IV. Adagio

Dmitri Shostakovich: The Limpid Stream, Ballet Suite, Op. 39a: V. Pizzicato

Dmitri Shostakovich: The Golden Age, Ballet Suite, Op. 22a: I. Overture

Dmitri Shostakovich: The Golden Age, Ballet Suite, Op. 22a: II. Adagio

Dmitri Shostakovich: The Golden Age, Ballet Suite, Op. 22a: III. Polka

Dmitri Shostakovich: The Golden Age, Ballet Suite, Op. 22a: IV. Dance
Disk 6
Dmitri Shostakovich: Hamlet Suite: I. Prelude

Dmitri Shostakovich: Hamlet Suite: II. The Ball at the Palace

Dmitri Shostakovich: Hamlet Suite: III. The Ghost

Dmitri Shostakovich: Hamlet Suite: IV. In the Garden

Dmitri Shostakovich: Hamlet Suite: V. Hamlet & Ophelia

Dmitri Shostakovich: Hamlet Suite: VI. Arrival of the Actors

Dmitri Shostakovich: Hamlet Suite: VII. Poisoning Scene

Dmitri Shostakovich: Hamlet Suite: VIII. Duel and Death of Hamlet

Dmitri Shostakovich: Gadfly, Suite, Op. 97a: I. Overture

Dmitri Shostakovich: Gadfly, Suite, Op. 97a: II. Contradance

Dmitri Shostakovich: Gadfly, Suite, Op. 97a: III. Folk Feast

Dmitri Shostakovich: Gadfly, Suite, Op. 97a: IV. Interlude

Dmitri Shostakovich: Gadfly, Suite, Op. 97a: V. Waltz "Barrel Organ"

Dmitri Shostakovich: Gadfly, Suite, Op. 97a: VI. Galop

Dmitri Shostakovich: Gadfly, Suite, Op. 97a: VII. Introduction

Dmitri Shostakovich: Gadfly, Suite, Op. 97a: VIII. Romance

Dmitri Shostakovich: Gadfly, Suite, Op. 97a: IX. Intermezzo

Dmitri Shostakovich: Gadfly, Suite, Op. 97a: X. Nocturne

Dmitri Shostakovich: Gadfly, Suite, Op. 97a: XI. Scene

Dmitri Shostakovich: Gadfly, Suite, Op. 97a: XII. Finale
Disk 7
Bedrich Smetana: Má Vlast, JB 1:112: I. Vyšehrad

Bedrich Smetana: Má Vlast, JB 1:112: II. Vltava

Bedrich Smetana: Má Vlast, JB 1:112: III. Šarka

Bedrich Smetana: Má Vlast, JB 1:112: IV. From Bohemia's Meadows and Forests

Bedrich Smetana: Má Vlast, JB 1:112: V. Tábor

Bedrich Smetana: Má Vlast, JB 1:112: VI. Blanik
Disk 8
Bedrich Smetana: Wallenstein's Camp, Op. 14

Bedrich Smetana: Håkon Jarl, Op. 16

Bedrich Smetana: Richard III, Op. 11

Bedrich Smetana: Overture to "The Bartered Bride", JB 1:100

Bedrich Smetana: Three Dances from "The Bartered Bride", JB 1:100: I. Polka

Bedrich Smetana: Three Dances from "The Bartered Bride", JB 1:100: II. Furiant

Bedrich Smetana: Three Dances from "The Bartered Bride", JB 1:100: III. Skocna

Bedrich Smetana: Doktor Faust, Overture to the puppet-play by Matej Kopecký in C Minor, JB 1:85

Bedrich Smetana: Venkovanka, The Peasant Woman in G Major, JB 1:115

Bedrich Smetana: Nasim Devam, To our Girls in D Major, JB 1:86
Disk 9
Bedrich Smetana: Festive Symphony in E Major, Op. 6: I. Allegro vivace

Bedrich Smetana: Festive Symphony in E Major, Op. 6: II. Largo maestoso

Bedrich Smetana: Festive Symphony in E Major, Op. 6: III. Scherzo, allegro vivace

Bedrich Smetana: Festive Symphony in E Major, Op. 6: IV. Finale, allegro non troppo ma energico

Bedrich Smetana: Festive Overture in C Major

Bedrich Smetana: Festive Overture in D Major, Op. 4

Bedrich Smetana: Prague Carnival, Introduction & Polonaise in A Minor, JB 1:126

Bedrich Smetana: March of the National Guard in D Major, JB 1:37

Bedrich Smetana: Shakespeare Festival March in E Major, JB 1:90
Disk 10
Carl Nielsen: Symphony No. 1 in G Minor, Op. 7: I. Allegro orgoglioso

Carl Nielsen: Symphony No. 1 in G Minor, Op. 7: II. Andante

Carl Nielsen: Symphony No. 1 in G Minor, Op. 7: III. Allegro comodo

Carl Nielsen: Symphony No. 1 in G Minor, Op. 7: IV. Finale, allegro con fuoco

Carl Nielsen: Symphony No. 2, Op. 16: I. Allegro collerico

Carl Nielsen: Symphony No. 2, Op. 16: II. Allegro comodo e flemmatico

Carl Nielsen: Symphony No. 2, Op. 16: III. Andante malincolico

Carl Nielsen: Symphony No. 2, Op. 16: IV. Allegro sanguinoso
Disk 11
Carl Nielsen: Symphony No. 3, Op. 27: I. Allegro espansivo

Carl Nielsen: Symphony No. 3, Op. 27: II. Andante pastorale

Carl Nielsen: Symphony No. 3, Op. 27: III. Allegretto un poco

Carl Nielsen: Symphony No. 3, Op. 27: IV. Finale, allegro

Carl Nielsen: Symphony No. 4, Op. 29: I. Allegro

Carl Nielsen: Symphony No. 4, Op. 29: II. Poco allegretto

Carl Nielsen: Symphony No. 4, Op. 29: III. Poco adagio quasi andante

Carl Nielsen: Symphony No. 4, Op. 29: IV. Allegro
Disk 12
Carl Nielsen: Symphony No. 5, Op. 50: I. Tempo giusto

Carl Nielsen: Symphony No. 5, Op. 50: II. Allegro

Carl Nielsen: Symphony No. 6, CNW 30: I. Tempo giusto

Carl Nielsen: Symphony No. 6, CNW 30: II. Humoreske, allegretto

Carl Nielsen: Symphony No. 6, CNW 30: III. Proposta seria, adagio

Carl Nielsen: Symphony No. 6, CNW 30: IV. Theme & Variations
Disk 13
José Pablo Moncayo: Huapango

Arturo Márquez: Danzón No. 2

Aldemaro Romero: Tocatta bachiana y Pajarillo Aldemaroso

Silvestre Revueltas: Janitzio in A Major, R.36

Alberto Ginastera: Four Dances from Estancia: I. Los trabajadores agrícolas

Alberto Ginastera: Four Dances from Estancia: II. Danza del trigo

Alberto Ginastera: Four Dances from Estancia: III. Los peones de hacienda

Alberto Ginastera: Four Dances from Estancia: IV. Danza final

Yuri Hung: Kanaima

Oscar Lorenzo Fernández: Batuque