Tintinnabuli: Arvo Pärt & Jeroen van Veen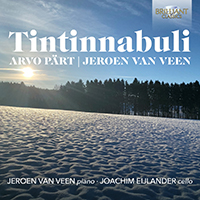 Composer
Arvo Pärt, Jeroen van Veen
Artist
Jeroen van Veen piano
Joachim Eijlander cello
Format
1 CD
Cat. number
96840
EAN code
5028421968407
Release
December 2022
About this release
Eight years ago, a 2CD collection of piano music by Arvo Pärt became a Brilliant Classics best-seller (95053, now reissued on LP), with Jeroen van Veen's playing capturing both the zeitgeist and the rapturous stillness of the Estonian composer's aesthetic. 'Jeroen van Veen's recording can stand alongside the best from any source, and this set is worthy of high praise in every regard' (MusicWeb International). 'All played with insight and a crystalline tone… almost unbearably beautiful' (BBC Music Magazine).
This sequel reprises a selection of those 'modern classic' recordings, and adds a trio of newly made recordings for cello and piano. Jeroen van Veen is joined by his pianist wife Sandra, and cellist Joachim Eijlander, to present a portrait of Pärt the man and the composer, attentive to and yet at times purposefully isolated from the turbulent currents of music in the second half of the last century. The album opens with a new recording of Fratres in its familiar cello-and-piano guise, and continues with masterpieces of 'new simplicity' from the 1970s such as Für Alina and Pari Intervallo.
Such pieces began to set out the harmonic world of 'tintinnabuli', characterised by open and slow-moving harmonies, for which Pärt later became famous worldwide. The Ukuaru Valss affords a rare glimpse of the composer's lighter side, before an extended version of Für Alina and then the unearthly, imperishable echoes of Spiegel im Spiegel, which distils the sound of Part as much as any other single piece.
The album concludes with Pärtomania, a newly written 20-minute tribute to the composer's soundworld by Jeroen van Veen, scored for the same string-instrument and piano combination as Fratres and Spiegel im Spiegel. Van Veen himself discusses the unique world of Pärt's music in a booklet introduction.

· Arvo Pärt (born 1935) is without doubt one of the best-known and -loved composers of today. His highly personal style, influenced by Gregorian Chant, is based on slowly shifting patterns, tintinnabuli (little bells), creating a meditative and hallucinatory effect, a visionary world of spiritual contemplation. Pärt's music enjoys a huge popularity with both the traditional classical audience as well as an open-minded new generation.
· "Tintinnabuli" (Latin for "bells") refers to the principle that does not strive towards a progressive increase in complexity, but rather towards an extreme reduction of sound materials and a limitation to the essential; in other words minimalism with maximum effect.
· This recording presents some of Pärt's best known works: Fratres, Für Aline, Spiegel im Spiegel, Variationen zur Gesundung von Arinushka, in various guises for both piano solo and cello and piano. As a bonus track we hear a composition by pianist Jeroen van Veen, Pärtomania, The source materials are techniques that Pärt also used in his compositions, slowly climbing and descending scales, dissonant and consonant in balance, a serene and slow atmosphere with a slowing down feeling.
· Played by Jeroen van Veen, pioneer and champion of Minimal Music, and Dutch cellist Joachim Eijlander.
Track list
Disk 1
Arvo Pärt: Fratres

Arvo Pärt: Für Alina (1976)

Arvo Pärt: Variationen zur Gesundung von Arinushka

Arvo Pärt: Pari intervallo

Arvo Pärt: Ukuaru valss

Arvo Pärt: Für Alina (1976) Extended Version

Arvo Pärt: Für Anna Maria (2006)

Arvo Pärt: Spiegel im Spiegel (1978)

Jeroen van Veen: Pärtomania (2021)