Tosti: The Song of a Life, Volume 2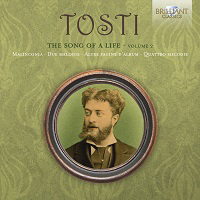 Download booklet
| | |
| --- | --- |
| Composer | Francesco Paolo Tosti |
| Artist | Various |
| Format | 4 CD |
| Cat. number | 95429 |
| EAN code | 5028421954295 |
| Release | February 2018 |
About this release
With this second volume of Tosti's songs, Brilliant Classics takes listeners just half-way through a prodigious, career-long output, in which the key-notes are unfailingly memorable melody, lively charm and a gift for story-telling that rivals the very greatest song-writers past and present, from Schubert to Dylan.

Many of his songs have never been recorded, so this set makes a unique contribution to the catalogue. The booklet contains an extensive introduction to the project by Francesco Sanvitale, the scholar who devised the project and in whose memory it is being gradually realised and published after his untimely death in 2014.

There are a few French songs on Vol 2, reflecting Tosti's great popularity in Paris, but most of the texts here are by Italian poets, mostly contemporaries such as D'Annunzio and Panzacchi. The discs work chronologically through the decade 1886-1895, during which time he was singing teacher to the English royal family. Perhaps in deference to his pupils, there are songs by the likes of Longfellow and Weatherly: the last disc concludes with his delicately wistful setting of In the Hush of the Night.

The first volume on Brilliant Classics BC95201) of this extraordinary project won wide critical praise. 'All the singers are careful over nuances,' remarked MusicWeb International. 'Tosti's songs have, through the years, been bawled out of recognition by leather-lunged tenors, and it is a blessing to hear so many beautiful pianissimos and diminuendos in this repertoire. The accompaniments are discreet and the recording is well-balanced and natural-sounding.' This set will be an essential acquisition for all lovers of art-song.

The booklet includes liner notes in English and Italian, the sung texts are available on the Brilliant Classics website.

This is the second instalment of a huge enterprise, a world premiere: the recording of the complete songs by Tosti!
Paolo Tosti (1846-1916) worked in poverty as a music teacher till he met the influential composer Giovanni Sgambati, who became his mentor. He introduced Tosti to Princess Margherita of Savoy, who became later queen of Italy. She was impressed by him and appointed him as royal music teacher. In 1875 Tosti went to London where his fame spread, and he was made Singing Master of the Royal family.
Tosti is known for his vast quantity of light, expressive songs, which are characterised by natural, singable melodies of a charming and sweet sentiment. They became immensely popular and Tosti made a fortune with them.
This new project is produced by the Tosti Institute in Italy, presenting an impressive line of excellent Italian singers: Monica Bacelli, Desirée Rancatore, Jurgita Adamonité, Piotr Lempa, Mark Milhofer, Benedetta Torre, Eugene Villanueva, the pianists include Marco Scolastra, Antonio Ballista, Luisa Prayer and Marco Moresco.
Track list
Disk 1
Francesco Paolo Tosti: Apri!..., serenata popolare

Francesco Paolo Tosti: At the Convent Gate, Song

Francesco Paolo Tosti: In mare, melodia

Francesco Paolo Tosti: Prière

Francesco Paolo Tosti: Sogno, melodia

Francesco Paolo Tosti: Marechiare, canto Napolitano

Francesco Paolo Tosti: Pepìta, vecchia canzone spagnuola

Francesco Paolo Tosti: Lutto, melodia

Francesco Paolo Tosti: L'ultimo bacio, romanzetta

Francesco Paolo Tosti: Chanson de Fortunio
Disk 2
Francesco Paolo Tosti: Love Ties

Francesco Paolo Tosti: Malìa, melodia

Francesco Paolo Tosti: Segreto, melodia

Francesco Paolo Tosti: Vieni…, piccola barcarola

Francesco Paolo Tosti: We Have Loved, Song

Francesco Paolo Tosti: Malinconia: I. Dorme la selva

Francesco Paolo Tosti: Malinconia: II. Quand'io ti guardo

Francesco Paolo Tosti: Malinconia: III. L'ora è tarda

Francesco Paolo Tosti: Malinconia: IV. Or dunque addio!

Francesco Paolo Tosti: Malinconia: V. Chi sei tu che mi parli?

Francesco Paolo Tosti: La viuletta. Si na scingiate te putesse dà

Francesco Paolo Tosti: Luce d'amore!, melodia

Francesco Paolo Tosti: Due melodie: I. Deh, ti desta, serenata

Francesco Paolo Tosti: Due melodie: II. Au cimetière, mélodie

Francesco Paolo Tosti: Dreams of the Summer Night, Serenade

Francesco Paolo Tosti: Chanson d'automne

Francesco Paolo Tosti: Ici bas, mélodie

Francesco Paolo Tosti: Mio povero amor!, romanzetta

Francesco Paolo Tosti: Ridonami la calma!..., preghiera

Francesco Paolo Tosti: Tell Them!, Song
Disk 3
Francesco Paolo Tosti: Altre pagine d'album: I. Lasciali dir

Francesco Paolo Tosti: Altre pagine d'album: II. Tout passe, tout lasse, tout casse!

Francesco Paolo Tosti: Altre pagine d'album: III. Automne

Francesco Paolo Tosti: Altre pagine d'album: IV. Primavera

Francesco Paolo Tosti: Altre pagine d'album: V. Mon coeur est plein de toi

Francesco Paolo Tosti: Altre pagine d'album: VI. Fiaba

Francesco Paolo Tosti: Altre pagine d'album: VII. Si vous saviez!

Francesco Paolo Tosti: Altre pagine d'album: VIII. Carmèn

Francesco Paolo Tosti: Altre pagine d'album: IX. Je voudrais

Francesco Paolo Tosti: Altre pagine d'album: X. Guitare

Francesco Paolo Tosti: Altre pagine d'album: XI. Si tu le volais

Francesco Paolo Tosti: Altre pagine d'album: XII. Dimmi fanciulla

Francesco Paolo Tosti: Carmela, ballatella popolare

Francesco Paolo Tosti: La serenata

Francesco Paolo Tosti: Shall We Forget, Song

Francesco Paolo Tosti: Non senti tu…, melodia

Francesco Paolo Tosti: Un bacio, canzone

Francesco Paolo Tosti: Pianto di monaca, melodia

Francesco Paolo Tosti: Io mi domando, melodia

Francesco Paolo Tosti: Cadenza a la serenata, scritta appositamente per Nellie Melba
Disk 4
Francesco Paolo Tosti: Beauty's Eyes, Song

Francesco Paolo Tosti: Ever Yours Sincerely, Chansonette

Francesco Paolo Tosti: Tell me to Stay, Song

Francesco Paolo Tosti: Venetian Song

Francesco Paolo Tosti: Canzone Veneziana

Francesco Paolo Tosti: Winged Echoes, Song

Francesco Paolo Tosti: Entra!, melodia

Francesco Paolo Tosti: Magìa, romanza

Francesco Paolo Tosti: My Memories, Song

Francesco Paolo Tosti: Triste ritorno, melodia

Francesco Paolo Tosti: I Dare to Love Thee, song

Francesco Paolo Tosti: Novena profana, melodia

Francesco Paolo Tosti: Neapolitan Song

Francesco Paolo Tosti: Per morire, melodia

Francesco Paolo Tosti: Comme va?, ricordo di Francavilla al Mare

Francesco Paolo Tosti: Nel mio segreto?, melodia

Francesco Paolo Tosti: Quattro melodie: I. Laggiù, laggiù!

Francesco Paolo Tosti: Quattro melodie: II. "La fioca anima mia"

Francesco Paolo Tosti: Quattro melodie: III. Non m'aspettare!

Francesco Paolo Tosti: Quattro melodie: IV. Per l'amor d'amore

Francesco Paolo Tosti: In the Hush of the Night, Song