Tosti: The Song of a Life, Volume 3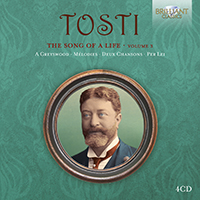 Composer
Francesco Paolo Tosti
Artist
Delphine Da Pontello soprano
Marco Severin baritone
Isabella Crisante pianoforte
Marco Scolastra pianoforte
Daniela Mazzucato soprano
Max René Cosotti tenor
Giulia De Blasis soprano
Alessandro Luciano tenor
Marco Moresco pianoforte
Format
4 CD
Cat. number
95431
EAN code
5028421954318
Release
May 2019
About this release
Based on 33 years of scholarship and promotion by the Istituto Nazionale Tostiano and a lifetime of studies on the part of Francesco Sanvitale, this volume lives up to its predecessors in bringing to wider attention the work of a born songsmith, at home in the English and French tongues as well as his native Italian, and one who brought the genre of salon song to a peak of perfection.

No one, not even the most dedicated Tosti singers such as Gigli and Caruso, had ever addressed Tosti's oeuvre with anything near a comprehensive approach. Yet the chronological approach to his work taken bythis project proves that he was certainly not confined within the limited universe of love requited, rejected, desired, misunderstood, suffered or unspoken. The songs in this third volume cover the last decade of the 19th century, by which time Tosti had settled in London, been appointed singing teacher to the royal family and to a professorship at the Royal Academy of Music.

Despite their relative youth, the singers chosen to record this project are all Tosti experts, having won various editions of Ortona's international voice competition devoted to the interpretation of drawing- room songs and ballads. Other actors of lesser skill almost always seem to be portraying the same person. Much the same thing can happen with music, but not here, thanks to the light, graceful and lively address of the singers to the wide range of poets set by Tosti, including Victor Hugo, Jules Barbier, Alfred de Musset and Frederic Weatherly as well as less-familiar lyricists such as Barry Cornwall and Ada Negri.

The booklet (in English and Italian) includes a full contextual introduction to Tosti in his time, and sung texts are available at brilliantclassics.com.

This is the third and penultimate instalment of a huge enterprise, a world premiere: the recording of the complete songs by Tosti!
Paolo Tosti (1846-1916) worked in poverty as a music teacher till he met the influential composer Giovanni Sgambati, who became his mentor. He introduced Tosti to Princess Margherita of Savoy, who became later queen of Italy. She was impressed by him and appointed him as royal music teacher. In 1875 Tosti went to London where his fame spread, and he was made Singing Master of the Royal family.
Tosti is known for his vast quantity of light, expressive songs, which are characterised by natural, singable melodies of a charming and sweet sentiment. They became immensely popular and Tosti made a fortune with them.
This new project is produced by the Tosti Institute in Italy, presenting an impressive line of excellent Italian singers: Delphine Da Pontello, Marco Severin, Daniela Mazzucato, Max René Cosotti, Giulia De Blasis, Alessandro Luciano. The pianists are Marco Moresco, Marco Scolastra and Isabella Crisante.
Track list
Disk 1
A sera…, vogata

Sleep, and Remembered, Beloved

Barcarolle

My Darling

Love's Return

Lamento d'amore. perché ti deggio amar

A Greyswood: I. Mattinata

A Greyswood: II. Sonnet

A Greyswood: III. Zitta!

A Greyswood: IV. Vecchio stornello

Because of You

May-Time

Mélodies: I. Mon bien aimé!

Mélodies: II. Petite valse romantique

Mélodies: III. Avec toi

Mélodies: IV. L'extase I. Connaissez-vous

Mélodies: II. Debout encore, muet

Mélodies: III. Lorsqu'en mes bras

Petite noel

Who Knows?

Povera Maria!
Disk 2
Te souviens-tu?

Les filles de Cadix

Why Beatest So, O Heart?

Let love Awake

Two, Song

Addio fanciulla…

Petite serenade

Demain!

Retournelle

Suzon

Bonjour, Suzon!

Canta!...

My Dreams

On Lido Waters

Song of a Rose

Rêve

Strana

Te solo

A Song of Rest

Falling Leaves
Disk 3
Ancora…!

Le rose che mi desti

Se avessi l'ale!...

Senza l'amore!

Ohè! Mammà!

Invano!

2 chansons: I. Chanson de Barberine

2 chansons: II. Chanson de l'adieu

Amour! Amour!

Infidélité

Malgré moi

Solo!

Parted

Per lei: I. Io ricordo, madonna, quella sera

Per lei: II. E come i maggi vengon per le rose

Per lei: III. Dalla pioggia le foglie ancor bagnate

Per lei: IV. Io vi vorrei veder tutta baciata

Per lei: V. Ed ecco il sogno

Aimez quand on vous aime!
Disk 4
Speak!

The Silver Lining

If

Love me To-Day

Spring

Regret

Far away

Rose d'automne

Fede

Serenata allegra

Novembre

La mia canzone!

Chi sa!

Inverno triste!

Parting Time

Non m'amate più

Vos yeux

Mon coeur qui t'aime!

Pierrot's Lament

Non chiedermi se t'amo