Tournemire: Complete Organ Music, Oeuvres d'Orgue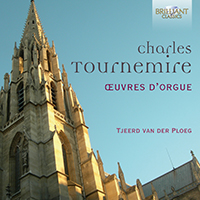 | | |
| --- | --- |
| Composer | Charles Tournemire |
| Artist | Tjeerd van der Ploeg organ |
| Format | 4 CD |
| Cat. number | 95983 |
| EAN code | 5028421959832 |
| Release | September 2020 |
About this release
Charles Tournemire (1870-1939) ranks among the most important organ composers of the 20th century, writing in a language that drew for its expressive power on the centuries-old tradition of French organ music from Couperin to Franck, as well as the timbral innovations pioneered by the organ builder Aristide Cavaillé-Coll, anticipating in his boldest harmonic strokes and most perfumed textures the music of Olivier Messiaen.

However, while never exactly overlooked either by organists or listeners, Tournemire's output has suffered somewhat in the shadow of more extrovert composer-performers such as Marcel Dupre and Messiaen. It takes a particularly refined sensibility as well as the right instrument and an unassailable technique to do his complex music full justice. The Dutch organist Tjeerd van der Ploeg has long been recognised as one of the composer's most persuasive advocates, one of very few with the stamina and dedication to make a complete recording of the Orgue mystique project which was Tournemire's life's work. Alongside it, however, he composed many other suites and standalone pieces throughout his career, ranging from the brilliant Sortie Op.2 to the more ruminative pleasures of the Fioretti Op.60 (based on the sayings of St Francis of Assisi) and extended meditations on the Seven Last Words.

Van der Ploeg's achievement is widely recognised by his fellow organists. Among the most celebrated of them was his fellow Dutchman Albert de Klerk, who wrote: 'These are sounds for meditation and prayer. You will be gripped by this and will not let go. I have nothing but praise for Tjeerd van der Ploeg's playing. This man understands Tournemire. His playing is flexible, the articulation is just right. His registrations are usually excellent. [...] The instrument has been chosen correctly, a great wealth of fundamental voices, reeds and silent solo registers. The present set reissues recordings made around the turn of the millennium on superb French instruments in Douai Abbey, Cambrai Cathedral and the church of Notre Dame d'Auteuil in Paris, with full specifications for each one listed in the booklet, which also prints contextual notes for each piece. On their original release, these recordings attracted fulsome praise in the Dutch press: 'Van der Ploeg plays with great imagination and accuracy.' (Trouw). 'Tjeerd van der Ploeg plays the Mutin organ in the Saint-Pierre in Douai in an extremely imaginative manner and although he does not originate from the "Roman" tradition, he knows how to evoke the mystique of incense and pointed arches' (Luister). 'An excellent interpretation of Tournemire's subtle Impressionism, thanks to the clear recording and the tone-colours: enthusiastically recommended' (Nederlands Dagblad).

Charles Tournemire was born in Bordeaux in 1870. A child prodigy he became organist-accompagnateur at age 11 at the St. Pierre in Bordeaux. At the Paris Conservatory he had lessons from De Bériot and César Franck, after whose death he continued with Charles-Marie Widor. In 1891 he became organist of the famous Basilika St. Clotilde in Paris, a post he held till his death in 1939.
As a composer Tournemire was influenced by his teachers Franck and Widor. He expanded their harmonic system even more, using Gregorian Chant and even exotic elements from India to create a truly symphonic sound fresco of unprecedented scope and richness, evoking the mystical aspects of the Catholic faith.
This set contains Tournemire's complete Organ Works, apart from his cycle L'Orgue mystique.
Played by Dutch master organist Tjeerd van de Ploeg on three French organs perfectly suited to the grand style of the music: the organ at St. Pierre, Douai, the organ at Cambrai Cathedral and the organ at Notre-Dame d'Auteuil, Paris. The technical specifications of these instruments are included in the booklet, which also contains detailed descriptions of the compositions.
Listening
Track list
Disk 1
Charles Tournemire: Symphonie choral d'orgue, Op. 69

Charles Tournemire: Sei fioretti, Op. 60: I. —

Charles Tournemire: Sei fioretti, Op. 60: II. —

Charles Tournemire: Sei fioretti, Op. 60: III. —

Charles Tournemire: Sei fioretti, Op. 60: IV. —

Charles Tournemire: Sei fioretti, Op. 60: V. —

Charles Tournemire: Sei fioretti, Op. 60: VI. —

Charles Tournemire: Symphonie sacrée, Op. 71
Disk 2
Charles Tournemire: Trois poèmes, Op. 59: I. Poème I

Charles Tournemire: Trois poèmes, Op. 59: II. Poème II

Charles Tournemire: Trois poèmes, Op. 59: III. Poème III

Charles Tournemire: Suite evocatrice, Op. 74: I. Grave

Charles Tournemire: Suite evocatrice, Op. 74: II. Tierce en taille et récit de cromhorne

Charles Tournemire: Suite evocatrice, Op. 74: III. Flûte d'écho

Charles Tournemire: Suite evocatrice, Op. 74: IV. Jeu doux et voix humaine

Charles Tournemire: Suite evocatrice, Op. 74: V. Caprice

Charles Tournemire: 2 Fresques symphoniques sacrées, Op. 75/76: I. Fresque No. 1

Charles Tournemire: 2 Fresques symphoniques sacrées, Op. 75/76: II. Fresque No. 2
Disk 3
Charles Tournemire: Fantaisie symphonique, Op. 64

Charles Tournemire: 7 Chorals-Poèmes d'orgue pour les sept paroles du Xrist, Op. 67: I. Pater, dimitte illis, nesciunt enim quid faciunt

Charles Tournemire: 7 Chorals-Poèmes d'orgue pour les sept paroles du Xrist, Op. 67: II. Hodie mecum eris in paradiso

Charles Tournemire: 7 Chorals-Poèmes d'orgue pour les sept paroles du Xrist, Op. 67: III. Mulier, ecce filius tuus/ Ecce mater tua

Charles Tournemire: 7 Chorals-Poèmes d'orgue pour les sept paroles du Xrist, Op. 67: IV. Eli, Eli, lamma sabacthani

Charles Tournemire: 7 Chorals-Poèmes d'orgue pour les sept paroles du Xrist, Op. 67: V. Sitio

Charles Tournemire: 7 Chorals-Poèmes d'orgue pour les sept paroles du Xrist, Op. 67: VI. Pater, in manus tuas commendo spiritum meum

Charles Tournemire: 7 Chorals-Poèmes d'orgue pour les sept paroles du Xrist, Op. 67: VII. Consummatum est
Disk 4
Charles Tournemire: Andantino, Op. 2

Charles Tournemire: Sortie pour grand orgue, Op. 3

Charles Tournemire: Pièce symphonique pour grand orgue, Op. 16

Charles Tournemire: Suite de morceaux pour grand orgue, Op. 19: I. Adagio

Charles Tournemire: Suite de morceaux pour grand orgue, Op. 19: II. Scherzetto

Charles Tournemire: Suite de morceaux pour grand orgue, Op. 19: III. Toccata

Charles Tournemire: 5 Interludes: I. —

Charles Tournemire: 5 Interludes: II. —

Charles Tournemire: 5 Interludes: III. —

Charles Tournemire: 5 Interludes: IV. —

Charles Tournemire: 5 Interludes: V. —

Charles Tournemire: Suite de morceaux pour grand orgue, Op. 24: I. Pastorale

Charles Tournemire: Suite de morceaux pour grand orgue, Op. 24: II. Communion

Charles Tournemire: Suite de morceaux pour grand orgue, Op. 24: III. Ite missa est-Sortie

Charles Tournemire: Triple choral pour grand orgue, Op. 41