Tromboncino & Cara: Dialogo d'Amore, Frottolas for Isabella d'Este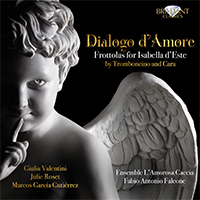 Download booklet
Composer
Bartolomeo Tromboncino, Marchetto Cara
Artist
Ensemble l'Amorosa Caccia
Fabio Antonio Falcone clavicytherium, virginal & direction
Giulia Valentini soprano
Julie Roset soprano
Marcos García Gutiérrez baritone
Format
1 CD
Cat. number
95759
EAN code
5028421957593
Release
February 2020
About this release
The Italian frottola is an important predecessor to the madrigal and is a secular piece made up of three to four voices with instrumental accompaniment. Translating as 'a lie' or 'a childish deceit', frottolas are often simple, with repetitive melodies and homophonic textures. The frottola was immensely popular among the upper classes, in stark contrast to the other highly ornate and complex music of the Renaissance. This set sheds light on the fascinating genre.

Although little is known about the composers, their music survives thanks to Ottaviano Petrucci, a prominent Venetian publisher who printed 11 anthologies of frottolas during his lifetime. The frottola emerged at the same time as Renaissance humanism, and the diversity of the genre explores the human experience, with encounters between the sublime and homespun realities and the mingling of classes and cultures. In the musical texts we find a curious melting pot of themes, ranging from popular chansons of love and nature, to proverbs and classical antiquity.

Tromboncino is probably the most famous composer of frottolas, and he wrote 176 in total. He led a life fraught with criminal activity and most infamously murdered his wife, Antonia, after accusing her of adultery. He was never convicted, however, because the acting regent of Mantua, Isabella d'Este (to whom his frottolas are dedicated), was his patron and very fond of him. As for his music, Su, su leva, alza leciglia has an upbeat nature and features a clear harmonic progression in the accompaniment, foreshadowing what would later develop into Baroque era functional harmony. Meanwhile Zephyro spira e il bel tempo rimena, based on Petrarca's poem about the Greek god of the west wind, is programmatic in its yearning melody and the ceaseless drive in its contrapuntal instrumental interludes.

This genre is often overlooked by early music researchers in favour of the era's more sophisticated music, yet neither its historical, sociological or philosophical significance should be underestimated, as the frottola represents an encounter between high and low art forms in a space outside of the strict constraints of religion.

The Frottola (literally a lie, a childish deceit) was a popular secular song in Italy in the late 15th and early 16th century, enjoying an immense popularity. For 3 or 4 voices, the uppermost containing the melody. The rhyme schemes of the texts have their basis in the 14th century Ballata.
The Frottola has a strong popular origin, featuring direct, naturalistic and explicit texts, homophonic textures and clear, repetitive rhythms. This culture in which high and low are somehow equivalent and permeate each other, is especially found in Mantua, a city which played a large part in the development of the Frottola genres.
The Italian ensemble L'Amorosa Caccia is specialized in the performance of secular music from the Italian Renaissance. On this new recording two sopranos and one baritone are backed up by a rich instrumental ensemble, featuring recorders, cornet, dulcian, shawm, pipes, tabor, gambas and lute, Fabio Antonio Falcone leads the ensemble from the virginal.
Listening
Track list
Disk 1
Johannes Lulinus Venetus: Occhi mei lassi, acompagnate il core

Anonymous: Amor che fai sì altero?

Joannes Gallus: Chiare, fresche e dolci aque

Marchetto Cara: Cangia sperar, mia voglia

Marchetto Cara: Improvisation

Anonymous: La Delfina

Anonymous: Gazollo

Anonymous: La moretta

Niccolò Patavino: Un cavalier di Spagna

Bartolomeo Tromboncino: Facto son per affanni ombra sì oscura

Bartolomeo Tromboncino: Amor! che vuoi?

Marchetto Cara: Tante volte, sì, sì, sì

Bartolomeo Tromboncino: Aqua, aqua; aiuto!

Bartolomeo Tromboncino: Su, su, leva, alza le ciglia

Bartolomeo Tromboncino: Che vol dir che così sete

Marchetto Cara: Per dolor mi bagno il viso

Marchetto Cara: Improvisation

Bartolomeo Tromboncino: Zephyro spira e il bel tempo rimena

Marchetto Cara: Cangia sperar, mia voglia

Johannes Lulinus Venetus: Fuga ognun Amor protervo