Turina: Complete Guitar Music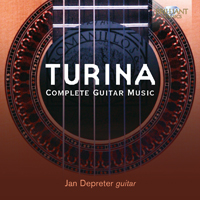 | | |
| --- | --- |
| Composer | Joaquin Turina |
| Artist | Jan Depreter guitar |
| Format | 1 CD |
| Cat. number | 94973 |
| EAN code | 5028421949734 |
| Release | May 2015 |
About this release
The Romantic Spanish composer Joaquin Turina (1882-1949) left a small but perfectly formed body of work for the guitar, all of which is still commonly heard and widely loved for its unaffected melodic beauty and dancing vernacular rhythms.

His harmonically questing language often seems to have more in common with the innovations of Albeniz than the comfortingly picture-postcard attractions of Rodrigo's language. This is especially true of his one "abstract" work for the guitar, the Sonata Op.61, which amply fulfils Turina's ambition to break free from a strictly local style, especially in its recitative-like Andante. From early in his career, Turina had been determined to write "European" art music as much as (if not more than) works reflecting the language, culture and landscape of his native Spain: It was not by chance that his op.1 was a piano quintet, conscientiously modelled on works he admired.
That said, there are also distinctively Spanish works here, none more so than the exuberant homage to the memory of Tarrega, composer-prince of the Spanish guitar. It's a work that runs through the gamut of Romantic guitar tricks and effects in its brief span, and receives here a virtuoso performance from the Flemish guitarist Jan Depreter. Depreter is a composer himself, and his recreative instincts can be heard to superb effect in the concentrated drama of Sevillana Op.29 and bold drama of the Fandanguillo, which without words seems to conjure a complete mise-en-scène.

Joaquin Turina is one of Spain's foremost romantic composers, receiving his rightful stature next to the giants Albeniz and Granados.
Turina left a small but important oeuvre of works written for solo guitar, which is issued on this new recording. Scenic, highly atmospheric and imbued with the smells and sounds of his native Spain: a treat for the guitar aficionado and lover of romantic music!
Excellent performance by the leading guitarist of Belgium, Jan Depreter, winner of many international guitar competitions and founder and artistic leader of the prestigious Antwerp Guitar Festival.
Track list
Disk 1
Fandanguillo, Op. 36

Sevillana, Op. 29

Ráfaga, Op. 53

Homenaje a tárrega, Op. 69: Garrotín

Homenaje a tárrega, Op. 69: Soleares

Sonata Op. 61: I Allegro

Sonata Op. 61: II Andante

Sonata Op. 61: III Allegro vivo