Turina: Complete Music for Violin and Piano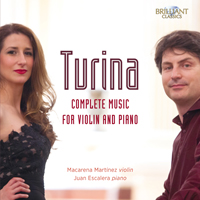 Composer
Joaquin Turina
Artist
Macarena Martínez violin
Juan Escalera piano
Format
2 CD
Cat. number
95626
EAN code
5028421956268
Release
January 2018
About this release
The violin sonatas of Joaquin Turina have in recent years attracted the attention of violinists looking for attractive Spanish repertoire beyond Sarasate, but this complete survey is unrivalled on disc. The real discovery for many listeners will be Turina's Op.28, El Poema de una sanluqueña (Poem of a Sanlúcar Girl).

This 20-minute, four-movement fantasy was written in 1923 and inspired by a cruel remark overheard by the composer: 'Sanlúcar girls don't marry and Sanlúcar boys marry outsiders' – Sanlúcar being a coastal city just north of Cadiz. Turina's idea was to immerse himself in the hopes and dreams of such a young woman. The movement titles - 'In front of the mirror' – 'The Song of the Moon' – 'Hallucinations' – 'The Rosary in the Church' – hint at the varied expressive and musical worlds, including oblique references to Andalucian folksong as well as highly impressionistic evocations that owe not a little to Ravel and Debussy.

The Variaciones Clásicas of 1932 show another, more formally rigorous side to Turina's craft as a composer, though the theme itself is no less imbued with a Romantic, yearning quality through its transformation as a Cuban folksong, a seguidilla and finally a dashing zapateado. The last two pieces of the collection appear as occasional pieces that are included in broader cycles. Euterpe is part of an ambitious work that seeks to represent the coming of the Greek muses to Spain, each of the them being represented by a different scoring: this is written in the lively tempo of a Sevillan dance. Finally, with Homenage a Navarra, Turina elegantly acknowledges the heritage of Sarasate in a short work based on his compatriot's melodies.

Joaquin Turina (1882-1949) was born in Sevilla, Spain, where he received his first music lessons. Later he went to Madrid and subsequently settled in Paris, where he took composition lessons from Vincent d'Indy at his Schola Cantorum de Paris, while studying the piano with Moritz Moszkowski. Inevitably he came into contact with Debussy and Ravel, and his early compositions were clearly influenced by the Impressionists. However he returned to his native Spain and developed his own style in which the rich folklore, folk music and atmosphere of Spain is predominant. Together with Albeniz, Granados and De Falla he established the Spanish Nationalist School.
This new recording presents Turina's complete works for violin and piano, clearly showing the development of his compositional style. It is music of great imagination, colouring and instrumental brilliance, in which the sounds and perfumes of Spain are nearly palpable.
Beautiful, idiomatic performances by Spanish violinist Macarena Martínez, playing a 1690 Stradivarius, and pianist Juan Escalera.
Liner notes in English and Spanish.
Track list
Disk 1
Joaquin Turina: Violin Sonata No. 1 in D Major, Op. 51: I. Lento- Allegro molto

Joaquin Turina: Violin Sonata No. 1 in D Major, Op. 51: II. Aria. Lento

Joaquin Turina: Violin Sonata No. 1 in D Major, Op. 51: III. Rondeau. Allegretto

Joaquin Turina: Violin Sonata No. 2 in G Major, Op. 82: I. Lento- Tema y variaciones

Joaquin Turina: Violin Sonata No. 2 in G Major, Op. 82: II. Vivo- Andante- Vivo

Joaquin Turina: Violin Sonata No. 2 in G Major, Op. 82: III. Adagio- Allegro moderato

Joaquin Turina: El poema de una sanluqueña, Op. 28: I. Ante el espejo

Joaquin Turina: El poema de una sanluqueña, Op. 28: II. La canción del lunar

Joaquin Turina: El poema de una sanluqueña, Op. 28: III. Alucinaciones

Joaquin Turina: El poema de una sanluqueña, Op. 28: IV. El rosario en la iglesia
Disk 2
Joaquin Turina: Sonata Española: I. Allegro moderato

Joaquin Turina: Sonata Española: II. Andante

Joaquin Turina: Sonata Española: III. Tres vif

Joaquin Turina: Variaciones clásicas, Op. 72

Joaquin Turina: Las Musas de Andalucía, Op. 93: II. Euterpe

Joaquin Turina: Homenaje a Navarra, Op. 102