Ugoletti: Three Concertos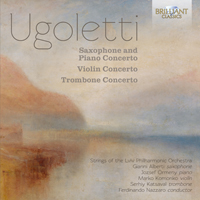 Composer
Paolo Ugoletti
Artist
Strings of the Lviv Philharmonic Orchestra
Gianni Alberti saxophone
Jozsef Örmeny piano
Marko Komonko violin
Serhiy Katsaval trombone
Ferdinando Nazzaro conductor
Liliya Hratylo concertmaster
Format
1 CD
Cat. number
95406
EAN code
5028421954066
Release
September 2016
About this release
This is the second album on Brilliant Classics of Paolo Ugoletti's music. The first (BC94762) paired a concerto for accordion and classical guitar with a collection of six, opulently operatic settings of Emily Dickinson. 'A mixture of confinement, spontaneity and release,' reported Musicweb International, 'these songs are fascinating glimpses into the place between poetry and music...These songs are recommended listening and are inimitably individual works.'

Ugoletti (b.1956) declares himself independent of compositional schools, having studied with Donatoni and Manzoni and then been influenced by American Minimalism during his period as Composer in Residence at Santa Cruz University in California. The three concertos on his new album share a rhythmic zest, an engagement with popular and film musics and a simple, direct joy of expression. The concerto for saxophone and piano adeptly contrasts the melodic and percussive natures of the solo instruments. Echoes of Irish jigs and reels may be heard in the violin concerto (Ugoletti has written for folk instruments across European cultures, including the uillean pipes), and the Trombone Concerto is dedicated to the godfather of funk, James Brown. The finale of this Concerto Festivo paraphrases Brown's defining anthem, Papa's Got A Brand New Bag.

Marshalled by an experienced Italian conductor, the strings of the Lviv Philharmonic Orchestra are joined by a multinational array of soloists. The saxophonist Gianni Alberti was born in Ugoletti's home town of Brescia and has 'crossed over' throughout his career between the worlds of classical and jazz, playing in the hinterland of a music outside genres to which Ugoletti proudly belongs.

Prominent Italian composer Paolo Ugoletti (born in 1956) describes his music as follows: "It consists of a theatre of sound, narration, fables and slashes of the imagination. It has something in common with the folly of the Baroque universe, the magical union of creativity and harmony: serried groups of notes, rapid developments, the skilful handling of chiaroscuro and snatched phrases all contribute the effects that culminate in the building of climaxes".
This new recording presents three concertos by Ugoletti: a violin concerto and two concertos for instruments which seldom get a solo role in classical music: the soprano saxophone and the bass trombone. Attractive, atmospheric music of great imagination!
Track list
Disk 1
Concerto for Soprano Saxophone, Piano and String Orchestra: I. First Movement

Concerto for Soprano Saxophone, Piano and String Orchestra: II. Second Movement Lied

Concerto for Soprano Saxophone, Piano and String Orchestra: III. Third Movement

Concerto for Violin and String Orchestra: I. First Movement

Concerto for Violin and String Orchestra: II. Second Movement

Concerto for Violin and String Orchestra: III. Third Movement

Concerto Festivo for Bass Trombone and String Orchestra: I. First Movement

Concerto Festivo for Bass Trombone and String Orchestra: II. Second Movement

Concerto Festivo for Bass Trombone and String Orchestra: III. Third Movement