Vásquez: Vocal Music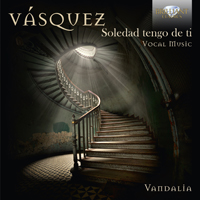 Download booklet
Composer
Juan Vasquez
Artist
Vandalia
Rocío de Frutos soprano
Gabriel Díaz countertenor
Víctor Sordo tenor
Javier Cuevas bass
Sara Águeda iberian harp
Format
1 CD
Cat. number
95316
EAN code
5028421953168
Release
September 2016
About this release
Active around the first half of the sixteenth century, Juan Vásquez was a fully fledged representative of the Sevillian school of the Golden Age. He knew and admired Guerrero and Morales and their music. He served as a master of music in the cathedrals of Plasencia, Badajoz and Palencia, and he was ordained as a priest, but his most fruitful occupation – and his most lasting legacy – was in the field of secular music. He focused especially on the villancico that was so popular in the fifteenth century, taking it to the height of its development and splendour.

Vásquez was, then, no pioneer, but a consummate stylist who developed and broadened the villancico genre, paying special attention to the text, and bringing it closer to the Italian madrigal. Love is the theme, whether lost, found or unrequited. He combined traditional texts and songs from Castilian and Andalusian folklore with new texts from lyrical love poetry from sixteenth-century Spain: popular and peasant melodies, either original or recreated with others of a courtly and more galant style. The works selected for this new album have been taken from both of his collections, published in 1551 and 1560. They include several previously unrecorded items.

In the preface to the collection from which this music was taken, Vásquez himself expressed his intentions to 'dress the spirit of the lyrics, of the body and music that suits it best.' He offered his work 'in this second genre of lively music […] for the unoccupied hours of real business, and with this I hope it will provide everyone with the happiness I wish them.' A worthy aim, amply fulfilled by the Andalusian vocal ensemble Vandalia: a quartet of solo voices accompanied by an Iberian harp.

The booklet includes a comprehensive introduction to the music of Vásquez, original sung texts and modern English translations.

Little is known about the life of Spanish composer Juan Vásquez, fl. 16th century. A skilled and successful composer, he was in the service of the King of Spain. His compositions are mainly secular, in the form of polyphonic madrigals and "Villancicos", popular songs set for a vocal ensemble of 3 or 4 voices. The Villancicos are based on folk music and traditional texts, peasant melodies brimming with joy, happiness and Spanish vitality!
Performed with infectious enthusiasm by the Spanish Early Music group Vandalia, consisting of 4 excellent vocal soloists, accompanied by the Iberian Harp.
The booklet contains scholarly liner notes, biography and full texts, both the original Spanish and the English translation.
Listening
Track list
Disk 1
Juan Vasquez: Zagaleja de lo verde

Juan Vasquez: Puse mis amores

Juan Vasquez: Si el pastorcico es Nuevo

Juan Vasquez: Si no os uviera mirado

Juan Vasquez: ¡Ay, ay, que ravio y muero!

Juan Vasquez: Covarde cavallero

Juan Vasquez: ¿Qué sentís, coraçón mío?

Juan Vasquez: Duélete de mí, señora

Juan Vasquez: Buscad buen amor

Juan Vasquez: ¡Ay, que no oso mirar!

Juan Vasquez: ¡O dulce contemplación!

Juan Vasquez: Soledad tengo de ti

Juan Vasquez: ¡A, hermosa, abrime, cara de rosa!

Juan Vasquez: Vos me mataste

Juan Vasquez: La mi sola Laureola

Juan Vasquez: ¿De dónde venís, amores?

Juan Vasquez: Con qué la lavaré

Juan Vasquez: De los álamos

Juan Vasquez: Lindos ojos aveys, señora

Juan Vasquez: Morenica, dame un beso

Juan Vasquez: Quien amores tiene

Juan Vasquez: En la fuente del rosel

Juan Vasquez: O más dura que mármol a mis quexas