Valente: Intavolatura de Cimbalo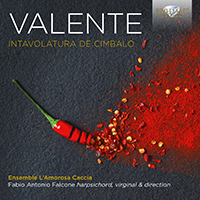 Composer
Antonio Valente
Artist
Ensemble L'Amorosa Caccia
Fabio Antonio Falcone harpsichord, virginal & direction
Format
1 CD
Cat. number
95326
EAN code
5028421953267
Release
April 2018
About this release
The Naples of Antonio Valente (c1520-1600) was the principal city of the Spanish Empire of the day, second only to Istanbul of Mediterranean cities in population, a cultural and intellectual hub where ideas were traded as readily as goods at the port. This is the context for ready wit and vivid characters dancing before us in the harpsichord manuscript left to us as the principal work of an
instrumental virtuoso who was blind from birth.

Little else is known of Valente, though he became an organist in one of the city's private chapel between 1565 and 1580, and we know that this Intavolatura was published in 1576, by which time the composer's reputation had spread
far beyond the kingdom of Naples. It seems certain that the collection was the first of its kind to be written in southern Italy. These are popular dances rather than original melodies, and Valente transcribes and elaborates them in various genres of song and dance: there are hymns (a Salve Regina), galliards, ricercars, ballads, even a flamboyant 'Bascia Flammignia', placed in exuberant juxtaposition, hardly designed to be heard in strict order but a collection to delight and entertain.

The Intavolatura does so here, thanks to the imaginative re-instrumentation and sparkling performances of an Italian early-music ensemble, L'Amorosa Caccia. The songs are reattributed to a pair of singers (Giulia Valentini and Marcos Garcia Gutierrez), accompanied by two violas da gamba and a recorder, with the overall artistic direction undertaken from the keyboard by Fabio Antonio Falcone.

Antonio Valente lived and worked in 16th century Napoli, then under Spanish rule and the cultural hotspot of Europe. Valente's Intavolatura de Cimbalo is the first Neapolitan publication for keyboard instrument and the first that shows the word harpsichord in the title. This is very important because it shows that Valente (who just one year before published «Versi Spirituali per sonar negli organi») clearly wanted to differentiate the composition style between harpsichord and organ (until that time, but also later, this difference is not clear yet). Intavolatura can be considered as an opera omnia collecta as far as it contains all the musical forms of that time: instrumental music (6 ricercari and 1 fantasia), elaboration on a cantus firmus (a Salve Regina), 4 chansons with diminutions, dances on tenori italiani (Zefiro, Passo e mezzo, Romanesca, Gagliarda Napolitana, Intorcia etc) and balli (Ballo Lombardo etc.).
Sung and played by the Ensemble L'Amorosa Caccia, two singers, violas da gamba and recorders, directed from the harpsichord and virginal by Fabio Antonio Falcone, a specialist in this repertoire (he recorded already works by Cavazzoni, Antico and De Macque for Brilliant).
Listening
Track list
Disk 1
Antonio Valente: Fantasia del primo tono

Adriaan Willaert: Qui la dira

Antonio Valente: Chi la dirra, disminuita

Antonio Valente: Recercata del ottavo tono

Antonio Valente: Bascia flammignia

Antonio Valente: Gagliarda napolitana

Antonio Valente: Recercata del primo tono

Antonio Valente: Lo ballo dell'intorcia

Antonio Valente: Gagliarda lombarda

Antonio Valente: Ballo Lombardo

Antonio Valente: Recercata del sesto tono a quattro voce con lo basso in canone a l'ottava del contralto

Antonio Valente: Tenore grande alla napolitana

Antonio Valente: Recercata del terzo tono

Antonio Valente: Salve Regina

Antonio Valente: Tenore del passo e mezzo

Antonio Valente: La romanesca

Thomas Crecquillon: Pis ne me peut venir

Antonio Valente: Pisne disminuita

Antonio Valente: Recercata del septimo tono

Antonio Valente: Tenore de zefiro con dodeci mutanze

Antonio Valente: Recercata del primo tono a cinque con la quinta parte in canone al unisono del tenore

Antonio Valente: Sortemeplus con alcuni fioretti

Antonio Valente: Sortemeplus disminuita

Philippus De Monte: Sortez mes pleurs