Van Eyck: Der Fluyten Lust Hof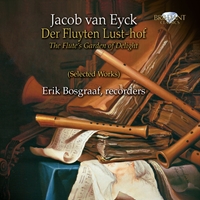 Download booklet
| | |
| --- | --- |
| Composer | Jacob van Eyck (1) |
| Artist | Erik Bosgraaf recorder |
| Format | 3 CD |
| Cat. number | 93391 |
| EAN code | 5028421933917 |
| Release | June 2007 |
About this release
Exhilarating music from the Golden Age. Or, how a single recorder might surprise even a 21st-century audience with its virtuosity.

Jacob van Eyck Esquire was a contemporary of Rembrandt's. Unlike the famous painter he mainly resided in Utrecht, city of many churches in the centre of The Netherlands. At the time the blind composer and city carillonneur was also well-known for his improvised virtuoso recorder playing.

As such he was quite an unusual phenomenon. Even now some three and a half centuries later one can sense the breathtaking qualities of his music from Der Fluyten Lust-hof, The flute's garden of delight'. This collection of Dutch music consists of a variety of pieces, mainly series of variations on psalms and popular songs: almost 150 in all.

On this release, young Dutch recorder player Erik Bosgraaf tackles a selection of 65 works from Van Eyck's opus. Playing on (copies of) period instruments he treats this music freely almost suggesting improvisation on the spot. A truly outstanding recording debut by a musician who has already left his mark on recorder performance.

Other information:
- English booklet available for download by clicking on 'Download booklet' below the cover.
Track list
Disk 1
Preludium of Voorspel

Phantasia

Lavolette

Een Schots Lietjen

Comagain

Silvester in de Morgenstont

Lanterlu

Pavaen Lachrymae

Rosemont

1. Balet, of Vluchste Nimphje van de Jaght

Tweede Carileen

Stil, Stil een Reys

Blydschap van Myn Vliedt

Derde Doen Daphne d'over

De Eerste Licke-pot (I)

De Eerste Licke-pot (II)

Malle Symen (Malsimmes)

2. Courant, Of Harte Diefje Waerom Zoo Stil

Wat Zalmen op den Avond Doen

Almande Prime Roses

Bravade

Princes Roaeyle

Onder de Linde Groene

Lossy

Gabrielle Maditelle

d'Lof-zangh Marie

3. Ballet

O Slaep, O Zoete Slaep
Disk 2
Praeludium

Fantasia

Excusemoy

Prins Robberts Masco

Amarilli Mia Bella (I)

Amarilli Mia Bella (II)

Engels Nachtegaeltje

Ballette Bronckhorst

Ballette Gravesand / Laura

Eerste Carileen

Doen Daphne d'Over Schoone Maeght

Si Vous Me Voules Guerir

Psalm 118

Courante Mars

4. Ballet

Onse Vader in Hemelryck

Psalm 9

Kits Almande
Disk 3
Vande Lombart (More Palatino)

Fantasia & Echo

De France Courant

Psalm 140, Ofte Tien Geboden

Courante 1

Courant, of Ach Treurt Myn Bedroefde

L'Amie Cillae

Boffons

Repicavan

Bocxvoetje

Wilhelmus Van Nassouwen

Noch Een Veranderingh Van Wilhelmus

Philis Schoone Harderinne

Orainge

Derde Carileen

Psalm 119

Questa Dolce Sirena

Sarabande

Tweede Lavignone

O Heyligh Zaligh Bethlehem

Vierde Carileen

Batali

Een Spaense Voys