Van Veen: Piano Music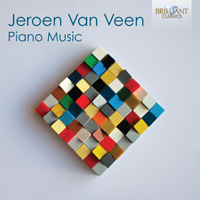 Composer
Jeroen van Veen
Artist
Jeroen van Veen piano
featuring:
Frank Steijens carillon
Sandra van Veen piano four-hands / two pianos
Format
5 CD
Cat. number
9454
EAN code
5029365945424
Release
May 2014
About this release
Repetition of motifs within a composition is nothing new: Soler's Fandango, Bach's Chaconne and Pachelbel's Canon, to name just three examples, all make use of it. But for Dutch composer Jeroen van Veen it is the most important element - the essence, as it were - of music. Rooted in tonality, and subject to the interaction and choices of the performers, it can prove immensely powerful.

Indeed, it was on this premise that van Veen launched his compositional career with two volumes of 24 Minimal Preludes; this exciting 5-CD release contains follow-up pieces to those works, ones that reflect the composer's approach to music as the structuring of LEGO® bricks – the individual components that create variation within a composition. As well as Incanto – a series of compositions for two or more keyboards in which the music develops slowly, utilising techniques such as fluctuation of speed – the release also includes NLXL, a musical illustration of Holland's landscape patterns as seen from the air, based on a book of the same name by Dutch photographer Karel Tomeï. The work is created by way of a multitrack recording with a variety of keyboard instruments, with large segments versus smaller segments of The Netherlands' landscape expressed through longer and shorter note values.

The composer himself is the main performer here, assisted by Frank Steijens on the carillon and his wife for works requiring four hands or two pianos. Described as 'the leading exponent of minimalism in Holland today', van Veen's hypnotic, trance-inducing music makes for an experience unlike any other, transporting the listener to 'another place' through ever-changing soundscapes.

Other information:
- The first CD set, world premieres, of original piano music by Jeroen van Veen!
- Recorded: August 2011 (NLXL), December 2013 & January 2014, Van Veen Productions, Studio 1, Culemborg, The Netherlands.
- Over the years Jeroen van Veen the pianist has built his reputation as one of the foremost exponents of Minimal Music, presenting works by Glass, Nyman, Riley, Adams, Cage, Ten Holt and most recently the acclaimed and successful issues of Pärt and Einaudi.
- As one so deeply immersed in the fascinating world of Minimalism the composer Jeroen van Veen felt the urge to express himself in this language so familiar to him. The result is presented in this release set: from the simple to the complex, from a few notes to complicated multitrack sound structures in which the piano is enhanced by various other keyboard instruments (including the carillon).
- A new world to explore for an audience with open ears and mind, whether or not classically trained!
- Liner notes by the artist, performed by the maestro himself, seconded by his wife Sandra van Veen in the 4-hand works.
- Includes artist biographies and an extensive discography of past Brilliant Classics releases of Van Veen's music.
Track list
Disk 1
Minimal Preludes, Book III: Prelude No. 25 in A Minor

Minimal Preludes, Book III: Prelude No. 26 in B-Flat Minor

Minimal Preludes, Book III: Prelude No. 27 in C Minor

Minimal Preludes, Book III: Prelude No. 28 in F Minor

Minimal Preludes, Book III: Prelude No. 29 in D-Flat Major

Minimal Preludes, Book III: Prelude No. 31 in B-Flat Minor

Minimal Preludes, Book III: Prelude No. 37 "Goodbye Nokia" in A Minor for Piano Four Hands
Disk 2
Minimal Preludes, Book IV: Prelude No. 32 in B Minor

Minimal Preludes, Book IV: Prelude No. 33 in A Minor for Piano Four Hands

Minimal Preludes, Book IV: Prelude No. 34 in F Minor

Minimal Preludes, Book IV: Prelude No. 35 in C Minor

Minimal Preludes, Book IV: Prelude No. 36 in A Minor for Piano Four Hands

Minimal Preludes, Book IV: Prelude No. 38 in C-Sharp Minor

Ballade for Frank for Piano and Carillon

Slash for Prepared Pianos
Disk 3
Incanto No. 3 for Two Pianos

Minimal Blurrr for Piano and Tape

Incanto No. 4 for Two Pianos: I. −

Incanto No. 4 for Two Pianos: II. −

Incanto No. 4 for Two Pianos: III. −
Disk 4
The Four Elements for Piano and Tape: I. Air

The Four Elements for Piano and Tape: II. Water

The Four Elements for Piano and Tape: III. Earth

The Four Elements for Piano and Tape: IV. Fire

Repeating History for Piano Duo

Molly for Two Pianos Eight Hands or Four Pianos
Disk 5
NLXL: Soundscape. North Sea

NLXL: NLXL I. Opening

NLXL: Soundscape. The Dunes

NLXL: NLXL II. Going down

NLXL: Soundscape. Oud-Maarsseveen

NLXL: Structures

NLXL: Soundscape. A10 near Amsterdam

NLXL: Density

NLXL: Space

NLXL: Soundscape. Passing Trains

NLXL: On the Train

NLXL: Rollercoaster

NLXL: On Our Way To?

NLXL: In Holland

NLXL: Soundscape. Amsterdam

NLXL: Industrial Threat

NLXL: Soundscape. Industry

NLXL: Incanto No. 3. 7 Notes on 7 Instruments

NLXL: Soundscape. Extrema

NLXL: On the Beat

NLXL: NLXL

NLXL: Who Will Win?

NLXL: Soundscape. Zaanse Schans

NLXL: Sliced Country

NLXL: Heartbeat

NLXL: Music Box Playing NLXL Waltz

NLXL: NLXL III
"Error parsing XSLT file: GetRelatedReleases.xslt