Vanhal: 3 Sonatas for Clarinet & Harpsichord, 6 Sonatinas for Harpsichord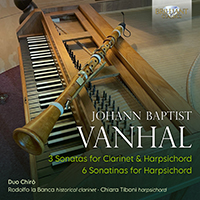 Composer
Johann Baptist Vanhal
Artist
Duo Chirò
Rodolfo la Banca historical clarinet
Chiara Tiboni harpsichord
Format
1 CD
Cat. number
96357
EAN code
5028421963570
Release
July 2022
About this release
Little-known but convivial chamber music from early 19th-century Vienna by a Czech colleague of Haydn and Mozart.

Like Mozart, Beethoven, Brahms and so many others, Vanhal became the composer and the man we know him as now when he moved to Vienna. He was 22 years old when he settled there in 1761, and soon adopted a new identity, not as the Czech-born Jan Křtitel Vaňhal but as the urbane Jean-Baptist or Jan-Ignatius Vanhal. He played cello in an extraordinary 'Composers' Quartet' led by his teacher Dittersdorf, with Haydn on second violin and Mozart playing the viola. Schubert rated him among the best composers of the day.

Flute quartets and sonatas were (almost literally) ten a penny in Classical Vienna; the clarinet was still a relatively new instrument when Vanhal composed these sonatas in the first decade of the 19th century. Haydn had only begun latterly to write for the instrument (in works such as The Creation), inspired by the example of Mozart. Nevertheless, the clarinet quickly became popular among amateur musicians, and it seems likely that Vanhal wrote these attractively mellifluous sonatas in order to capitalise on that market. Unclouded by pathos even in the slow movements, they are written to give pleasure to both players and listeners with relatively simple quick writing and memorable legato melodies perfectly suited to the liquid, vocal quality of the clarinet.

Rodolfo la Banca plays these sonatas on a pair of clarinets from the time: he is a specialist in the early clarinet both as a performer and teacher. The sonatas could equally be accompanied by fortepiano or harpsichordist; on this recording (unlike others in the catalogue) we hear the harpsichord, in the established partnership of Duo Chirò. Chiara Tiboni also contributes several brief and attractive sonatinas from Vanhal's first published collections, Opp. 1 and 2.

Johann Baptist Vanhal or Jan Křtitel Vaňhal was born in Nove Nechanice, a small town currently part of the Czech Republic, on May 12, 1739. Thanks to his musical talent, the eighteen-year-old Jan obtained his first position of some importance as an organist. He settled in Vienna in 1761, where he perfected his skills with Carl Ditters von Dittersdorf, becoming in turn an excellent teacher. In a short time his fame as a composer, especially of symphonies and string quartets, expanded beyond the imperial borders and the Austro-German world: his compositions were performed and appreciated not only in Europe but also in the United States of America. His oeuvre is immense, including some sixty Masses, a hundred symphonies and as many quartets. Haydn and Mozart performed his compositions on many occasions and Schubert held him in high regard, considering him among the best composers of his time. He died in Vienna in 1813.
The three Clarinet Sonatas and the six Sonatinas are written in the Stile Galante, formalistic, charming and melodious, but still speaking of a great originality and inventiveness, fruit of the extraordinary talent of their composer.
Played by Rodolfo La Banca on historical clarinets, and by Chiara Tiboni on the harpsichord.
Track list
Disk 1
Johann Baptist Vanhal: Clarinet Sonata in B-Flat Major: I. Allegro moderato

Johann Baptist Vanhal: Clarinet Sonata in B-Flat Major: II. Adagio cantabile

Johann Baptist Vanhal: Clarinet Sonata in B-Flat Major: III. Rondò allegretto

Johann Baptist Vanhal: Sonatina No. 1, Op. 1: I. Allegretto

Johann Baptist Vanhal: Sonatina No. 1, Op. 1: II. Allegretto

Johann Baptist Vanhal: Sonatina No. 5, Op. 2: I. Andante

Johann Baptist Vanhal: Sonatina No. 2, Op. 1: I. Andante

Johann Baptist Vanhal: Clarinet Sonata in C Major: I. Allegro moderato

Johann Baptist Vanhal: Clarinet Sonata in C Major: II. Adagio

Johann Baptist Vanhal: Clarinet Sonata in C Major: III. Rondò allegro

Johann Baptist Vanhal: Sonatina No. 6, Op. 2: I. Allegretto

Johann Baptist Vanhal: Sonatina No. 1, Op. 2: I. Allegro

Johann Baptist Vanhal: Clarinet Sonata in E-Flat Major: I. Allegro vivace

Johann Baptist Vanhal: Clarinet Sonata in E-Flat Major: II. Poco adagio

Johann Baptist Vanhal: Clarinet Sonata in E-Flat Major: III. Rondò allegretto