Verdi: Requiem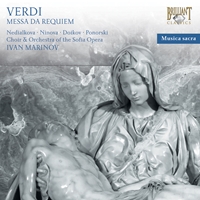 Composer
Giuseppe Verdi
Artist
Daniela Nedialkova soprano
Ivanka Ninova mezzo soprano
Roumen Doikov tenor
Emil Ponorski bass
Choir and Orchestra of the Sofia Opera
Ivan Marinov conductor
Format
1 CD
Cat. number
93958
EAN code
5028421939582
Release
July 2009
About this release
In 1868 Rossini died, and the leading composers of the day grouped together to contribute to a jointly composed Requiem for the great man who had dominated Italian opera for half a century. Much to Verdi's frustration, the work was never performed. In 1871, the director of the Milan Conservatoire asked him if he'd ever thought of composing a Requiem of his own – after all, he'd written the Libera me, the final part of the multicomposer work. Verdi dismissed the idea, saying that there were enough Requiems already.

In 1873, Verdi's friend, and favourite author Alessandro Manzoni died aged 88. Verdi had first read his novels when he was 16 years old. He was devastated at the news of Manzoni's death, so much so he was unable to attend his funeral. This provided the catalyst for what is the grandest of all Requiems. Premiered in 1874 with the composer conducting, it was an immediate success, and Verdi toured the work to Paris, London, Cologne and Vienna – in fact he conducted it more often than any of his operas. Overtly operatic in nature, it has been called 'Verdi's greatest opera', but it is a deeply spiritual work, adhering to the traditional Mass for the dead. It ranks among the very greatest of religious works alongside Bach's Mass in B minor, Mozart's Requiem and Beethoven's Missa solemnis.

Other information:
- "This performance has a dramatic and dynamic tautness that extends throughout to give a satisfying thought-through whole without sounding over-driven. I have paid a lot of money to hear this work over the years, often with 'name' conductors and soloists. Not many have given me as much pleasure as this performance" (Musicweb International review).
- Booklet notes and sung texts included.
Track list
Disk 1
I. Requiem aeternam – Kyrie

II. Dies irae: Dies irae

II. Dies irae: Tuba mirum

II. Dies irae: Liber scriptus

II. Dies irae: Quid sum miser

II. Dies irae: Rex tremendae

II. Dies irae: Recordare

II. Dies irae: Ingemisco

II. Dies irae: Confutatis

II. Dies irae: Lacrymosa

III. Offertorium: Domine Jesu Christe

IV. Sanctus

V. Agnus Dei

VI. Lux aeterna

VII. Libera me