Vieuxtemps: Music for Violin & Piano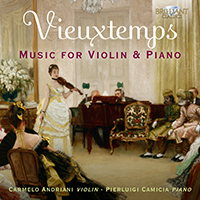 Composer
Henry Vieuxtemps
Artist
Carmelo Andriani violin
Pierluigi Camicia piano
Format
1 CD
Cat. number
96170
EAN code
5028421961705
Release
May 2021
About this release
The Belgian violinist and composer Henry Vieuxtemps (1820-1881) was one of the great 19th-century virtuosos in the tradition of Paganini, but his music does not belong in the showpiece category, being distinguished more by its attractive lyricism. Vieuxtemps did more than anyone to revive the fortunes of Beethoven's Violin Concerto after decades of neglect, and his own concertos for the instrument share the patient, majestic character of that work rather than Paganini's fiendish wizardry.
It seems typical of Vieuxtemps that the viola was his preferred position in a string quartet, and he wrote a fine sonata for the instrument which is now much better known and more frequently recorded than the earlier and undeservedly neglected Violin Sonata which Carmelo Andriani presents here to open his attractive recital. The Sonata's scherzo is a fine example of the unpretentious charm and grace which Vieuxtemps cultivated in his music, while the following Largo opens out from its hymn-like theme towards a climax of quasi-religious intensity and radiance. There is a notable absence of conventionally violinistic fireworks to the finale; this new recording restores to the catalogue a substantial contribution to the violin-sonata literature.
Carmelo Andriani has dedicated the rest of the album to shorter pieces in a salon style. The trio of Romances sans paroles opens with a lovely Chant d'amour, and closes with a Souvenir of Mendelssohnian grace and lightness. The third of 6 Morceaux de salon Op.22 (1846) is an Adagio entitled Rêverie which builds to a passionate climax, and the album closes out in flamboyant style with the fifth piece in the set, a whirling Tarantella. In between, Carmelo Adriani treats us to the first two of the three Feuilles d'Album Op.40: a soulful Romance followed by the yearning melody of Regrets.
Born in Bari, Carmelo Adriani enjoys an international career as a soloist, chamber musician and teacher. This is his second album for Brilliant Classics, after a critically acclaimed debut of the violin music by Michele Esposito (95102).

Henry François Joseph Vieuxtemps was aged 4 when he started the violin with his father, a violin-maker and amateur violinist. He gave his first public performance at the age of 6 and his talent attracted the attention of Charles Auguste de Bériot, who brought him to Paris, where in 1829 he made his début. Robert Schumann compared him to Paganini. The famous Italian virtuoso was strongly impressed by the violinist's performance in London in 1834. In turn, Paganini's supernatural technique would remain a strong influence and inspiration for Vieuxtemps. Meanwhile he became an idol in Russia where he spent five years from 1846 till 1851. He was Musician at the court of Tzar Nicholas I, Violin teacher and soloist at the Imperial Theatre, and founder of the School of Violin at St. Petersburg Conservatory, contributing to the founding of a "Russian Violin School". Back in his native Belgium he dedicated his life to teaching at the Brussels Conservatory, where he counted Eugène Ysaÿe among his pupils.
This new recording contains the substantial (over 40 minutes!) Violin Sonata Op.12, as well as Morceaux de Salon and Romances Sans Paroles.
Italian violinists Carmelo Andriani already successfully recorded for Brilliant Classics works by Michele Esposito. Pianist Pierluigi Camicia is a highly respected soloist and chamber music player, who collaborated with Ruggiero Ricci, Félix Ayo and the Quartetto di Cremona.
Track list
Disk 1
Henry Vieuxtemps: Violin Sonata in D Major, Op. 12: I. Allegro assai

Henry Vieuxtemps: Violin Sonata in D Major, Op. 12: II. Scherzo. Allegro vivace-Trio

Henry Vieuxtemps: Violin Sonata in D Major, Op. 12: III. Largo non troppo

Henry Vieuxtemps: Violin Sonata in D Major, Op. 12: IV. Rondo. Allegro gioioso

Henry Vieuxtemps: 3 Romances sans paroles, Op. 7: I. Chant d'amour

Henry Vieuxtemps: 3 Romances sans paroles, Op. 7: II. Désespoir

Henry Vieuxtemps: 3 Romances sans paroles, Op. 7: III. Souvenir

Henry Vieuxtemps: 6 Morceaux de salon, Op. 22: III. Rêverie

Henry Vieuxtemps: 3 Feuilles d'album, Op. 40: I. Romance

Henry Vieuxtemps: 3 Feuilles d'album, Op. 40: II. Regrets

Henry Vieuxtemps: 6 Morceaux de salon, Op. 22: V. Tarantelle