Viola d'amore solo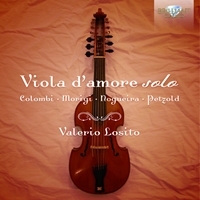 | | |
| --- | --- |
| Composer | Angelo Morigi, Christian Petzold, Giuseppe Colombi, Pedro Lopes Nogueira |
| Artist | Valerio Losito viola |
| Format | 1 CD |
| Cat. number | 94367 |
| EAN code | 5028421943671 |
| Release | December 2012 |
About this release
Famed for its distinctive sound, the viola d'amore – literally meaning 'viola of love' – is one of the more unusual members of the string family, an instrument that appeared towards the end of the 17th century and which owes its silvery, angelic tones to the symbiotic vibrations between its two sets of strings, one gut- and one wire-based.

This release celebrates the d'amore's versatility of sound by bringing together some of its finest Baroque repertoire. Beginning with the Ave Maris Stella, an ancient hymn dedicated to the Mother of God, the compilation takes the listener on an absorbing journey that combines the famous with the not so widely known; from Petzold's illustrious two partitas – which are considered to be on the same level of importance for the d'amore as Bach's partitas and sonatas are for the violin – to Morigi's Capriccio and Menuetto, the compilation also touches on various anonymous works, including the delightful Partita in D. Dance movements abound, reflecting the Baroque period's predilection for all things French.

Performing these works is the acclaimed young talent Valerio Losito, who uses a 1775 Gagliano on kind loan from the Fondazione Elsa Peretti. Losito is one of today's most accomplished d'amore players, and it's easy to hear why; combining a flawless technique with vivid imaginative detail, this release marks his second recording for Brilliant Classics (the first of which, dedicated to Domenico Scarlatti's 'melobass' sonatas, received rapturous reviews) and strengthens the argument as to why this instrument deserves to be better known.

Other information:
- New recording, recorded 7–9 January 2012, Santa Maria in Vallicella, Refettorio del Borromini (Sala Ovale), Rome.
- The Viola d'Amore, a cherished member of the string instrument family, lived its glory days during the Baroque, when its distinctive, silvery timbre was widely appreciated and loved, and many famous composers wrote for it (including J.S. Bach).
- Excellent liner notes by the artist about the music, the composers and the instrument.
Track list
Disk 1
Ave Maris Stella

Suite in D minor: I. Aria

Suite in D minor: II. Courante

Suite in D minor: III. Gigue

Suite in D minor: IV. Sarabande

Scordatura in G

Scordatura (Ciacona)

Capriccio and Minuet in A: I. Capriccio

Capriccio and Minuet in A: II. Minuetto

Partita in D: I. Aria

Partita in D: II. Gigue

Partita in D: III. Menuet

Partita in D: IV. Gavotte

Partita in D: V. Rigaudon

Partita in D: VI. Menuet I & II

Scordatura in A

Nitida stella

Partita in F: I. Gavotte

Partita in F: II. Gigue

Partita in F: III. Bourrée

Partita in F: IV. Air

Partita in F: V. Courante

Partita in F: VI. Sarabande

Partita in F: VII. Menuet I & II

Gaita de folle

Partita in A: I. Introduction

Partita in A: II. Allemande

Partita in A: III. Courante

Partita in A: VI. Sarabande

Partita in A:. Menuet

Partita in A: VI. Gigue

Partita in A: VII. Aria

Partita in A: VIII. Gavotte

Partita in A: IX. Bourrée

Partita in A: X. Rondeau

Partita in A: XI. Menuet

Scordatura in E minor