Violin Showcase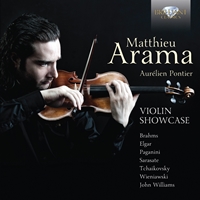 Composer
Edward Elgar, Henryk Wieniawski, Johannes Brahms, John Williams, Nicolò Paganini, Pablo de Sarasate, Piotr Ilyich Tchaikovsky
Artist
Matthieu Arama violin
Aurélien Pontier piano
Format
1 CD
Cat. number
94748
EAN code
5028421947488
Release
October 2013
About this release
"To be a virtuoso is to not only be able to execute four-octave arpeggios, tenths, or even left-hand pizzicatos, but to transcend these technical parameters, even in the most formidable of passages, in order to relay the most exquisite of emotions" (Arama).

Such is the focus of Violin Showcase, which pays homage to what has been described as the "king of instruments", detailing a selection of works that best symbolise this essential blend of technical prowess and musical depth. From profound lyricism, as exemplified by Wieniawski's Variations sur un thème original Op.15, to popular traditional music – Joseph Joachim's transcription of Brahms's engaging Hungarian Dances and Sarasate's glittering La Habañera – the release also draws on operatic inspiration (Paganini's fiendis highly difficult but sublime prayer Dal tuo stellato soglio, played on the G string alone), ending on a more light-hearted note with John Williams' passionate air from Fiddler on the Roof.

Performing these works with gusto and flair is the young French violinist Matthieu Arama, a former pupil of Igor Oistrakh and who has already appeared in many of the world's leading concert halls. He is joined by pianist Aurélien Pontier for the recording, which was make at Château Fombrauge in Bordeaux – home to the famous St Emilion Grand Cru Classé wine and the name of the 1713 Stradivarius that Arama plays here.

Other information:
- Recorded in August 2012.
- To possess the ultimate technique to perform the most difficult passages with apparent ease, and to be able to forget that technique, and inject every phrase with deeply felt meaning and emotion: that is a true master. Young French violinist Matthieu Arama is such a master. He learned his art with Igor Oistrakh and performs worldwide in important venues and with leading orchestras and conductors.
- This CD is Arama's recording debut, showing his skills and musicality in a wide range of popular violin showcases: the fiendishly difficult Paganini's Moses Fantasy, the lyricism and charm of Wieniawski, the vigour and passion of Brahms's Hungarian Dances, the wit and humour of John Williams' Fiddler on the Roof, ending with the ever popular Zigeunerweisen by Sarasate.
- Arama plays a magnificent 1713 Stradivari, kindly lent by Bernard Magrez, of the Chateau Fombrauge, home of the world famous St. Emilion Grand Cru Classé wines.
- Booklet contains notes on the music by Matthieu Arama as well as artist biographies.
Track list
Disk 1
Fiddler on the Roof: Violin fantasy

Variations sur un thème original, Op. 15

Romance

Hungarian Dance No. 1 in G Minor, WoO 1 (arr. Joseph Joachim)

Hungarian Dance No. 2 in D Minor, WoO 1 (arr. Joseph Joachim)

Hungarian Dance No. 3 in F Major, WoO 1 (arr. Joseph Joachim)

Salut d'amour, Op. 12

Spanische Tänze, Op. 21: No. 2, Habañera

Eugene Onegin, Op.24, Scene 2: No.17, Lensky's aria (arr. Leopold Auer)

Variations on a Theme of Rossini: Moses Fantasy

Zigeunerweisen, Op. 20