Viozzi: Complete Music for Solo Guitar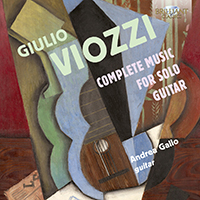 Download booklet
| | |
| --- | --- |
| Composer | Giulio Viozzi |
| Artist | Andrea Gallo guitar |
| Format | 1 CD |
| Cat. number | 96506 |
| EAN code | 5028421965062 |
| Release | May 2022 |
About this release
Born in the northern port city of Trieste in 1912, the Italian composer Giulio Viozzi worked and lived in the region throughout his life before his death in Verona in 1984. He composed in a modal, melodic, diatonic language inflected by Bartok but essentially shaped by native traditions of cantabile writing whether for instruments or voices.

Viozzi's music for the theatre won success and performances throughout his lifetime, notably the opera Il sasso pagano (1964), which makes the modern neglect of his output all the more surprising: this is the only modern album available which is dedicated to his music, and it should introduce many listeners to a distinctive voice in the musical landscape of 20th-century Italy.

As he explains in his booklet introduction, Andrea Gallo was astonished when he first encountered Viozzi's music for guitar, through the Fantasia (1964), which itself reworks two shorter earlier works, a Gavotte and Brasileira both indebted to the folk tradition. He finds a magical, surreal quality to Viozzi's repetitions and his evocation of mood in a piece such as the Chromatic Study of 1982.

While Viozzi wrote several fantasias for three guitars, his solo output for the instrument centres around the more Classical forms of the Suite variata (1978) and the Sonata (1984), also in three movements. Two works of the
mid-70s, the Itinerario and Racconto, are more experimental in technique and impressionistic in mood.

This album introduces the names of both Viozzi and Andrea Gallo to the ever-growing library of guitar music on Brilliant Classics. Born in 1990, Gallo studied at the conservatoire in Milan and is based there while giving recitals and appearances across Italy and farther afield.

Born in Trieste, in the popular district of San Giacomo, Giulio Viozzi (1912-1984) studied music under Antonio Illersberg. In 1931 he obtained a diploma in piano, following an advanced course with Angelo Kessissoglu. In 1936, he won the Rassegna Nazionale Giovani Concertisti in Rome, before embarking briefly on a concert career. He graduated in composition in 1937. From then on he concentrated on composing and teaching a new generation of Italian composers.
Viozzi's musical language can be placed halfway in the twentieth century, inspired by Leoš Janáček, Sergei Prokofiev, Maurice Ravel, Igor Stravinsky and the suggestions of popular music, often of Balkan origin, with a rhythmic sense that in some cases recalls that of Béla Bartók; His works are full of easily flowing melodies in impressionistic vein and mellow, colorful harmonies.
This new recording presents Viozzi's complete music for solo guitar: a substantial Sonata, a Suite and several concert pieces.
Played by young Italian guitarist Andrea Gallo, a pupil of Enea Leone, Andrea Dieci and Bruno Giuffredi and winner of several (inter)national guitar competitions.
Listening
Track list
Disk 1
Giulio Viozzi: Sonata per chitarra: I. Allegro spigliato

Giulio Viozzi: Sonata per chitarra: II. Lento quasi funebre

Giulio Viozzi: Sonata per chitarra: III. Molto allegro e spensierato

Giulio Viozzi: Racconto

Giulio Viozzi: Fantasia

Giulio Viozzi: Itinerario

Giulio Viozzi: Suite variata: I. Andante

Giulio Viozzi: Suite variata: II. Alquanto mosso

Giulio Viozzi: Suite variata: III. Tema con variazioni

Giulio Viozzi: Studio cromatico