Vivaldi: Il cimento dell'armonia e dell'inventione Op.8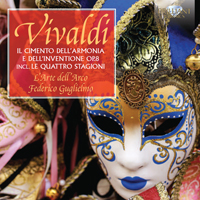 Composer
Antonio Vivaldi
Artist
L'Arte dell'Arco
Federico Guglielmo violin
Pier Luigi Fabretti oboe
Format
2 CD
Cat. number
95045
EAN code
5028421950457
Release
January 2016
About this release
The four famous concertos of Il cimento dell'armonia e dell'inventione, Le quattro stagioni ('The Four Seasons') have previously been recorded hundreds of times, and have been heard in concert halls around the world since their rediscovery at the beginning of the 20th century. L'Arte dell'Arco and their leader Federico Guglielmo offer a new interpretation of the works by stripping back the embellishments and excessive ornamentation added over the years and reintroducing the essential element of simplicity: there is just one player to a part, thereby revealing the underlying structure and a welcome transparency of sound. The other works of the Opus 8 are similar to the more famous Seasons with their distinguishing titles added by Vivaldi: 'La tempesta di mare', like the Seasons, adds an element of nature, while 'La caccia' depicts a rural scene not dissimilar to 'L'autunno' of the Four Seasons, though this time with a deeply introspective Adagio section. This release also includes two concertos featuring the solo oboe rather than the violin, an instrument particularly well suited to the tessitura of the works, which are less virtuosic than some of the previous concertos.

Federico Guglielmo is a highly acclaimed performer of Vivaldi's music, with many releases already to his name under Brilliant Classics. He has been an active performer on the early music scene for many years, with previous collaborations including the Handel & Haydn Society of Boston and the prestigious Academy of Ancient Music. He is joined by the experienced and lively ensemble L'Arte dell'Arco, as well as soloist Pier Luigi Fabretti, who has previously performed with such ensembles as Concerto Köln and I Barocchisti.

The last issue, a crowning achievement, of Vivaldi's complete Opus 1-12 is the Opus 8, the 12 violin concertos of which the numbers 1-8 are "Le Quattro Stagioni".
Vivaldi's "Four Seasons" belong to the canon of classical music, the most iconic, popular and well known works, the melody of "Spring" being a classical "ear bug" if ever there was one.
The performance of Federico Guglielmo and his L'Arte dell'Arco strip the Four Seasons of centuries of misuse, romantic veneer and tasteless embellishments, going back to the roots of the music, and discovering the essential power and originality, "Guglielmo understand the secret language of Vivaldi" (Diapason). The ensemble play original instruments and use one player per part.

Other information:
Recorded in Italy in 2014.
Contains notes on the music.
Contains a biography of the performers.
Listening
Track list
Disk 1
Antonio Vivaldi: Violin Concerto in E Major, RV 269 "la primavera": I. Allegro

Antonio Vivaldi: Violin Concerto in E Major, RV 269 "la primavera": II. Largo

Antonio Vivaldi: Violin Concerto in E Major, RV 269 "la primavera": III. Allegro

Antonio Vivaldi: Violin Concerto in G Minor, RV 315 "l'estate": I. Allegro non molto – Allegro

Antonio Vivaldi: Violin Concerto in G Minor, RV 315 "l'estate": II. Adagio – Presto – Adagio – Presto – Adagio –Presto – Adagio – Presto – Adagio

Antonio Vivaldi: Violin Concerto in G Minor, RV 315 "l'estate": III. Presto

Antonio Vivaldi: Violin Concerto in F Major, RV 293 "l'autunno": I. Allegro – Larghetto – Allegro asssai

Antonio Vivaldi: Violin Concerto in F Major, RV 293 "l'autunno": II. Adagio molto

Antonio Vivaldi: Violin Concerto in F Major, RV 293 "l'autunno": III. Allegro

Antonio Vivaldi: Violin Concerto in F Minor, RV 297 "l'inverno": I. Allegro non molto

Antonio Vivaldi: Violin Concerto in F Minor, RV 297 "l'inverno": II. Largo

Antonio Vivaldi: Violin Concerto in F Minor, RV 297 "l'inverno": III. Allegro – Lento

Antonio Vivaldi: Vioiln Concerto in E-Flat Major, RV 253: I. Presto – Allegro

Antonio Vivaldi: Vioiln Concerto in E-Flat Major, RV 253: II. Largo

Antonio Vivaldi: Vioiln Concerto in E-Flat Major, RV 253: III. Presto

Antonio Vivaldi: Violin Concerto in C Major, RV 180: I. Allegro

Antonio Vivaldi: Violin Concerto in C Major, RV 180: II. Largo e cantabile

Antonio Vivaldi: Violin Concerto in C Major, RV 180: III. Allegro
Disk 2
Antonio Vivaldi: Violin Concerto in D Major, RV 210: I. Allegro

Antonio Vivaldi: Violin Concerto in D Major, RV 210: II. Largo

Antonio Vivaldi: Violin Concerto in D Major, RV 210: III. Allegro

Antonio Vivaldi: Violin Concerto in B-Flat Major, RV 362: I. Allegro

Antonio Vivaldi: Violin Concerto in B-Flat Major, RV 362: II. Adagio

Antonio Vivaldi: Violin Concerto in B-Flat Major, RV 362: III. Allegro

Antonio Vivaldi: Violin Concerto in D Minor, RV 242: I. Allegro

Antonio Vivaldi: Violin Concerto in D Minor, RV 242: II. Largo

Antonio Vivaldi: Violin Concerto in D Minor, RV 242: III. Allegro

Antonio Vivaldi: Violin Concerto in G Minor, RV 332: I. Allegro

Antonio Vivaldi: Violin Concerto in G Minor, RV 332: II. Largo

Antonio Vivaldi: Violin Concerto in G Minor, RV 332: III. Allegro

Antonio Vivaldi: Oboe Concerto in C Major, RV 449: I. Allegro

Antonio Vivaldi: Oboe Concerto in C Major, RV 449: II. Largo

Antonio Vivaldi: Oboe Concerto in C Major, RV 449: III. Allegro

Antonio Vivaldi: Oboe Concerto in D Minor, RV 454: I. Allegro

Antonio Vivaldi: Oboe Concerto in D Minor, RV 454: II. Largo

Antonio Vivaldi: Oboe Concerto in D Minor, RV 454: III. Allegro