Vivaldi: Violin Concertos Opp. 11 & 12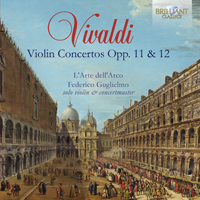 Composer
Antonio Vivaldi
Artist
L'Arte dell'Arco
Federico Guglielmo solo violin & concertmaster
Pier Luigi Fabretti oboe
Format
2 CD
Cat. number
95048
EAN code
5028421950488
Release
November 2016
About this release
With this new release, L'Arte dell'Arco complete their survey of the concertos and sonatas Opp. 1-12 which spread the fame of Antonio Vivaldi across Europe thanks to their publication by Etienne Roger in Amsterdam. These final two sets were published in 1729, 18 years after the L'estro armonico collection Op.2 had created a sensation with their unprecedented brilliance of solo writing, rhythmic vivacity and originality of disposition between solo and accompaniment.

The entire collection is available as a boxset (BC95200) and has received wide critical praise. 'Let me start by saying that if ever a super-budget box deserved the epithet 'Brilliant' it is this one. Not only does it bring together the first twelve opus numbers of Vivaldi, half of them in a new critical edition, but also they are performed by a first rate ensemble. That we also get excellent sound and notes too makes this set a real winner.´ (Musicweb International). According to Diapason, L'Arte dell'Arco 'understand the secret language of Vivaldi…rich and generous instrumental textures envelop the expressive lines of the solo violin.'

Federico Guglielmo contributes a scholarly note to the booklet, in which study of the manuscripts have uncovered new contexts to these concertos. Although it is uncertain how much Vivaldi supervised their publication, and to what degree they are compilations of earlier work, the concertos bear the hallmarks of the fully mature composer. By this time in his full maturity, Vivaldi was highly receptive to the appeal of the new galant taste, enriched by his experience with opera, and sensitive to discussion with acclaimed composers such as Leonardo Vinci, Nicola Porpora and Leonardo Leo. Two of them were likely written for one Anna Maria, a student of particular virtuoso abilities at the Ospedale della Pieta where Vivaldi was the long-serving music master. The final concerto of Op.11 was originally conceived as an oboe concerto, and in that form is presented here.

The prestigious Vivaldi Project by Federico Guglielmo (the complete recording of the opus number 1-12) is gloriously closed with the recording of the Violin Concertos Op. 11 and 12, works without a nickname but still Vintage Vivaldi: brilliance, virtuosity, audacious handling of harmony and plenty of dramatic power.
Violinist Federico Guglielmo and his elite band L'Arte dell'Arco have accomplished a standard setting edition of the first 12 Opus numbers by Vivaldi, the first complete recording on period instruments. The press has been unanimous in its praise: "a definitive recording, bravo!" (Diapason), "infectious joy, improvisatory flair and instinct, this is music making minted in the moment" (BBC 3), "They know the secret language of Vivaldi.." (Diapason).
Liner notes in English and Italian.
Track list
Disk 1
Violin Concerto No. 5 in C Minor, RV 202: I. Allegro non molto

Violin Concerto No. 5 in C Minor, RV 202: II. Largo

Violin Concerto No. 5 in C Minor, RV 202: III. Allegro non molto

Violin Concerto No. 4 in G Major, RV 308: I. Allegro

Violin Concerto No. 4 in G Major, RV 308: II. Largo cantabile

Violin Concerto No. 4 in G Major, RV 308: III. Allegro

Violin Concerto No. 2 in E Minor, RV 277 "il favorito": I. Allegro

Violin Concerto No. 2 in E Minor, RV 277 "il favorito": II. Andante

Violin Concerto No. 2 in E Minor, RV 277 "il favorito": III. Allegro

Violin Concerto No. 3 in A Major, RV 336: I. Allegro

Violin Concerto No. 3 in A Major, RV 336: II. Aria andante

Violin Concerto No. 3 in A Major, RV 336: III. Allegro

Violin Concerto No. 1 in D Major, RV 207: I. Allegro

Violin Concerto No. 1 in D Major, RV 207: II. Largo

Violin Concerto No. 1 in D Major, RV 207: III. Allegro

Oboe Concerto No. 6 in G Minor, RV 460: I. Allegro non tanto

Oboe Concerto No. 6 in G Minor, RV 460: II. Largo

Oboe Concerto No. 6 in G Minor, RV 460: III. Allegro non molto
Disk 2
Violin Concerto No. 5 in B-Flat Major, RV 379: I. Allegro

Violin Concerto No. 5 in B-Flat Major, RV 379: II. Largo

Violin Concerto No. 5 in B-Flat Major, RV 379: III. Allegro

Violin Concerto No. 1 in G Minor, RV 317: I. Allegro

Violin Concerto No. 1 in G Minor, RV 317: II. Largo

Violin Concerto No. 1 in G Minor, RV 317: III. Allegro

Violin Concerto No. 4 in C Major, RV 173: I. Largo spiccato, allegro

Violin Concerto No. 4 in C Major, RV 173: II. Largo

Violin Concerto No. 4 in C Major, RV 173: III. Allegro

Violin Concerto No. 2 in D Minor, RV 244: I. Allegro

Violin Concerto No. 2 in D Minor, RV 244: II. Larghetto

Violin Concerto No. 2 in D Minor, RV 244: III. Allegro

Violin Concerto No. 6 in B-Flat Major, RV 361: I. Allegro

Violin Concerto No. 6 in B-Flat Major, RV 361: II. Largo

Violin Concerto No. 6 in B-Flat Major, RV 361: III. Allegro

Concerto for Strings No. 3 in D Major, RV 124: I. Allegro

Concerto for Strings No. 3 in D Major, RV 124: II. Grave

Concerto for Strings No. 3 in D Major, RV 124: III. Allegro