Wagner: Complete Piano Music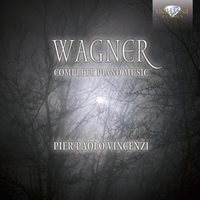 Composer
Richard Wagner
Artist
Pier Paolo Vincenzi piano
Federica Ferrati piano
Format
2 CD
Cat. number
94450
EAN code
5028421944500
Release
March 2013
About this release
Today Richard Wagner is best known for his extraordinary operas; any success in other domains was dwarfed by these compositional feats in the world of musical theatre. But Wagner's piano works can be seen to be just as important in understanding the evolution of his style and musical thought, and thus the development of this dominating figure of the 19th century.

The collection brings together Wagner's entire output for solo piano. The earliest sonata on the recording is the Piano Sonata in B flat, which shows evidence of Wagner's music education, with much indebted to the Beethovian model as well as to the great pianist-composers Weber and Pleyel. These influences are heard again in the more mature and complex Große Sonate – a work that Wagner intended to turn into a symphony, though this attempt was later abandoned. A regular dedicatee of Wagner's works was Mathilde Wesendock – the relationship between the two is still much debated today – and among the works in this collection, three are dedicated to Mathilde: the 'masterpiece' Eine Sonate für das Album von Frau Mathilde Wesendock, Notenbrief für Mathilde Wesendonck and the 'Schluß zum Vorspiel' from Tristan und Isolde. The 'Tristan chord' at the beginning of the latter has become considered a clear attestation of Wagner's infatuation with Mathilde, for whom he stopped work on the Ring cycle to begin that great testament of love, Tristan und Isolde.

The works are performed by the Italian pianist Pier Paolo Vincenzi, whose busy concert schedule takes him all over his native country. He is joined for the Polonaise for 4 hands in D by Federica Ferrati.

Other information:
- New recording (2012) by one of Italy's leading pianists, Pier Paolo Vincenzi.
- Amidst the flood of Wagner issues for the 2013 Wagner's Bicentennial this double CD presents an often hidden aspect of opera-composer Wagner: his complete pianistic output.
- Wagner's piano works show his development as a composer during his entire lifespan: from the early Sonata showing influence of Weber and Pleyel, to the "Wagnerian" Grosse Sonate, mature and epic in scope, to later pieces, often written for Mathilde Wesendonck, secretly expressing his love for her. Though not all eternal masterworks, Wagner's piano works show a fascinating aspect of the operatic genius.
- Contains comprehensive notes on the music and an artist biography.
Track list
Disk 1
Eine Sonate für das Album von Frau M.W., WWV 85

Piano Sonata in A Major, WWV 26 Op.4 'Große Sonate': I. Allegro con moto

Piano Sonata in A Major, WWV 26 Op.4 'Große Sonate': II. Adagio molto, e assai espressivo

Piano Sonata in A Major, WWV 26 Op.4 'Große Sonate': III. Maestoso – Allegro molto

Piano Sonata in B-Flat Major, WWV 21 Op. 1: I. Allegro con brio

Piano Sonata in B-Flat Major, WWV 21 Op. 1: II. Larghetto

Piano Sonata in B-Flat Major, WWV 21 Op. 1: III. Menuetto: Allegro

Piano Sonata in B-Flat Major, WWV 21 Op. 1: IV. Allegro vivace
Disk 2
Schluß zum Vorspiel, from Tristan und Isolde

Fantasia in F-Sharp Minor, WWV 22 Op. 3

Albumblatt für Ernst Benedikt Kietz, WWV 64 'Lied ohne Worte'

Polonaise in D Major, WWV 23a

In das Album der Fürstin M., WWV 94

Züricher Vielliebchen-Walzer, WWV 88

Ankunft bei den schwarzen Schwänen, WWV 95

Polka in G Major, WWV 84

Notenbrief für Mathilde Wesendonck

Polonaise for Piano Four Hands in D Major, WWV 23b Op.2

Elegy in A-Flat Major

Albumblatt für Frau Betty Schott, WWV 108

Piano Sonata in A Major, WWV 26 Op. 4 'Große Sonate': III. Maestoso: Tempo moderato e maestoso – Allegro molto (alternative version)