Wagner: Lieder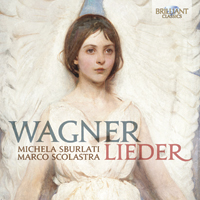 Composer
Richard Wagner
Artist
Michela Sburlati soprano
Marco Scolastra piano
Format
1 CD
Cat. number
94451
EAN code
5028421944517
Release
August 2014
About this release
When one thinks of Richard Wagner, it is easy to imagine the passion, the soaring melodies and the sheer power of the music written by this revolutionary in the world of 19th-century opera. But the fact is that Wagner could also portray these elements on a much smaller scale and was adept at capturing the more intimate subtleties of the genre known as the Lied. This special collection brings together Wagner's works for voice and piano.

Among the works that appear in the collection are the Wesendonck-Lieder – a setting of five poems by Mathilde Wesendonck – two of which, 'Träume' and 'Im Treibhaus', Wagner describes as studies for Tristan and Isolde, one of his most celebrated operas. These five lieder combine a use of chromaticism, expression and restless, wave-like phrases that have come to be associated with much of the composer's oeuvre. The disc also boasts an Italian version of the work, with text by Arrigo Boito. Also appearing in the collection are the famed 'Gretchen am Spinnrade' and 'Melodram' – the final two works of the Sieben Compositionen zu Goethes Faust – the complex 'Dors, mon enfant' and further works with texts by writers such as Victor Hugo, Georg Sheurlin and Pierre de Ronsard. Each of these works showcases Wagner's immense talent at the portrayal of emotion through song.

Praised by the New York Times as being 'a fine dramatic soprano', Michela Sburlati is a critically acclaimed singer who has performed in operas all over the world. Recent engagements include the role of Chrysothemis in Richard Strauss's Elektra (Erl Festival, Austria) and the title role in Tosca at the Kazan Opera (Russia). She won the 'Poggi' Award as critics' and audience's choice in 2011, teaches lyric singing at the Conservatoire in Perugia and collaborates with the Lyric Opera Centre in Shanghai. Sburlati is accompanied by renowned pianist Marco Scolastra.

Other information:
- The Wagner year 2013 brought us a wealth of new and re-issues of his greatest operas, therefore this new recording of his songs might be seen as an elegant and refreshing "encore": small-scale Lieder, of an intimate nature, but often expressing in just a few minutes as much as in a whole opera scene.
- Included are the famous Wesendonck Lieder, in the original German version and in an Italian translation by Boito (Verdi's librettist), Gretchen am Spinnrade, Mignonne and several other little gems.
- Sung by the Italian Michela Sburlati, "a fine dramatic soprano" (New York Times), accompanied by maestro Marco Scolastra.
- Contains extensive liner notes on the works and performer biographies.
- Contains sung texts in the sung language.
Track list
Disk 1
Fünf Gedichte für eine Frauenstimme mit Pianoforte-Begleitung, WWV 91: I. Der Engel

Fünf Gedichte für eine Frauenstimme mit Pianoforte-Begleitung, WWV 91: II. Stehe still!

Fünf Gedichte für eine Frauenstimme mit Pianoforte-Begleitung, WWV 91: III. Im Treibhaus

Fünf Gedichte für eine Frauenstimme mit Pianoforte-Begleitung, WWV 91: IV. Schmerzen

Fünf Gedichte für eine Frauenstimme mit Pianoforte-Begleitung, WWV 91: V. Träume

Sieben Kompositionen zu Goethes Faust, WWV 15: VI. Gretchen am Spinnrade

Sieben Kompositionen zu Goethes Faust, WWV 15: VII. Melodram

Der Tannenbaum in E-Flat Minor, WWV 50

Dors, mon enfant in F Major, WWV 53

Attente in G Major, WWV 55

Mignonne in E Major, WWV 57

Tout n'est qu'images fugitives in B-Flat Major, WWV 58

Les Deux Grenadiers in A Minor, WWV 60

Gruß seiner Treuen an Friedrich August den Geliebten in G Major, WWV 71b

Wesendonck-Lieder, WWV 91: I. L'Angelo in G Major

Wesendonck-Lieder, WWV 91: II. Fermati! in C Minor

Wesendonck-Lieder, WWV 91: III. Nella serra in D Minor

Wesendonck-Lieder, WWV 91: IV. Dolori in E-Flat Major

Wesendonck-Lieder, WWV 91: V. Sogni in A-Flat Major