Weber: Complete Songs for Voice and Guitar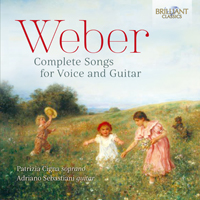 Download booklet
Composer
Carl Maria Von Weber
Artist
Patrizia Cigna soprano
Adriano Sebastiani guitar
Format
1 CD
Cat. number
95323
EAN code
5028421953236
Release
January 2018
About this release
The German tradition of Lieder accompanied by guitar is overlooked but surprisingly rich. Several of the great Lieder singers have recorded Schubert songs with guitar (Christoph Pregardien and Peter Schreier principal among them), and to highly expressive effect. In many ways the change of instrument draws back these songs to their medieval heritage, to the Minnesänger (minstrels, or troubadours) who fulfilled courtly functions, or at a more humble level travelled from town to town, lute slung over the back, entertaining nobles and commoners alike with tales of love and war.

It is this tradition that Patrizia Cigna and Adriano Sebastiani have tapped into with the first complete recording of the Lieder composed by Carl Maria von Weber for which he had a guitar in mind. In fact Weber, more than most of his native contemporaries, nurtured a great affection for the instrument while it was more celebrated abroad – notably in the Classical tradition by Mauro Giuliani, and we should not forget that the guitar was the first instrument of Hector Berlioz. Weber would accompany himself like a early-Romantic troubadour in his own songs, and he scored for the guitar in several of his stage-works such as Abu Hassan.

The Op.25 Lieder bring together these two strands, written as incidental music for August von Kotzebue's one-act play Der arme Minnesänger (The Poor Minstrel). Some of the songs here such as the Op.13 set and the Op.29 Canzonettas were written with either keyboard or guitar accompaniment in mind, for obvious, commercially attractive reasons, but the standalone Mayenblümelein was only ever intended for the guitar, as was the lovely, polyphonic Sagt, woher stammt Liebeslust which calls for two sopranos, a three-voice female choir, and a guitar accompaniment.

These, like several other songs on this recording, have no rivals in the current catalogue, making this a new recording an essential acquisition for all lovers of Romantic Lieder.

Carl Maria von Weber (1786-1826) holds his place in music history as the founder of the German Romantic Opera, embracing German culture of folk song and a strong feeling of nature. His influence was enormous, he was an inspiration for many composers, notably Richard Wagner.
This new recording presents Weber's complete songs for voice and guitar. Weber played the guitar himself, he was in contact with famous guitarists if his day, like Mauro Giuliani, and he often sang his own songs in the fashionable salons, accompanying himself on the guitar. The songs are utterly charming, lyrical and dramatic, on a par with Beethoven's "An die ferne Geliebte" and early Schubert songs. The guitar freely and independently interacts with the melodic lines, never being a mere accompaniment.
Beautifully sung by Patricia Cigna, well known opera singer who collaborated with conductors like Gatti, Koopman, Fasolis and Jurowski, guitarist is Adriano Sebastiani, who already successfully recorded similar repertoire by Dowland and Spohr.
Scholarly liner notes written by Adriano Sebastiani are included in the booklet.
Track list
Disk 1
5 Lieder, Op. 13: I. Die Schäferstunde, J.91

5 Lieder, Op. 13: II. Wiegenlied, J.96

5 Lieder, Op. 13: III. Liebeszauber, J.52

5 Lieder, Op. 13: IV. An den Mond, J.72

5 Lieder, Op. 13: V. Die Zeit, J.97

5 Deutsche Lieder, Op. 25: I. Liebe-Glühen, J.140

5 Deutsche Lieder, Op. 25: II. Über die Berge mit Ungestüm, J.110

5 Deutsche Lieder, Op. 25: III. Lass mich schlummern, J.112

5 Deutsche Lieder, Op. 25: IV. Betterlied, J.137

5 Deutsche Lieder, Op. 25: V. Umringt von mutherfüllten Heere, J.113

3 Lieder, Op. 29: I. Ah, dove siete, J.108

3 Lieder, Op. 29: II. Ninfe se liete, J.124

3 Lieder, Op. 29: III. Ch'io mai vi possa, J.120

Mayenblümlein, so schön, J.117 No. 3

Bach, Echo und Kuβ, J.243 No. 2

Des Künstlers Abshied, J.105,No. 6

Leise weht es, J.223

Sagt, woher stammt Liebeslust, J.280

Serenade, J.65

Romanze, "Ein König einst gefangen sass", J.195

Rase, Sturmwind, blasé, J.111