Weckmann: Complete Organ Music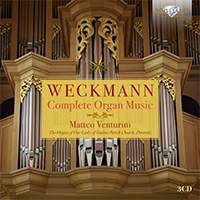 Download booklet
| | |
| --- | --- |
| Composer | Matthias Weckmann |
| Artist | Matteo Venturini organ |
| Format | 3 CD |
| Cat. number | 95229 |
| EAN code | 5028421952291 |
| Release | February 2020 |
About this release
The most gifted pupil of Heinrich Schütz, one of the brightest stars in the musical firmament of 17th-century Protestant Germany

Born in 1616 or thereabouts, having displayed considerable talent from an early age, the 11-year-old Weckmann was brought to Schütz, who took the boy under his wing. As soon as his voice broke, he became organist at the court chapel in Dresden, and Schütz took him to Hamburg for lessons with the most celebrated German organist of the day, Jakob Praetorius. Weckmann also spent time with Heinrich Scheidemann, enabling him, in the words of one contemporary commentator 'to moderate Praetorius's severity with Scheidemann's gentleness'.

In due course Weckmann took over Schütz's post as director of the court chapel in Dresden, but he returned to Hamburg in 1655 and settled there as organist of the city's most prestigious churches, enjoying great success before his death in 1674.

Weckmann's organ music is remarkable for its originality above all: richly textured with a sophisticated use of harmony and counterpoint, occasionally quirky but infused with an expressive intensity matched by few of his contemporaries. There are nine surviving sets of chorale variations for organ and they count among his masterpieces, ranging in texture from thick, six-voice imitative polyphony with double pedal to effusive soloistic figurations over sustained, sensuous backgrounds.

Interspersed with the variation sets here are shorter Canzons, Toccatas, Preludes and Fugues which present Weckmann at his most intimate, exuberant and inventive.

With only one rival set of Weckmann's organ music presently available, this new recording from Matteo Venturini will command the attention of all organ-lovers. His previous Brilliant Classics album of the organ music by Daniel Magnus Gronau (BC94843) was made record of the month by MusicWeb International: 'Matteo Venturini's performances leave nothing to be desired. They are technically impressive, but also stylistically convincing. His phrasing and articulation are very good, and his performances really breathe.'

This 3CD set presents the complete organ works by Weckmann, a collection of Canzonas, Toccatas, Preludes and Fantasias.
Matthias Weckmann (1616-1674) was an organist and composer of the North German School. His musical training took place at the Dresden court, where he was a pupil of Heinrich Schütz, studying organ and singing. In 1633 he went to Hamburg to study with the famous organist Jacob Praetorius. He influenced by Schütz as well as pupils of Sweelinck who settled in Hamburg. The rest of his life he held important posts in Hamburg (organist of the Jacobskirche) and at the Dresden Court.
Weckmann follows in the steps of both Schütz and Sweelinck, fusing the Italian characteristics of Frescobaldi and Monteverdi with the North German principles of Scheidemann and Praetorius.
Played on the Dell'Orto & Lanzini organ of the parish Church in Pinerolo, Italy, built in the German Baroque Style of Arp Schnitger, the specifications of which are included in the booklet. Organist Matteo Venturini already successfully recorded organ works by Mühtel and Gronau for Brilliant Classics.