Weiss: Sonatas for Transverse Flute and Lute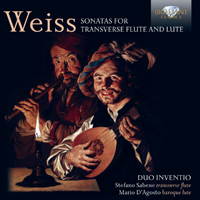 Composer
Johann Sigismund Weiss, Silvius Leopold Weiss
Artist
Duo Inventio
Stefano Sabene transverse flute
Mario D'Agosto baroque lute
Format
1 CD
Cat. number
94455
EAN code
5028421944555
Release
August 2014
About this release
Having only survived in the lute tablature known as the London manuscript, the four sonatas for transverse flute and lute assembled here – three by the German Baroque composer Silvius Leopold Weiss, and one, perhaps a little less sumptuous musically speaking, by his brother Sigismund – were reconstructed especially for this recording, with the two artists Sabene and D'Agosto drawing on an abundant source of contemporary 18th-century repertoire (in particular the works of the great flute virtuoso of the time, Johann Joachim Quantz) in their attempt to correctly evaluate the thematic material offered in the tablature and research the best possible response from the traversière. The choice of tessitura, the indication of ornamentation, and the nature and distribution of musical sections were all conceived taking into account the stylistic intent, with Sabene and D'Agosto seeking to highlight the range of textures and colours the traversière is capable of producing in relation to the specific characteristics of the lute.

Demonstrating a high artistic level and emulating the best German compositions of the period through their synthesis of the French and Italian styles, these sonatas' solidity of form and delightful thematic invention place them firmly on a par with the arrangements for traversière and basso continuo or harpsichord written by the major composers of that era such as Bach and Handel. Sabene (also a prolific conductor of early music ensembles) and D'Agosto, both of whom enjoy international careers and makes regular recordings for CD, television and radio, form an engaging partnership, traversing with flair and ease this tiny area of the Baroque period's rich and varied instrumental tapestry.

Other information:
- Recorded March - June 2013.
- Silvius Leopold Weiss was without doubt one of the most important players and composers for the lute, he wrote an immense oeuvre for his instrument, which is still frequently played today.
- His flute sonatas have only survived in a lute tabulatura (the "London Manuscript"), and were reconstructed, extracting the solo flute part from the score by the artists, flutist Stefano Sabene and lutenist Mario d'Agosto. The result is beautiful: flute cantilenas against the rich continuo of the lute, a valuable addition to the repertoire!
- The booklet contains a detailed description of the reconstruction process, liner notes and artist biographies.