Wolf-Ferrari: Idillio Concertino, Serenata, Suite Concertino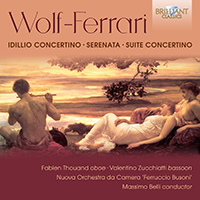 Composer
Ermanno Wolf-Ferrari
Artist
Nueva Orchestra da Camera Ferruccio Busoni
Massimo Belli conductor
Fabien Thouand oboe
Valentino Zucchiatti bassoon
Format
1 CD
Cat. number
95875
EAN code
5028421958750
Release
May 2019
About this release
Little-known but delightful instrumental treasures from the composer of 'The Jewels of the Madonna'.

Given its colour by a pastorally evocative scoring of oboe and small orchestra, the Idillio Concertino lives up to its name with calm and gentle cantabile writing throughout in Wolf-Ferrari's most neo-classical vein. The composer's declared idol was Mozart, and all three of these works seek to recover something of a timeless beauty which many locate in Viennese Classicism. 'When a piece of music touches our heart,' said Wolf-Ferrari, 'we do not need to understand why it does so: indeed it is something that should not be understood, even were it possible to do so. We do not need to be botanists to perceive the beauty of a forest! In art, it is sentiment, not reason, which determines [our reaction]. Art does not desire an audience of initiates, a congregation of the faithful, but a pure and open heart.' This newly recorded album is for every listener who feels likewise.

The solo instrument for the Suite-Concertino is the bassoon, but the dreamy mood prevails in the long-breathed opening Nocturne, which is followed by a quick, strumming scherzo, a lovely heartfelt Canzone and a gentle concluding Andante.

This pair of concertos from 1933 is complemented by one of Wolf-Ferrari's best-known instrumental works, the four-movement Serenade for Strings which dates from a full 40 years earlier, before the composer embarked on an operatic career.

In this precociously mature work – written at the age of 17 – Mozart is even more clearly a guiding light, as indeed he was for the composer's contemporary Busoni, who lends his name to this chamber orchestra based in the north-east of Italy. Founded in 1965 by Aldo Belli, the orchestra boasts a distinguished discography such as the 'Idyll' album on Brilliant Classics (BC95199): 'The chamber orchestra "Ferruccio Busoni", based in Trieste, northern Italy, plays the three gems with a great sense of elegance, a loving eye for the poetic subtleties of the pieces and not without a zest for life.' (JPC – Leidenschaft fur Musik, 2017)

Ermanno Wolf-Ferrari (1876-1948) is a composer difficult to classify. A child of his time he kept aloof from the innovations of the modernists and dodecaphony. As son of a German father and a noble-born Venetian mother he was born in Venice and went to study in Munich. He became famous as an opera composer. His style is romantic, tinged with impressionism and the odd neoclassical hint. His aim was to create a "universal beauty" in his works, where no rules apply, but only a feeling of well-being and sensuousness.
This new recording presents some rarely recorded works for string orchestra: the Serenade For Strings and two concertante works, with solo parts for the bassoon, and for oboe plus two trumpets. The title of the latter, "Idilio" sums up the general mood of these works: idyllic, refined, charming, alternating melancholy and exuberant vitality.
Elegant and exquisite performances by the Italian Chamber Orchestra "Ferruccio Busoni" conducted by Massimo Belli, whose previous recording for Brilliant Classics, String Serenades by Elgar, Janáček and Kalinnikov received much praise (BC95199).
Listening
Track list
Disk 1
Ermanno Wolf-Ferrari: Idillio – Concertino in A Major, Op. 15: I. Preambolo

Ermanno Wolf-Ferrari: Idillio – Concertino in A Major, Op. 15: II. Scherzo – Presto

Ermanno Wolf-Ferrari: Idillio – Concertino in A Major, Op. 15: III. Adagio

Ermanno Wolf-Ferrari: Idillio – Concertino in A Major, Op. 15: IV. Rondò – Allegro non troppo

Ermanno Wolf-Ferrari: Serenata for Strings: I. Allegro

Ermanno Wolf-Ferrari: Serenata for Strings: II. Andante

Ermanno Wolf-Ferrari: Serenata for Strings: III. Scherzo – Presto

Ermanno Wolf-Ferrari: Serenata for Strings: IV. Finale – Presto

Ermanno Wolf-Ferrari: Suite – Concertino in F Major, Op. 16: I. Notturno – Andante un poco mosso

Ermanno Wolf-Ferrari: Suite – Concertino in F Major, Op. 16: II. Strimpellata – Presto

Ermanno Wolf-Ferrari: Suite – Concertino in F Major, Op. 16: III. Canzone – Andante cantabile

Ermanno Wolf-Ferrari: Suite – Concertino in F Major, Op. 16: IV. Finale – Andante con moto