Wolf-Ferrari: Piano Music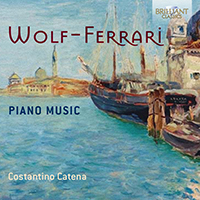 | | |
| --- | --- |
| Composer | Ermanno Wolf-Ferrari |
| Artist | Costantino Catena piano |
| Format | 1 CD |
| Cat. number | 95868 |
| EAN code | 5028421958682 |
| Release | January 2019 |
About this release
Sumptuous, late-Romantic but little-known piano music including several world premiere recordings.

The name of Ermanno Wolf-Ferrari (1876-1948) is now emerging from the shadow cast by his wartime collaboration with Italy's Fascist regime. Operas such as I quattro rusteghi and I gioielli della Madonna occupy a place on the fringes of the repertoire, and Brilliant Classics have made a persuasive case for him as a composer of chamber music in a post-Brahmsian mould with the release of his piano trios (BC95624). This album was recommended by Classics Today for the 'eloquently sustained' performance of Trio Archè, displaying 'a whimsical discursiveness… that might be described as the lovechild of Schubert and Fauré.'

Much the same might be said of Wolf-Ferrari's piano music on the evidence of this new recording by the Italian pianist Costantino Catena, who has made many well-received albums with the Camerata Tokyo. To open the album, Catena has made his own completion of an early, substantial (19-minute) Bagatelle that Wolf-Ferrari left unfinished. Theatricality and high contrast mark the Bagatelle throughout, as one would expect from an experienced composer for the stage, and they lend beguiling variety to the other first recordings here, of Variations on the minuet from Verdi's Falstaff, a Chopin-Phantasie in B minor and a Scherzino, all dating from Wolf-Ferrari's prodigious twenties when he was the toast of new Italian music.

Wolf-Ferrari turned to the Romantic genre of character-piece in three Impromptus Op.13 (1904) and three Klavierstücke Op.14 (1905), but he addressed the form in a personal and authentic manner. Some of the rhythmic sophistication may remind us of Brahms, and the delicately embroidered harmony of Hugo Wolf, but Wolf-Ferrari's characteristic sweetness of tone does not descend into decorative mannerism or affected sentimentalism: he was, to the core, a German-Italian composer with a foot on both sides of the Alps.

Ermanno Wolf-Ferrari (1876-1948) is a composer difficult to classify. A child of his time he kept aloof from the innovations of the modernists and dodecaphony. As son of a German father and a noble-born Venetian mother he was born in Venice and went to study in Munich. He became famous as an opera composer. His style is romantic, tinged with impressionism and the odd neoclassical hint. His aim was to create a "universal beauty" in his works, where no rules apply, but only a feeling of well-being and sensuousness.
This new recording presents Wolf-Ferrari's output for piano solo, atmospheric works played with the right feeling for the style by Costantino Catena, of whom the Italian classical magazine Amadeus wrote: "A pianist rare in his generation, in him shining above all the art of singing on the keyboard with an inventiveness of phrasing that demonstrates his exquisite musical intelligence".
Listening
Track list
Disk 1
Ermanno Wolf-Ferrari: 6 Bagatelle

Ermanno Wolf-Ferrari: Undici Variazioni

Ermanno Wolf-Ferrari: Chopin-Phantasie in B Minor

Ermanno Wolf-Ferrari: Scherzino

Ermanno Wolf-Ferrari: 3 Impromptus, Op. 13: I. Andante

Ermanno Wolf-Ferrari: 3 Impromptus, Op. 13: II. Tranquillo, rubato

Ermanno Wolf-Ferrari: 3 Impromptus, Op. 13: III. Appassionato, cantando

Ermanno Wolf-Ferrari: 3 Piano Pieces ,Op. 14: I. Melodie

Ermanno Wolf-Ferrari: 3 Piano Pieces ,Op. 14: II. Capriccio

Ermanno Wolf-Ferrari: 3 Piano Pieces ,Op. 14: III. Romanze