Wolf-Ferrari: Piano Trios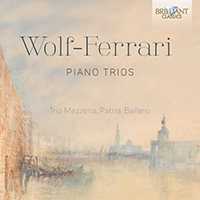 Composer
Ermanno Wolf-Ferrari
Artist
Franco Mezzena violin
Sergio Patria cello
Elena Ballario piano
Format
1 CD
Cat. number
95553
EAN code
5028421955537
Release
June 2019
About this release
Sumptuously Romantic Italian chamber music from an experienced team of native musicians.

How many labels can boast not one but two recordings of Wolf-Ferrari's piano trios? But they're so good, they're worth recording (and hearing) more than once. As Norman Lebrecht remarked of the well-received album of Trio Arche (BC95624), 'The two trios… put an instant summer's smile on the sourest of faces. The gift for melody is abundant and the interaction of piano, violin and cello is as infectious and irresistible as a well-made goal in football. Barely half an hour long, either of these trios will make your day… Go on, treat yourself.'

Both written early in his career, the trios share the inventiveness and communicative vibrancy of his better-known operas and symphonic works such as the wind concertos on another recent Brilliant Classics release (BC95875). The Op. 5 Trio shows off the confidence of Wolf-Ferrari with quirky juxtapositions of key and an abruptly offhand conclusion to the Scherzo, and a whimsical discursiveness of the Finale that might be described as the lovechild of Schubert and Fauré.

More ambitious in scope, the Op.7 F sharp minor Trio opens with an expansive, brooding opening movement (lots of harmonic unrest reminiscent of César Franck) followed by two much briefer movements of uncomplicated charm. Wolf-Ferrari's writing for the notoriously tricky combination of instruments is notably sympathetic, allowing the two string instruments to flourish without being overwhelmed by the piano.

This ensemble, highly praised in the pages of La Stampa, is led by Franco Mezzena, whose extensive discography of lesser- known Italian chamber music includes most recently the complete quartets of Viotti (BC95264).

Ermanno Wolf-Ferrari (1876-1948) is a composer difficult to classify. A child of his time he kept aloof from the innovations of the modernists and dodecaphony. As son of a German father and a noble-born Venetian mother he was born in Venice and went to study in Munich. He became famous as an opera composer, his chamber music remained largely neglected.
The two piano trios on this new recording are early works, written around the turn of the century. They follow the line Schumann-Mendelssohn-Brahms, eschewing heavy density, but instead displaying a certain aristocratic levity, an enlightened simplicity.
Played by the Italian trio Mezzena-Patria-Ballario.
The booklet contains newly written liner notes by David Moncur.
Listening
Track list
Disk 1
Ermanno Wolf-Ferrari: Piano Trio No. 1 in D Major, Op. 5: I. Allegro molto moderato

Ermanno Wolf-Ferrari: Piano Trio No. 1 in D Major, Op. 5: II. Presto, vivace, tempo I

Ermanno Wolf-Ferrari: Piano Trio No. 1 in D Major, Op. 5: III. Larghetto

Ermanno Wolf-Ferrari: Piano Trio No. 1 in D Major, Op. 5: IV. Allegro vivace assai

Ermanno Wolf-Ferrari: Piano Trio No. 2 in F-Sharp Major, Op. 7: I. Sostenuto, agitato, tranquillo, più tranquillo, sostenuto, tempo del principio, Più mosso, largamente

Ermanno Wolf-Ferrari: Piano Trio No. 2 in F-Sharp Major, Op. 7: II. Largo

Ermanno Wolf-Ferrari: Piano Trio No. 2 in F-Sharp Major, Op. 7: III. Lievemente mosso, e tranquillo sempre