Wolf-Ferrari: The Two Piano Trios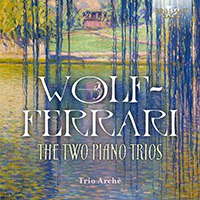 | | |
| --- | --- |
| Composer | Ermanno Wolf-Ferrari |
| Artist | Trio Archè |
| Format | 1 CD |
| Cat. number | 95624 |
| EAN code | 5028421956244 |
| Release | August 2018 |
About this release
Ermanno Wolf-Ferrari (1876-1948) focused on instrumental music at the beginning and towards the end of a career that was otherwise largely devoted to opera. The two trios for violin, cello and piano are early works, written at the time he was studying in Munich, or shortly afterwards. The first Trio in D major dates back to 1896, was premiered at the Tonkünstlerverein in Stuttgart in September of that same year and published as Op.5 in 1902 by Leuckart in Leipzig.

The four movements of Op.5 abound in richly embroidered, Brahmsian melodies and impassioned statements and developments, free of the naivety that is often a feature of early works. That said, they do embody a certain innocence, a degree of gentleness, even a lightness of spirit that sets them apart from their composer's study of German models withteachers such as the organist Joseph Rheinberger.

Parts of the Op.7 Trio may in fact have been written before Op.5, but the expression of the three-movement work as a whole is more individual, dominated as it is by a huge opening movement (almost 20 minutes in length), and often coloured by a bitter chromaticism that Wolf-Ferrari would later relinquish in favour of a more light-hearted and lyrical idiom. Here is a technically gifted young composer stretching his creative muscles – and for all the breadth of expression, his writing for the notoriously tricky combination of instruments is notably sympathetic, allowing the two string instruments to flourish without being overwhelmed by the piano.

This new studio album is the second recording of Trio Archè for Brilliant Classics after their well-received debut of trios by another Italian composer, now even less familiar than Wolf-Ferrari, Marco Enrico Bossi (BC95581). Both albums make a readyappeal to all those listeners who travel the musical byways of late Romanticism.

Ermanno Wolf-Ferrari (1876-1948) is a composer difficult to classify. A child of his time he kept aloof from the innovations of the modernists and dodecaphony. As son of a German father and a noble-born Venetian mother he was born in Venice and went to study in Munich. He became famous as an opera composer, his chamber music remained largely neglected.
The two piano trios on this new recording are early works, written around the turn of the century. They follow the line Schumann-Mendelssohn-Brahms, eschewing heavy density, but instead displaying a certain aristocratic levity, an enlightened simplicity.
Played by the Italian Trio Archè, founded in 2001.
The booklet contains excellent, scholarly written liner notes.
Track list
Disk 1
Piano Trio No. 1 in D Major, Op. 5: I. Allegro molto moderato

Piano Trio No. 1 in D Major, Op. 5: II. Presto - Vivace - Meno mosso - Vivace – Presto

Piano Trio No. 1 in D Major, Op. 5: III. Larghetto - Poco mosso - Più mosso - Larghetto

Piano Trio No. 1 in D Major, Op. 5: IV. Allegro vivace assai - Andante mosso - Tempo I - Andante Sostenuto - Tempo I

Piano Trio No. 2 in F-Sharp Major, Op. 7: I. Sostenuto - Adagio - Agitato - Sostenuto – Agitato

Piano Trio No. 2 in F-Sharp Major, Op. 7: II. Largo

Piano Trio No. 2 in F-Sharp Major, Op. 7: III. Lievemente mosso e tranquillo sempre