Yon: Complete Organ Music, Vol. 2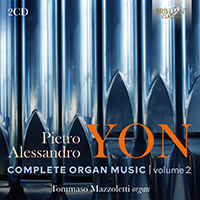 | | |
| --- | --- |
| Composer | Pietro Alessandro Yon |
| Artist | Tommaso Mazzoletti organ |
| Format | 2 CD |
| Cat. number | 96202 |
| EAN code | 5028421962023 |
| Release | September 2022 |
About this release
A New York Times profile of Pietro Yon (1886-1943) portrayed him as an adopted New Yorker who moved in high-society circles and enjoyed ragtime and vaudeville, and he welcomed the likes of Caruso and Toscanini to his home as friends. When he died in 1943, the world-famous conductor numbered among the 1300 mourners at St Patrick's, where the Italian émigré Yon had become director of music in 1929.

Yon's music has a post-Romantic, mid-Atlantic flavour reflecting his background without belonging to a single 'school'. He composed over 70 Mass settings and major works, including the oratorio The Triumph of St. Patrick which premiered at Carnegie Hall. Among his most popular works at the time was a Concerto Gregoriano for organ and orchestra, later rearranged for organ and piano and then solo organ, in which version Tommaso Mazzoletti performs it here. CD1 concludes with a pair of Easter-themed works, while CD2 features Christmas music including an Advent Suite, some gentle pastorales and finally the Gesù Bambino song which travelled the world in performances and recordings by Luciano Pavarotti, as well as countless other arrangements such as the solo-organ version played here.

This album marks the climax of a seven-year project in which the Italian organist Tommaso Mazzoletti has become the world's foremost exponent of his countryman's music. As Mazzoletti remarks in his booklet essay, Yon knew exactly what his audiences enjoyed, and was prepared to experiment, rediscover and astonish. 'As a performer and composer who played the organ for concerts as well as church services, he had the flair of an entrepreneur and a personality that I have always found to be particularly appealing. All his compositions are highly refined, but also imbued with a poetic, melancholy vein. Yet for all the skill and creativity that they unquestionably reveal, there is also a touch of humour that is utterly engaging.'

This album was recorded on a new organ by the Brondino Vegezzi-Bossi firm, installed at St.Paul protestant church in Gland, Switzerland and inaugurated in 2021 by Mazzoletti as the church's titular organist. The booklet also includes a full specification and photographs of the organ.

Pietro Alessandro Yon (1886-1943) was born at the foot of the Alps in Italy. His musical talent was soon discovered and he went to study in Turin and later in Rome with Sgambati (piano) and Renzi (organ). His fame as a brilliant organist soon spread internationally and he was offered a post as organist in Manhattan, New York, where he settled for life in 1907. Pietro met with enormous success as a concert performer, holding his first concert at the Aeolian Hall in New York in 1914. During the course of almost thirty years of feverish activity, he gave around 1500 performances, 23 of them in the famous Carnegie Hall. By 1926 he acquired the post of Organist at St. Patrick's Cathedral, the foremost seat of Catholicism in the USA. He invited the soloists of the Metropolitan Opera to perform during services. He made friends with Caruso and Toscanini, who performed his orchestral and choral works.
Yon's extraordinary organ works are clearly inspired by the enormous possibilities of the newly built organs in the USA. This second volume of his complete organ works presents the famous Concerto Gregoriano, originally written for organ and orchestra. Dedicated to Marco Enrico Bossi, the piece was written for the inauguration of the famous Wanamaker organ at Macy's in Philadelphia, with Leopold Stokowski on the podium.
The first CD of the edition, released in January 2021 furthermore presents other works on "religious" themes, including the two compositions for the Easter period, while the present second CD features all the pieces related to Christmas. These works are not exactly "religious", but rather "popular" in the way they express the themes and mood of the nativity. The CD ends with Gesù Bambino, a composition made famous for modern audiences by Luciano Pavarotti.
Played on the magnificent Brondino Vegezzi-Bossi organ at St. Paul protestant church in Gland, Switzerland. Tommaso Mazzoletti again delivers outstanding and brilliant performances of these fascinating organ works by Pietro Yon. The first volume of his organ works received some excellent reviews in the international press: "Mazzoletti is a master of registration and owns a wonderful feeling for tempo and color" (Burkhard Schäfer in "Organ").
Listening
Track list
Disk 1
Pietro Alessandro Yon: Concerto gregoriano in A Minor: I. Introduzione ed allegro

Pietro Alessandro Yon: Concerto gregoriano in A Minor: II. Adagio

Pietro Alessandro Yon: Concerto gregoriano in A Minor: III. Scherzo

Pietro Alessandro Yon: Concerto gregoriano in A Minor: IV. Finale

Pietro Alessandro Yon: Cristo trionfante – Easter Processional

Pietro Alessandro Yon: Hymn of Glory
Disk 2
Pietro Alessandro Yon: 3 Composition for Organ: I. Prelude-Pastorale "dies est lætitæ"

Pietro Alessandro Yon: Pastorale sorrentina

Pietro Alessandro Yon: Marche pastorale

Pietro Alessandro Yon: Pastorale

Pietro Alessandro Yon: Christmas in Sicily – Natale in Sicilia

Pietro Alessandro Yon: Advent Suite "First Religious Suite for Organ": I. Prelude

Pietro Alessandro Yon: Advent Suite "First Religious Suite for Organ": II. Introit "Veni Immanuel"

Pietro Alessandro Yon: Advent Suite "First Religious Suite for Organ": III. Offertory "Veni Domine"

Pietro Alessandro Yon: Advent Suite "First Religious Suite for Organ": IV. Communion "Ave Maria"

Pietro Alessandro Yon: Advent Suite "First Religious Suite for Organ": V. Finale, Toccata on the Gregorian Hymn "Creator alme siderunt"

Pietro Alessandro Yon: Gesù Bambino