Yon: Complete Organ Music, Vol.1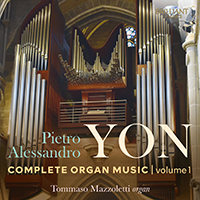 Download booklet
| | |
| --- | --- |
| Composer | Pietro Alessandro Yon |
| Artist | Tommaso Mazzoletti organ |
| Format | 3 CD |
| Cat. number | 95912 |
| EAN code | 5028421959122 |
| Release | January 2021 |
About this release
Sumptuous and spectacular Romantic works by 'Toscanini's Organist'.
Pietro Yon (1886-1943) played in what is widely regarded as one of the finest-ever performances of Beethoven's Missa solemnis, conducted at Carnegie Hall in 1935 by Arturo Toscanini. Yon was sharing the stage with the likes of Elizabeth Rethberg and Ezio Pinza; he had acquired a comparable celebrity within the organ world in his lifetime, having emigrated from Italy to the US at the age of 21, and become Organist of St Patrick's Cathedral in New York, the foremost seat of Catholicism in the US. A New York Times profile portrayed him as an adopted New Yorker who moved in high-society circles and enjoyed ragtime and vaudeville, and he welcomed the likes of Caruso and Toscanini to his home as friends. When he died in 1943, the world-famous conductor numbered among the 1300 mourners at St Patrick's.

Yon's own music has a post-Romantic, mid-Atlantic flavour reflecting his background without belonging to a single 'school'. Christmas in Settimo Vittone or Rapsodia Italiana draw on his Piedmontese heritage. The trio of large-scale organ sonatas occupying CD3 emerge from the virtuoso tradition of 19th-century keyboard writing exemplified by Liszt and translated to the organ by French contemporaries such as Guilmant and Vierne. CD1 is dedicated to a collection of 12 Divertimenti including not only the Italian-themed character pieces mentioned above but also an expansive 'American Rhapsody' – like a transatlantic version of Howells, perhaps, sharing its chromatic harmony with the music of Leo Sowerby – and shorter study-like pieces which exploit the full range of colours available on the organ of St Patrick's which he had extensively renovated and updated to reflect changing tastes, rather as Pierre Cochereau did at Notre-Dame in Paris.

The most unusual piece here is the four-movement Concerto Gregoriano for organ and piano. Like Respighi's violin concerto of the same name, the piece takes its themes from the heritage of chant and weaves them into a richly embroidered neo-Romantic structure, but with a Brahmsian grandeur and symphonic impetus which is catalysed by incisive dialogue between the two instruments.

Born in 1991, Tommaso Mazzoletti undertook postgraduate studies in organ performance at the conservatoires of Geneva and Lausanne, and the present recording was made earlier this year on the organ of Lausanne Cathedral. The organist also contributes an authoritative booklet essay on the life and career of Pietro Yon.

Pietro Alessandro Yon (1886-1943) was born at the foot of the Alps in Italy. His musical talent was soon discovered and he went to study in Turin and later in Rome with Sgambati (piano) and Renzi (organ). His fame as a brilliant organist soon spread internationally and he was offered a post as organist in Manhattan, New York, where he settled for life in 1907. Pietro met with enormous success as a concert performer, holding his first concert at the Aeolian Hall in New York in 1914. During the course of almost thirty years of feverish activity, he gave around 1500 performances, 23 of them in the famous Carnegie Hall. By 1926 he had made an outstanding name for himself, acquiring the post of Organist at St. Patrick's Cathedral, the foremost seat of Catholicism in the USA, renewing and expanding the events organized at the Cathedral. He invited the soloists of the Metropolitan Opera to perform during services. He made friends with Caruso and Toscanini, who performed his orchestral and choral works.
Yon's extraordinary organ works are clearly inspired by the enormous possibilities of the newly built organs in the USA. They include several Sonatas, a Concerto Gregoriano, 12 Divertimenti for organ and many occasional works, showpieces and studies.
This first volume of Yon's complete Organ Music is played on the magnificent Fisk organ of the Lausanne Cathedral, by organist Tommaso Mazzoletti, winner of the Premio Nazionale delle Arti in Rome. The full specifications of the organ are included in the booklet.
Listening
Track list
Disk 1
Pietro Alessandro Yon: 12 Divertimenti: I. Rimembranza, Melody for Oboe

Pietro Alessandro Yon: 12 Divertimenti: II. Humoresque, l'organo primitivo, toccatina for Flute

Pietro Alessandro Yon: 12 Divertimenti: III. Speranza, Solo for Diapason

Pietro Alessandro Yon: 12 Divertimenti: IV. Elan du coeur, petite poème

Pietro Alessandro Yon: 12 Divertimenti: V. Minuetto antico e musetta

Pietro Alessandro Yon: 12 Divertimenti: VI. Christmas in Settimo Vittone, Folk-Song, Carol for Vox Humana

Pietro Alessandro Yon: 12 Divertimenti: VII. Echo, Double canon in unison

Pietro Alessandro Yon: 12 Divertimenti: VIII. Arpa notturna, Harp Solo

Pietro Alessandro Yon: 12 Divertimenti: IX. Rapsodia Italiana

Pietro Alessandro Yon: 12 Divertimenti: X. American Rhapsody

Pietro Alessandro Yon: 12 Divertimenti: XI. Trio all'Ottava

Pietro Alessandro Yon: 12 Divertimenti: XII. Cornamusa Siciliana
Disk 2
Pietro Alessandro Yon: Concerto Gregoriano in A Minor: I. Introduzione ed allegro

Pietro Alessandro Yon: Concerto Gregoriano in A Minor: II. Adagio

Pietro Alessandro Yon: Concerto Gregoriano in A Minor: III. Scherzo

Pietro Alessandro Yon: Concerto Gregoriano in A Minor: IV. Finale

Pietro Alessandro Yon: Canto elegiaco – Elegy

Pietro Alessandro Yon: Toccata in D Major

Pietro Alessandro Yon: La concertina, suite umoresca: I. Lento, allegretto – Tempo di valzer lento – Allegro vivace

Pietro Alessandro Yon: Elegia

Pietro Alessandro Yon: 3 Compositions for Organ: II. Concert Study

Pietro Alessandro Yon: 3 Compositions for Organ: III. Second Concert Study
Disk 3
Pietro Alessandro Yon: Organ Sonata No. 2, Sonata cromatica: I. Andante rustic

Pietro Alessandro Yon: Organ Sonata No. 2, Sonata cromatica: II. Adagio triste

Pietro Alessandro Yon: Organ Sonata No. 2, Sonata cromatica: III. Fantasia e fuga

Pietro Alessandro Yon: Organ Sonata No. 1, Sonata prima: I. Allegro con spirito impetuoso

Pietro Alessandro Yon: Organ Sonata No. 1, Sonata prima: II. Adagio, ma non troppo

Pietro Alessandro Yon: Organ Sonata No. 1, Sonata prima: III. Minuetto

Pietro Alessandro Yon: Organ Sonata No. 1, Sonata prima: IV. Tema e variazioni

Pietro Alessandro Yon: Organ Sonata No. 3, Sonata romantica: I. Introduzione ed allegro

Pietro Alessandro Yon: Organ Sonata No. 3, Sonata romantica: II. Adagio

Pietro Alessandro Yon: Organ Sonata No. 3, Sonata romantica: III. Finale