Zemlinsky: A Ray of Light: Complete Piano Music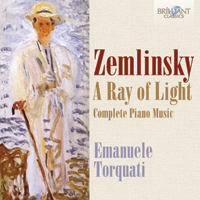 | | |
| --- | --- |
| Composer | Alexander von Zemlinsky |
| Artist | Torquati Emanuele |
| Format | 1 CD |
| Cat. number | 95067 |
| EAN code | 5028421950679 |
| Release | December 2014 |
About this release
A friend of Brahms and teacher of Schoenberg, Alexander Zemlinsky was a composer who straddled the divide of the 20th century, signalling the end of the Romantic period and the beginning of a marked upswing in experimentation. For the most part, however, the piano music on this disc is still firmly in the tradition of the great Romantic composers, composed as it
was early on in his career. The Ländliche Tänze, or 'Rustic Dances', are a collection of light, pastoral dances, with nods to
Schumann and Brahms. More melancholy and mournful are the Balladen ('Ballades') and Erinnerungen aus Wien ('Memory of
Vienna'), the latter referencing Wagner in its use of the 'Tristan' chord; these are works filled with the emotion and sensitivity one would expect from the tail end of this dramatic period, hinting at the developments that were to mark the following century. The lack of attention Zemlinsky's oeuvre has received until now is sadly not surprising; a combination of the
composer's own attitude to his works – he was more interested in writing than selfpromotion – his life coinciding with
dramatic historical events and his cultivation of a certain modesty of style (making him averse to dramatic emphasis and sensational effects in his music) meant that for a long time his output remained neglected. Emanuele Torquati is an acclaimed pianist, having performed at various prestigious concert venues across the globe. His recital at Columbia University in the USA garnered critical acclaim, with the New York Times praising him as a "thoughtful" and "insightful" musician, noting his sensitivity and skill at conveying to the listener how he thinks and feels about the music. This release complements his previous
recordings for Brilliant, which include Brahms and Schumann: his interpretation ofZemlinsky's works rounds off this period of Romanticism perfectly.

Alexander Zemlinsky gains more and more attention as one of the key figures of that fascinating period of transition from Late Classical to Expressionism, from Mahler to Schoenberg. His works are highly individual and emotional, an expression of the Zeitgeist of an unsettled world of looming disasters. Zemlinsky's output for piano solo is still firmly rooted in the Classicism of
Brahms, but with its own harmonic language, its chromatism hinting at further developments. Pianist Emanuele Torquati is
specialist in this repertoire, his recording of the complete piano music by Albert Roussel (BC 94329) won great critical acclaim in the international press.


Other information:
Recorded in 2014 at the Auditorium San Rocco, Senigallia, Ancona, Italy.
Notes on the composer and the performer.
Track list
Disk 1
Ländliche Tänze Op. 1: No. 1, mit Wärme

Ländliche Tänze Op. 1: No. 2, Flüchtig

Ländliche Tänze Op. 1: No. 3, Träumerisch

Ländliche Tänze Op. 1: No. 4, Sehr schnell und leicht

Ländliche Tänze Op. 1: No. 5, Hinträumend

Ländliche Tänze Op. 1: No. 6, Energisch

Ländliche Tänze Op. 1: No. 7, Sehr zart

Ländliche Tänze Op. 1: No. 8, Heiter

Ländliche Tänze Op. 1: No. 9, Ländler-Tempo

Ländliche Tänze Op. 1: No. 10, Gut betont

Ländliche Tänze Op. 1: No. 11, Sehr sanft, No. 12 Sehr lebhaft

Ballade No. 1: Archibald Douglas

Ballade No. 2: Der König von Thule

Ballade No. 3: Der Wassermann

Ballade No. 4: Intermezzo

Albumblatt (Erinnerungen aus Wien)

Skizze

Fantasien über Gedichte von Richard Dehmel Op. 9: No. 1, Stimme des Abends

Fantasien über Gedichte von Richard Dehmel Op. 9: No. 2, Waldseligkeit

Fantasien über Gedichte von Richard Dehmel Op. 9: No. 3, Liebe

Fantasien über Gedichte von Richard Dehmel Op. 9: No. 4, Käferlied

Menuett aus Das Gläserne Herz

Ein Lichtstrahl