Zipoli: Complete Keyboard Music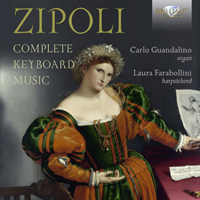 Composer
Domenico Zipoli
Artist
Carlo Guandalino organ
Laura Farabollini harpsichord
Format
2 CD
Cat. number
95212
EAN code
5028421952123
Release
March 2016
About this release
If the keyboard music of Domenico Zipoli (1688-1726) is now played or remembered, it is through the gentle swing of his C major Pastorale with its chirpy central section, popular as communion music with organists. Few of them will know that the Pastorale forms part of a larger collection of Sonata d'intavolatura, which were published as Book 1, with a second book which worked in the same genre but for harpsichord. Both books have been recorded before, but they have never been available as a single set, or at budget price.
The individual works in the harpsichord collection are structured as four- and five-movement dance suites, containing ornate preludes, reflective sarabandes and lively gavottes and gigues, with two more stately partitas, in C major and A minor. They are played here on a copy of an instrument by Taskin in the late 18th century, built by the Piedmontese instrument-maker Giuseppe Corazza. The organ used for the first book of sonatas is a two-manual instrument for the Church of SS. Peter and Paul, Castelnuovo Scrivia in the province of Alessandria. It was built in 1612 by the brothers Angelo and Giuseppe Vitani and subsequently revised by Luigi Amati in 1796.

The Princess of Forano to whom he dedicated the sonatas, Maria Teresa Strozzi, may have been related to the bishop, Leone Strozzi, who had confirmed him at Prato Cathedral on 2 May 1699. Both sets of sonatas were written by Zipoli in his early 20s, while he was organist of the Jesuit church in Rome, and they were published in 1716, the same year that he joined the Jesuit order. Having been sent the following year as a missionary to South America, he died of tuberculosis before he could be ordained as a priest, but while in Paraguay composed several cantatas on which he fame now chiefly rests.

Domenico Zipoli (1688-1726) led an turbulent and adventurous life. A student of Alessandro Scarlatti and Pasquini he held important posts as organist and composer in Florence and Rome. However he went to Spain to join the Jesuit Society from where he was sent to South America, where he settled in Cordoba (Argentina) as missionary and composer.
Zipoli wrote in the Italian keyboard style as a worthy successor of Frescobaldi, Scarlatti and Pasquini. He wrote for both organ and harpsichord, and both instruments are included in this new recording of his complete output for the keyboard.
Played by Carlo Guandalino on a historical 1612 organ of Castelnuovo Scrivia, and by Laura Farabollini on a copy of a 17th century French Taskin harpsichord.
Listening
Track list
Disk 1
Domenico Zipoli: Toccata in D Minor

Domenico Zipoli: Versi in D Minor

Domenico Zipoli: Canzona in D Minor

Domenico Zipoli: Versi in C Major

Domenico Zipoli: Canzona in C Major

Domenico Zipoli: Versi in F Major

Domenico Zipoli: Canzona in F Major

Domenico Zipoli: Versi in E Minor

Domenico Zipoli: Canzona in E Minor 3'30

Domenico Zipoli: Versi in G Minor

Domenico Zipoli: Canzona in G Minor

Domenico Zipoli: All'Elevazione [I] in F Major

Domenico Zipoli: Al post comunio in F Major

Domenico Zipoli: All'Elevazione [II] in C Major

Domenico Zipoli: All'Offertorio in C Major

Domenico Zipoli: Pastorale in C Major

Domenico Zipoli: Sonata No. 7, Op. 5: I. Preludio. Vivace

Domenico Zipoli: Sonata No. 7, Op. 5: II. Corrente. Allegro

Domenico Zipoli: Sonata No. 7, Op. 5: III. Sarabanda. Adagio

Domenico Zipoli: Sonata No. 7, Op. 5: IV. Giga. Allegro
Disk 2
Domenico Zipoli: Suite in B Minor: I. Prelude

Domenico Zipoli: Suite in B Minor: II. Corrente

Domenico Zipoli: Suite in B Minor: III. Aria

Domenico Zipoli: Suite in B Minor: IV. Gavotta

Domenico Zipoli: Suite in G Minor: I. Prelude

Domenico Zipoli: Suite in G Minor: II. Corrente

Domenico Zipoli: Suite in G Minor: III. Sarabanda

Domenico Zipoli: Suite in G Minor: IV. Giga

Domenico Zipoli: Suite in C Major: I. Prelude

Domenico Zipoli: Suite in C Major: II. Allemande

Domenico Zipoli: Suite in C Major: III. Sarabande

Domenico Zipoli: Suite in C Major: IV. Gavotta

Domenico Zipoli: Suite in C Major: V. Giga

Domenico Zipoli: Suite in C Major: VI. Partite in C Major

Domenico Zipoli: Suite in D Minor: I. Prelude

Domenico Zipoli: Suite in D Minor: II. Allemande

Domenico Zipoli: Suite in D Minor: III. Gavotte

Domenico Zipoli: Suite in D Minor: IV. Minuetto

Domenico Zipoli: Suite in D Minor: V. Partite in A minor