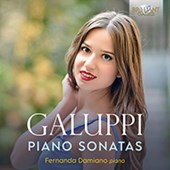 Baldassare Galuppi was a Venetian composer, born on the island of Burano, known for its traditional lace-making, and the reason why, as his fame spread, he became known as 'Il Buranello'. His contemporaries numbered Johann Adolph Hasse, Giovanni Battista Sammartini, and CPE Bach, whose works are all representative of the 'galant' style, that was fashionable from the 1720s to the 1770s, and featured a return to simplicity and a more-immediate appeal, after the complexity of music from the Baroque era. Galuppi achieved international success, spending periods of his career in Vienna, London and Saint Petersburg, but his main base remained Venice, where he held a succession of leading appointments.
In his early years Galuppi enjoyed modest success in opera seria (serious opera), but from the 1740s, he became famous throughout Europe for his comic operas in the new dramma giocoso, (literally 'cheerful drama' style. To succeeding generations of composers, he was known as 'The Father of Comic Opera', although some of his mature opere serie were also widely popular, too. Throughout his career he held official positions with religious institutions in Venice, the most prestigious of which was Maestro di cappella at the Doge's chapel in St Mark's Basilica, and such appointments naturally spawned a large amount of sacred music.
In the latter half of the eighteenth century, Galuppi's music was largely forgotten outside Italy, and Napoleon's invasion of Venice in 1797 resulted in the composer's manuscripts being scattered around Western Europe, and in many cases, destroyed, or lost. Some of his works were occasionally performed in the 200 years after his death, but it was not until the last years of the twentieth century that his compositions were extensively revived in live performance, and on recordings.
A virtuoso performer himself, Galuppi was much admired for his keyboard music. However, few of his sonatas were published in his lifetime, but many survive in manuscript. From the formal standpoint, some of them follow the Scarlatti single-movement model, while others are in the three-movement design, later to be adopted by Haydn, Beethoven and many others. His instrumental output also includes sinfonias, overtures, trios, string quartets, and concertos for solo instruments and strings,
At the time, Galuppi's style was described as 'lively and brilliant', and this description applies most aptly to the works on this recent release, which come from two sets of six keyboard sonatas, published during his lifetime as Opp. 1 and 2. However, with the passage of time, most of Galuppi's operas have been consigned to obscurity, whereas the sonatas have endured for their appealing melodic simplicity and nostalgic disposition, which, as the sleeve-note so charmingly puts it, 'pours old wine into new bottles'.
While Opp. 1 and 2 were more than likely composed for harpsichord, it needs to be remembered that the composer was born just three years before Cristofori invented the piano in 1709. The Opus 1 collection was published in London by John Walsh in 1756, and, like those of Domenico Scarlatti (1685-1757), most examples sound well on either instrument; in fact, some are often felt to be even more successful on the piano. Even during his lifetime, the composer was seen as a musical conservative, perhaps an unfair judgement, but which persisted among scholars of the last century, too. Certainly the Opus 1 set is very much a product of its time, still making significant use of ornamentation, germane to music from the Baroque.
This is, however, less noticeable in the Opus 2 set, published by Walsh in 1759. Here Galuppi makes uses of embryonic sonata-allegro forms, which range from the simple binary dance forms of the Baroque to mono-, and bi-thematic sonata-forms with nascent development sections and complete recapitulations, such as can also be seen in the sonatas of Scarlatti, Pergolesi, and early Haydn. Galuppi generally favours a two-voiced texture, where the right hand is often involved in delivering cantabile melodies, supported by a basic accompaniment of broken-chords, or Alberti-bass figurations in the left.
A collection of twelve three-movement sonatas, was later edited by Giacomo Benvenuti (1885-1943), and issued by the Francesco Bongiovanni publishing house in 1920. It is from this collection that Italian pianist Fernanda Damiano plays a selection of six sonatas on this album.
Her recital begins with the Sonata No 2 in C minor – a three-movement work, as, indeed, are all six examples on the CD. A Larghetto opening movement with a quasi-improvisando feel to the writing is succeeded by an Allegro (però non troppo) in duple measure, which in turn is followed by an Allegro assai in triple time. The latter two movements follow the regular bipartite design where the first half concludes in a related key – in this case the relative major. The second half eventually leads back to the home key, and both halves are repeated in performance. The overall effect is not unlike hearing three Scarlatti sonatas in the same key grouped together. What immediately strikes the listener is the absolute perfection in Damiano's playing, whether it be the machine-like precision of the frequent ornaments, the silky-smooth scale and arpeggio passage-work, the inventive use of dynamics and articulation, or the expressive subtleties of the performance – altogether a sheer delight to listen to.
Sonata No 3 in A follows, which again opens with a slow Andante, rather in the manner of a gentle prelude. There are some quite delicious moments along the way, which Damiano presents with simple, yet deeply-felt emotion, but which is never over-sentimentalised. The ensuing Allegro proves the perfect antidote to the Andante, and which again demonstrates the unshakable precision of her playing. The sonata finishes with another Allegro which, at a mere 1:22, is the shortest movement on the CD. However, it's a thrilling little number, and probably quite familiar to piano teachers, as an exam piece, where it often adds the Italian marking of Brillante, a most apposite word to describe Fernanda Damiano's quite scintillating performance. Sonata No 6 in E flat mixes things up, somewhat, by opening with a decidedly faster movement in triple time, marked Spiritoso, which again is despatched with the utmost élan, and where every ornament has exactly the same 'bite' as it would have, when played on a harpsichord, but now imbued with the piano's inherent ability for incremental dynamic shading, which the former instrument doesn't possess, and which ultimately gave the piano its official title of 'pianoforte', from its capacity to play both 'soft' and 'loud' by degrees. Galuppi opts for another Allegro for the middle movement, another fleet-of-foot – or should I say 'finger' – virtuosic display. Here, it's very noticeable that the composer shares most of the rather treacherous runs between both hands, effectively requiring a performer with exactly the same kind of digital dexterity in both hands. Finally there's another slight change apparent in the finale, as the composer chooses to conclude things with a gentle and stately minuet (Minué). This proves to be a simple ABA design, where the 'B' section, while remaining in the home key, offers some contrast by its overall more staccato nature, and greater reliance on arpeggio patterns.
Sonata No 7 in G minor begins with a melancholy Largo, which opens with a brief 'call-to-arms' spread arpeggio, followed by writing of such simplicity but which, in the hands of a highly-expressive player like Damiano, comes over as especially moving. This ends on a half-close (Imperfect Cadence) and leads straight into the second movement, Presto (Allegro vivacissimo). This turns out to be an effective fugato movement, with an eminently memorable subject, in what is otherwise a monothematic movement – that is, there is no repeat half-way. Galuppi's contrapuntal prowess is much in evidence, and in a movement that is steeped in the Baroque, the composer reinforces this with a short codetta, suggesting the dotted rhythms of a typical French Overture. The finale, though, is a genial Allegretto in triple time, which sounds like a brisker minuet, though in bipartite, rather than ternary design.
It's back to the major tonality for the last two sonatas on the CD. Sonata No 9 in E begins with a simply-conceived Andante, again in triple time. It highlights two of Fernanda Damiano's particular talents: firstly her innate ability to imbue even the simplest of movements with a unique character and personality, though never taking inappropriate liberties with the composer's original fabric. Secondly, and allied to her pianistic skills, she exhibits an instinctive feel for dynamic balance, always precisely knowing which hand has the more important share of the thematic material at any given moment, which greatly benefits the listener from the intellectual standpoint, as well as pure listening enjoyment. This, the longest movement so far, is followed by an attractive Allegro, the opening section of which is an effective little canon. For all its charm and gaiety, this toccata-like movement does, via some interesting passages of chromatic harmony, dip in and out of the minor tonality along the way. The sonata closes with a lilting movement in 3/8 time, marked Grazioso, which perfectly sums up Damiano's performance here. As with the work of any talented player, it's often too easy to underestimate the sheer skill needed to bring off the intricacy of Galuppi's writing, in the same way as a single errant stitch could ruin an otherwise perfectly-formed piece of lace.
The opening Andantino of Sonata No 10 in F could almost stand as an early-Mozart slow movement – a simple right-hand cantabile melody supported by a sensitive Alberti bass in the left, virtually throughout. It's the most extended movement in the selection, yet because of Damiano's charming interpretation – to say nothing of the composer's fascinating harmonic twists and turns, which subtly gainsay that we are actually listening to music by the Austrian master – it just about manages to keep the listener engaged for all its almost twelve minutes, which is longer than the majority of the other sonatas taken as a whole. In Galuppi's time, both halves of a first movement were summarily repeated, even if, as here, by virtue of its essentially slow tempo, this could make the second repeat sound rather onerous. As the form developed, after his death, the second-half repeat was no longer required as such, which, of course led eventually to neither repeat having to be observed. It would have been stylistically inappropriate for Miss Damiano to have omitted the second repeat here, even if, with the benefit of hindsight, Galuppi might have suggested it himself.
This is followed by an Allegro in triple time, where Damiano's use of an essentially staccato touch throughout proves really effective, as well as bringing even greater variety to the table. Galuppi's contrapuntal and canonic skills are very much in evidence, which again the pianist elucidates through her well-studied approach to the score. The party ends with a Giga Presto, one of the most attractive and light-hearted movements on the CD, yet equally one that demands the highest concentration, and pure expertise on the part of the pianist. Needless to say, Miss Damiano dazzling, yet still wonderfully-relaxed performance comes up trumps yet again, as has been the case in fact, for more than an hour. Not only is this my first encounter with Baldassare Galuppi, and Fernanda Damiano respectively, but it must rank as one of the best piano CDs I have had the pleasure of listening to, for some considerable time.
It would be easy to stop at this point with a simple recommendation, but Miss Damiano's CD is by no means the only recording out there. First and foremost, you need to decide whether you like your Galuppi played on the harpsichord, or the piano. Then, having made that decision, are you then looking for mixed recitals of selected sonatas, or the whole lot in a number of separate CDs? Either way there's a pretty extensive choice available, many offering online sound-samples to help you initially decide.
Should you prefer the sound of the piano to that of the harpsichord, and are really looking to get to know the composer, rather than undertaking a formal investigation of his entire keyboard works, the present CD is still a very strong contender, with its varied selection of works, immaculate playing, faithfully recorded, and simply the sheer pleasure it offers the listener.
Given Miss Damiano's famed birthplace of Taranto – from the 'heel' of Italy's 'boot' – the CD could have the following subtitle: 'La Tarantella meets Il Buranello'. However, if this should imply any kind of contest, then, suffice it to say that both contenders emerge here as undisputed champions of their respective arts, much to the inestimable benefit of today's CD-buying public.

Philip R Buttall
Original review: http://www.musicweb-international.com/classrev/2022/Apr/Galuppi-sonatas-96346.htm