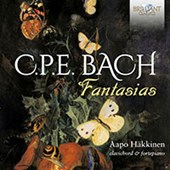 Carl Philipp Emmanuel Bach (1714-1788)
Fantasias
Aapo Häkkinen (clavichord, fortepiano) 
rec. 2022, Pitäjänmäen kyläkirkko, Finland
Reviewed as digital download from a press preview 
Brilliant Classics 96567 [75]
The traditional story of the Bach family, certainly the one I learnt, was that whilst the great Sebastian Bach came from an impressively musical family and had a brood of talented sons, it was only he that achieved the status of Great Composer. This mythology was alive and well when I picked it up in the 1980s. Even then there was a fondness for revisionism in favour of JSB's son Wilhelm Friedman Bach who was portrayed as a maverick next to his stolid father. As with all mythologies and all revisionism, there was some truth in all of this but also significant distortions. 
Johann Sebastian's sons were also used to fill in the blanks between their father and Haydn and Mozart. The 'London' Bach, Johann Christian, is immortalised in Mozart's second to fourth piano concertos which are arrangements of his music. The strangeness, virtually wildness of Wilhelm Friedman's music has secured him a kind of underground status which conveniently forgets the frequent strangeness of Bach père's music. Carl Philipp Emmanuel, despite being the most successful and influential of Sebastian's offspring, has always been assigned, at best, the role of midwife of classicism as though his music was a primitive version of what was to come. The inconvenient truth for this narrative is that CPE Bach's just doesn't fit it and nowhere is the idea of CPE as a poor man's Haydn more obviously untrue than in the extravagant, extraordinary Fantasias. 
There has been a steady stream of recordings of his music over the last ten years or so making the point that CPE is not good in a historically interesting way but good full stop. This smashing new disc by the Finnish keyboardist, Aapo Häkkinen, is a good place for the rehabilitation of the composer's reputation to take another step forward. 
To start with, the idea of CPE falling between the stools of his father's style of music and that of Haydn and Mozart implies a composer lacking in a distinctive character. Whilst it is the case that his influence on later composers is readily apparent, there is a danger of hearing musical history in reverse. It is hard to imagine Mozart's own fantasias without the model of the numerous examples included in this recording. Nor does the argument hold up that CPE is somehow like John Field's Nocturnes in relation to Chopin's, a kind of primitive precursor perfected by the later master. It is impossible and invidious to compare two such stylistically different composers but there is nothing inferior or rudimentary about these works by CPE Bach. 
Another readily audible influence exerted by CPE Bach is how much Beethoven's sonatas owe to these Fantasias. As Häkkinen's self penned notes remark, this is not some fanciful talking up of a neglected composer. Beethoven, himself, expressed admiration for CPE Bach's music. There is a strong case for a similar rehabilitation of the reputation of Carl Philipp Emmanuel's brother Wilhelm Friedman but whilst we are busy on behalf of the former, it needs to be said that CPE is just as extravagant, just as sturm und drang, just as full of deep, sometimes wildly clashing feelings as the supposed Bad Boy of the Bach clan. Where CPE anticipates classicism is in the way he frames those outrageous flights of the imagination within effective musical structures as though his old dad were still peering over his shoulder. 
The surprise of listening to CPE Bach's music for me is that chromatically intense cries of the heart I had assumed Mozart had added to the cheery D major/C major musical world of the early Classical period predate him. Indeed, Mozart's achievement in this regard lies in finding a way – what Charles Rosen calls The Classical Style – to marshall the emotionality of CPE Bach's music into clearer, more robust structures. The object of CPE Bach's style is the declamation of deep feeling and to evoke a similar response in the listener. Rather than stiff bewigged manners, what we get is everything virtually to excess. I only mention this to illustrate that  Haydn's great innovations are a marked change of direction rather than a tidying up or improving on what CPE and WF Bach were up to. 
A good vantage point from which to start listening to these marvellous Fantasias would be something like Beethoven's Tempest sonata or the two sonatas Op27 rather than anything by JS Bach or Mozart and Haydn. From that perspective, the true originality of CPE Bach's writing can be more clearly heard. Whilst Beethoven's sensibilities were undoubtedly Romantic, the older man's music gives him a vocabulary with which to express those sensibilities in a way that the vocabulary of classicism does not. 
One of the nicest things about listening to recordings of even relatively obscure pieces by CPE Bach is the palpable sense of excited discovery amongst the musicians, brought up on the footnote in musical history version, at just how good this music. That sense is vividly apparent on this new recording but more than just some keyboard geek, Häkkinen possesses a suitably expansive temperament to excitedly follow Bach wherever his fancy takes him. Sometimes that is gloomy torrents of notes, sometimes poignant pleading, at others it is raw animal energy, at still others places of still quiet communion. And sometimes all of these in the space of a few bars. 
Häkkinen has chosen to play most of these works on two different clavichords and what we lose in terms of the force and clarity of a harpsichord, we gain in terms of intimacy. Like the fortepiano he uses for the remainder of the programme, the clavichord is a domestic instrument and he includes a splendid quotation from Schubart to illustrate the close bond between this instrument and the private world of the composer's feelings, describing the clavichord as "the soundboard of your [Bach's] heart" going on to say, "your clavichord breathes as gently as your heart." 
I was initially a little unimpressed by the inclusion of Johann Sebastian's Chromatic Fantasia and Fugue but a combination of Häkkinen's notes pointing out just how influential this particular work was on the circle, nicknamed 'Bachists', that gathered around Carl Philipp Emmanuel and the patently obvious connection between the older Bach's Fantasia, in particular, and the rest of the CPE Bach works converted me. To underline the point, Häkkinen plays it in the edition by leading Bachist and first biographer of JSB, Johann Nikolaus Forkel. 
The disc concludes with two of CPE's most important works, the Farewell to my Silbermann Clavier and the Fantasia in F sharp minor, and in them both CPE Bach's genius and the quality of this performance can be seen at their immense best in works worthy to stand alongside those of the composer's father. With their magnificent music still fresh in my ears, I will end this review by asking: Isn't it about time CPE Bach moved into the big time? 
David McDade 
Original link: https://www.musicwebinternational.com/2023/07/cpe-bach-fantasias-brilliant-classics/