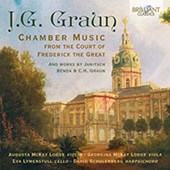 Chamber Music from the Court of Frederick the Great
Johann Gottlieb JANITSCH (1708-c1763)
Trio sonata for violin, viola and bc in g minor [10:46]
Johann Gottlieb GRAUN (1702/03-1771)
Sonata for viola and keyboard in c minor (GraunWV Av,XV,20) [17:12]
Sonata for violin and keyboard in B flat (GraunWV Av,XV,46) [16:07]
Carl Heinrich GRAUN (1703/04-1759)
Sonata for cello and bc in C (GraunWV B,XII,53) [10:48]
Franz BENDA (1709-1786)
Sonata for viola and bc in c minor (Lee 3.137) [11:09]
Johann Gottlieb GRAUN
Trio sonata for violin, viola and bc in A (GraunWV Av,XV,42) [13:37]
Augusta McKay Lodge (violin), Georgina McKay Lodge (viola), Eva Lymenstull (cello), David Schulenberg (harpsichord)
rec. 2019, WGBH Fraser Performance Studio, Boston, USA
BRILLIANT CLASSICS 96289 [79:39]
Under Frederick the Great the Prussian chapel, first in Rheinsberg, then in Berlin, developed into one of the best in Germany in the mid-18th century. Frederick's musical taste is often described as rather conservative and unimaginative, but he certainly recognized talent in the players and composers around. As a result, his chapel included some of the finest and most brilliant musicians of his time, such as the Graun and Benda brothers, Carl Philipp Emanuel Bach and Johann Joachim Quantz. The latter was his flute teacher, as the King was a fanatical player of the transverse flute, who loved to perform the sonatas and concertos of his teacher.
The main figures on this disc are the Graun brothers. Performers who want to pay attention to the music of Johann Gottlieb and Carl Heinrich Graun have to deal with a problem which will probably never be solved. Their instrumental works are mostly signed with "di Graun" or "del Signor Graun". It is hardly possible to discern the compositions of the two brothers with any amount of certainty. Both Grauns were born in Wahrenbrück in Saxony, but as in 1714 the church registers were lost by fire their exact years of birth aren't known. Both attended he Kreuzschule in Dresden and both studied at Leipzig University. Johann Gottlieb took violin lessons from Johann Georg Pisendel in Dresden, and later went to Padua in Italy to study under Giuseppe Tartini. In 1726 he was appointed Konzertdirektor in Merseburg. Johann Sebastian Bach sent his eldest son Wilhelm Friedemann to Graun to study the violin. Although Carl Heinrich received lessons in keyboard playing, he was first and foremost active as a singer. He sang in several opera productions. During his time in Dresden he seems to have composed at least two cycles of church cantatas but the music has been lost. In 1724 he was appointed as a tenor at the court of Duke August Wilhelm of Brunswick-Wolfenbüttel, where he concentrated on performing music in Italian style. His own operas also were Italian in character. In 1735 he moved to Berlin joining the court chapel where Johann Gottlieb was already working.
It is reasonable to assume that Johann Gottlieb has written most of the instrumental works. However, as Carl Heinrich also composed instrumental music there is no reason to attribute all instrumental pieces to Johann Gottlieb. Therefore in many cases the question of the authorship has to remain unanswered. The numbers (GWV) refer to a catalogue of the oeuvre of the Grauns, put together by Christoph Henzel. He made a clear distinction between pieces which can be attributed to Johann Gottlieb (A), Carl Heinrich (B) or one of them (C). The small letter v indicates that the attribution is not 100 percent sure.
Johann Gottlieb has left a large oeuvre, which include almost 130 trio sonatas. On the disc under review here the viola figures prominently. That is remarkable, considering that it played a minor role in previous times. In the 17th century, it was sometimes used as an alternative to the viola da gamba. Especially in instrumental music, the lower parts could then be played on either instrument. In the first half of the 18th century, hardly any music was specifically written for the viola. Telemann composed one solo concerto for it, and violas play a substantial role in two of Bach's Brandenburg Concertos. His three sonatas for harpsichord and viola da gamba can be performed on the viola without any need of transposition. It was up to the generation of the sons of Bach to give the viola a more substantial role in instrumental music. The sonatas included here bear witness to that.
The most remarkable piece is undoubtedly the Sonata in c minor for viola and obbligato harpsichord. It is a pretty long piece and quite virtuosic. It includes a substantial amount of chromaticism, especially in the opening movement. This piece has also been contributed to Wilhelm Friedemann Bach. According to David Schulenberg, in his liner-notes, "[it] is conceivable that Wilhelm Friedemann had a hand in the two 'trios' with obbligato keyboard. (...) Graun taught the violin to Friedemann Bach, and the two are likely to have remained in contact". The word 'trio' was the common term for any piece with three parts, whether two melody instruments and basso continuo or a melody instrument and an obbligato keyboard. Carl Philipp Emanuel Bach also called his father's six sonatas for harpsichord and violin 'trios'.
Like the other pieces on this disc, it is in three movements in the order slow - fast - fast. The latter can be interrupted by slower passages, as is the case in the other, equally brilliant, sonata with an obbligato keyboard part and a melody instrument, this time the violin. It undoubtedly reflects Graun's own skills on this instrument. The opening grazioso starts with seventeen bars for the harpsichord alone, before the violin enters. The harpsichord also opens the proceedings in the second movement. As was common at the time, there is some imitation between the two instruments, but certainly not as much as in many sonatas for two melody instruments and basso continuo.
That is the case, for instance, in the Sonata in A for violin, viola and basso continuo. The opening movement, called adagio con tenerezza, opens with six bars played by the viola, whose material is then largely imitated by the violin. As was common at the time, the piece also includes episodes with parallel motion. The viola also opens the second movement, which is in binary form, whereas the violin starts the proceedings in the concluding movement.
Carl Heinrich Graun is represented with a sonata for cello and basso continuo. He played the cello himself, but according to Schulenberg, this sonata may have been written for one of the cellists in Frederick's chapel. The fact that Graun was not active as an instrumentalist in the first place may explain the modest technical requirements.
Two other composers who were members of the chapel are represented here. The disc opens with a trio sonata for violin and viola by Johann Gottlieb Janitsch. He was born in Schweidnitz in Silesia (now Swidnica in Poland) and was educated at the bass viol. After having been a law student in Frankfurt an der Oder where he also played a major role in local musical life, he joined the chapel of Frederick, then still Crown Prince of Prussia, in Ruppin, later Rheinsberg. It is there that he started a series of weekly concerts on Fridays, the Freitagsakademie. It is likely that his chamber music was written for performances during these concerts in which both professional and amateur players participated. When Frederick became King of Prussia and moved his court to Berlin, Janitsch continued his Friday academies there. The pieces by the Graun brothers may also have been performed at such concerts. In his Sonata in g minor he uses the old-fashioned term viola da braccio - from which the German word Bratsche is derived - to describe the viola. This sonata is an example of a trio with frequent imitation between the two melody instruments. The violin takes the lead in all three movements.
"On the seventh of this month one of the most noteworthy and highly esteemed men of his time died, the royal Konzertmeister Franz Benda... It is generally known that he was one of the greatest musicians, and that upon his instrument, the violin, he created an epoch." This is how a Berlin paper announced the death of Franz Benda on 7 March 1786. One of the features of his playing and his compositions was their true cantabile character, which was noted, for instance, by Charles Burney: "Scarce a passage can be found in his compositions, which is not in the power of the human voice to sing". This analogy with singing is appropriate: Benda was educated as a singer, and even after he had been appointed as violinist in the court chapel in Berlin he still sang arias on a regular basis at court. Through his compositions, his playing as well as his activities as a teacher he was considered one of the fathers of the German violin school (together with Johann Georg Pisendel who worked in Dresden). One of his pupils was Johann Peter Salomon, who was responsible for Haydn's visiting London twice. Although Benda did compose orchestral music and pieces for other instruments than the violin, his own instrument takes central stage in his oeuvre. Considering the quality of his compositions and his historical importance, it is rather odd that he is not that well represented on disc. This recording does not include a violin sonata, but rather one for viola. It is one of several sonatas for this instrument, but the present sonata is a recent discovery. Before that it was only known in a - undoubtedly original - version for violin. The fast movements include passagework, which reflects the technical skills of its composer.
The track-list does not indicate which of the pieces included here are first recordings, but it seems likely that at least some of them were not available on disc to date. Once again, a disc devoted to music at Frederick's court bears witness to the quality of what was written there, and performed either at his court or in private concerts in Berlin. It is nice that in recent years this repertoire receives more attention. The fact that the viola takes a substantial role in the pieces included here makes this disc all the more attractive, given the lack of recordings of music for this instrument from pre-classical times. The four musicians who perform these pieces do a very fine job. They obviously enjoy the pieces they have chosen, and play them with much engagement. The two sisters produce a nice tone on their respective instruments, and the ensemble is immaculate. This is a most enjoyable disc, which whets the appetite for more music by members of Frederick's chapel.
Johan van Veen