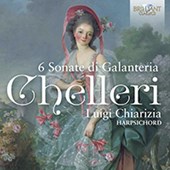 Fortunato CHELLERI (1690-1757)
6 Sonate di Galanteria
Sonata No. 1 in G minor [08:53]
Sonata No. 2 in F [10:30]
Sonata No. 3 in E minor [11:26]
Sonata No. 4 in D [08:32]
Sonata No. 5 in C [12:47]
Sonata No. 6 G [08:24]
[6 Fugues and 6 Sonatas]
Sonata No. 3 in A minor [10:05]
Luigi Chiarizia (harpsichord)
rec. 2017, L'Aquila (AQ), Italy
Reviewed as a stereo 16/44 download with pdf booklet from Outhere
BRILLIANT CLASSICS 96308 [70:49]
During the 17th and 18th centuries a lot of music for the keyboard - both the organ and various strung keyboard instruments - was written across Europe. It is not surprising that today we only know the top of the iceberg. However, it is notable that, as far as the music of the 18th century is concerned, Domenico Scarlatti is virtually the only Italian composer whose keyboard music is part of the standard repertoire of performers. In recent years, Brilliant Classics has released quite a number of recordings of music by composers who are hardly known. The present disc is another example: how many professional keyboard players - let alone music lovers at large - may have heard of Fortunato Chelleri? A search on the internet revealed that some of his compositions have been recorded. The ensemble Atalanta Fugiens, directed by Vanni Moretto, recorded his Six simphonies nouvelles, which date from the 1740s, Sol Gabetta recorded his Concerto in G for cello and Philippe Jaroussky included an aria from one of his oratorios in his recording 'La vanità del mondo'. Even so, Chelleri is very much a marginal figure in the music scene.
He was born in Parma; his father was, according to Vassilis Vavoulis, the editor of his keyboard works, in New Grove, of German birth, who died when Fortunato was 12. At that time he was a choirboy at the chapel of the Madonna della Steccata in Parma. His mother died three years later, and from then on he was taken care of by an uncle, who was maestro di cappella of Piacenza Cathedral. He taught him singing and playing the keyboard. It seems that at an early age he already wrote some music, such as arias for a revival of an opera by Tomaso Albinoni. The first opera of his own pen may have been Zenobia in Palmira, written in 1709 for performance in Barcelona. There is no information of his whereabouts between 1710 and 1715, but at the latter year at the latest he was appointed maestro della cappella di camera by the Elector Palatine Johann Wilhelm and, following the elector's death in 1716, by his brother Karl III Philipp. In the years around 1720 he was active at several places in Italy, such as Venice, where he wrote an opera at the request of Vivaldi. In 1722 he entered the service of Johann Philipp Franz von Schönborn, Prince-Archbishop of Würzburg (who later engaged the better-known Giovanni Benedetto Platti). He was engaged as Hofkapellmeister and promoted to Court Councillor (Hofrat) in 1723. In 1725 Chelleri moved to Kassel, where he became Kapellmeister to the Landgrave Karl of Hesse-Kassel. There he spent most of his later life.
Chelleri's oeuvre includes operas and oratorios, secular cantatas, some masses and instrumental music. The latter category consists of symphonies, chamber music and keyboard pieces. Chelleri wrote a collection of six fugues for organ and six sonatas for harpsichord, probably dating from 1729 (the last sonata on this disc is taken from this collection), and six Sonate di galanteria. In 1760 a collection of keyboard pieces by various composers, published in Amsterdam, included two pieces by Chelleri and two of his sonatas were part of A Collection of Lessons printed in London in 1762. A substantial part of his oeuvre has been lost.
The Sonate di galanteria which are the subject of the present disc, date from around 1730, according to Vavoulis, but Luigi Chiarizia writes in his liner-notes that they were written in the early 1720s. They are of different length and complexion. Two of the six comprise three movements, the other come in four. The character of the movements is different: most of them have Italian titles, either a tempo indication (allegro, andante) or a dance (corrente, giga, gavotta). The first sonata opens with an Entrée, two sonatas close with a menuet and one with a minuetto. That is no coincidence: these sonatas are a mixture of German, Italian and French elements. Notable is that in some movements Chelleri includes the typical French notes inégales, but whereas in French music their application is left to the discretion of the performer, Chelleri has written them out, probably because he was not sure the performers knew how to play them. The sonatas are early specimens of the galant idiom, which was to conquer most of Europe from the 1730s onwards. Counterpoint is nearly absent; the right hand has most of the thematic material, whereas the left hand takes mainly an accompanying role, and that includes the so-called Alberti bass, which was an important part of the galant style.
As is often the case with music in this style, it is probably not advisable to listen to all the sonatas at a stretch. That said, they are quite pleasant to listen to and there are also a number of movements which include themes that catch the attention. Luigi Chiarizia plays a copy of a two-manual harpsichord of 1637 by Ruckers. Such instruments were widespread in the baroque era, although I wonder whether a later instrument would have been more appropriate. However, it is a fine instrument and Chiarizia plays the sonatas well enough, although now and then I had wished for more variety, for instance in the ornamentation department.
Those who are interested in keyboard music of the 18th century, may investigate this recording, which is an interesting contribution to our knowledge of the musical landscape of the mid-18th century and the growing popularity of the galant style.
Johan van Veen


Original review: http://www.musicweb-international.com/classrev/2022/May/Chelleri-sonatas-96308.htm